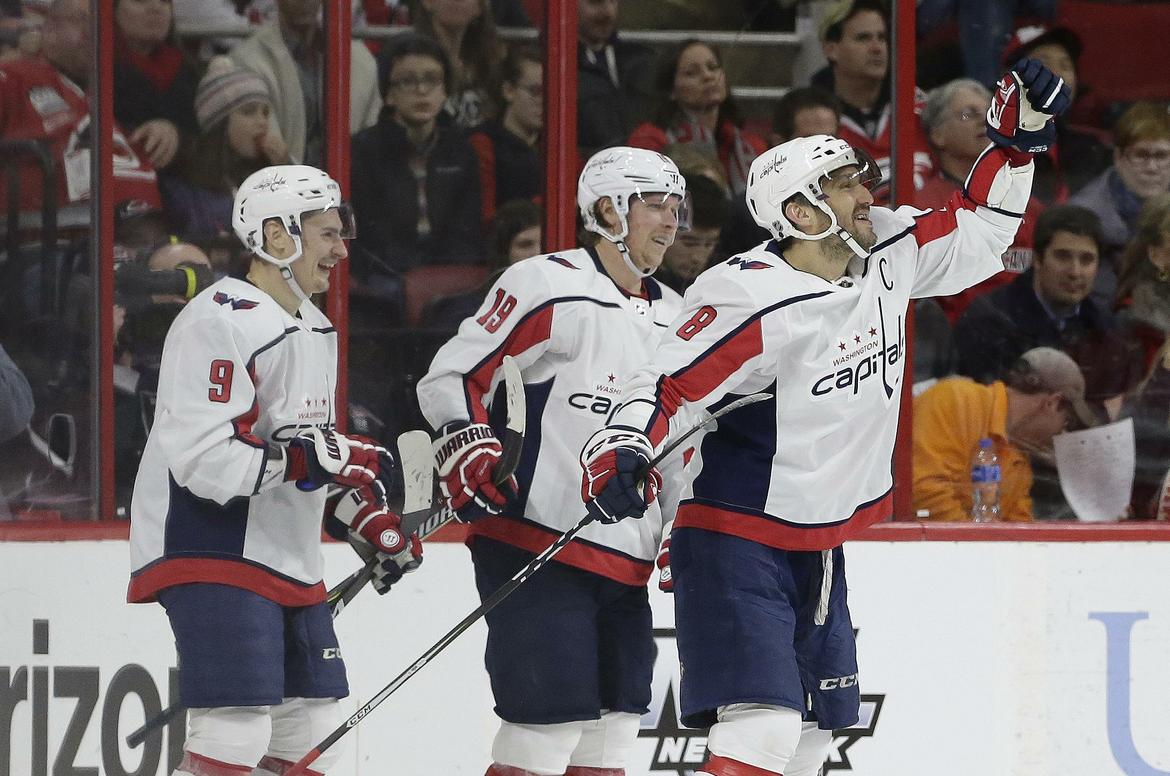 Washington Capitals vs Carolina Hurricanes: Back-to-Back Games, Wins and Hat Tricks
The Washington Capitals won 6-5 over the Carolina Hurricanes and there's a lot to discuss about this game. Mid-way through the second period, the Hurricanes led 4-1. The Caps looked tired, though the Hurricanes had played the night before.
Sebastian Aho had the Capitals number, scoring two of those first four goals and two assists. It wasn't promising. Resiliency has been key to Caps' wins this season, but they would have to do a lot more work if they hoped to tie the game.
Captain's Comeback
The Hurricanes scored fast, just 48 seconds into the first period on a wraparound goal from Jordan Martinook. Alex Ovechkin answered relatively quickly, hoping to prevent the team from falling behind. Three goals later, the Caps were having to fight back. Ovechkin faked the slapshot, skated in and scored for his second goal late in the second.
Tom Wilson and Travis Boyd provided goals in the second period, as well. Wilson proved that he is back and still able to continue his miraculous work from before his injury. Boyd now has a three-game goal streak, all starting with his first NHL goal.
Ovechkin scored the goal that finally gave the Capitals the lead, his third of the night and second consecutive hat trick. Regarding the back-to-back hat tricks, head coach Todd Reirden said, "He came back after winning the Stanley Cup and he was ready to go from Day 1. He hasn't stopped since."
It's Never That Easy
With their first lead of the game, the Capitals were trying to take the win home. All they had to do was hold out long enough for the period to end. However, that plan went astray with an errant pass from Braden Holtby.
Holtby went behind the net to retrieve the puck and hesitated. Instead of throwing it around the boards, he tried to pass it over the net to the center. The puck landed up within reach of former-Capital Justin Williams who tapped it in before Holtby could get back into position.
Tied once again, the Capitals were going to have to pull out another goal or be forced into overtime. No such luck, so overtime it was. In a penalty-heavy game, Matt Niskanen was called for tripping during the final two minutes of overtime. The team wasn't ready to call it quits, so the game went to overtime.
Six-Round Shootout
Heart-stopping. Shootouts are known for the high-stakes drama and this particular one had a lot of it. TJ Oshie will always shoot first for the Caps, with a record of 53%. He comes in slow, winding his way to the net before firing a quick five-hole shot that most goaltenders are hard-pressed to stop.
Hurricane's goaltender Scott Darling got the pads down, stopping the Capitals most lethal shootout scorer. It followed that he blanked Evgeny Kuznetsov and Alex Ovechkin, too. At that point, fans began to wonder if the Caps were going to be able to win if their top three couldn't get the job done.
Jakub Vrána's hot streak continued when he scored on his first ever shootout attempt. While he didn't post points against Detroit earlier in the week, he is performing more consistently. Vrána has three goals, an assist and the shootout game-winner. His hard work is definitely starting to pay off.
Up Next
Back-to-back in more ways than one. The Capitals take on the Buffalo Sabres Saturday night at home. Coming home with a four-game win streak will hopefully motivate the Caps, but the reality is they are going to be tired. Buffalo will be rested and ready, trying to hold onto a small win streak of their own. Pheonix Copley will likely be getting the start since Holtby played last night.
Copley has held a good record this season at 6-2-1, so the Capitals should be confident about their netminder. However, the team in front of him is going to have to come out stronger than they did in the Carolina game. Early first-period struggles are still a thing, and the defense is going to have to work hard.
The Capitals announced this morning that they have called up Tyler Lewington from the Hershey Bears. With Christian Djoos out indefinitely and Brooks Orpik still on the mend, Madison Bowey and Jonas Siegenthaler are going to be carrying a substantial workload. Lewington will be the alternate should another injury occur.
Social Media
Follow Jess on Twitter: @jmstarr_
Photo Credit
Photo Courtesy of: Gerry Broome