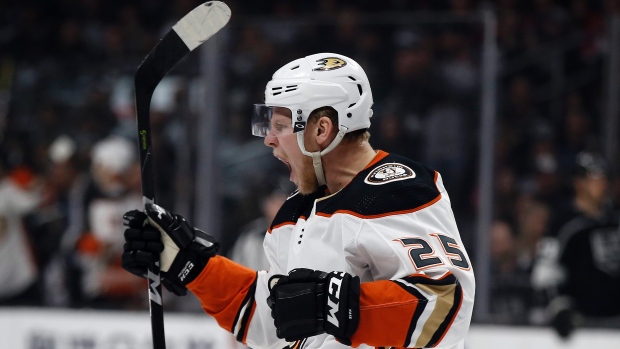 Anaheim Ducks vs. Dallas Stars
The Anaheim Ducks rallied in the third period to defeat the Dallas Stars, 6-3, behind Ondrej Kase's first career hat-trick and captain Ryan Getlaf's 900thcareer point with an assist on a Kase goal.
The Ducks took a 1-0 lead into the second period with Kase's first goal of the night at the 6:38 mark of the first period. However, the Ducks quickly trailed 3-1 for most of the second period. Kase brought the Ducks within one with 3:30 minutes to go in the second.
Kase collected his third goal of the game nine minutes into the third period. Brandon Montour made it 4-3 at 12:06 in the third period. Montour ended up totaling four points in the third period alone. In addition, Jakob Silvferberg scored his ninth goal of the season at the 13:44 mark, which was ruled a good goal after a brief review when it was thought by the officials that Silvferberg kicked the puck in.
In the last home game for the Ducks before a 6-game road-trip and the holiday break, the Ducks collected four unanswered goals in the third period, including a Hampus Lindholm empty-net goal to secure the win.
Injury Reports
Injuries continue to plague the Ducks. The Ducks announced Wednesday that goaltender Ryan Miller will miss approximately 6 weeks with a sprained MCL. Also, Rickard Rakell has a sprained ankle and is out indefinitely. Both were placed on the IR. To replace Miller, the Ducks claimed former St. Louis Blues goaltender Chad Johnson off waivers.
In addition, the Ducks announced that Rickard Rakell will not travel with the team. He hopes to be back when the Ducks return home on December 29.
The Anaheim Ducks face the Columbus Blue Jackets on Saturday, December 15, at 4 P.M. PST.
Social Media
Follow Sarah on @sarahAmiles9
Photo Credit
Photo Courtesy of The Canadian Press