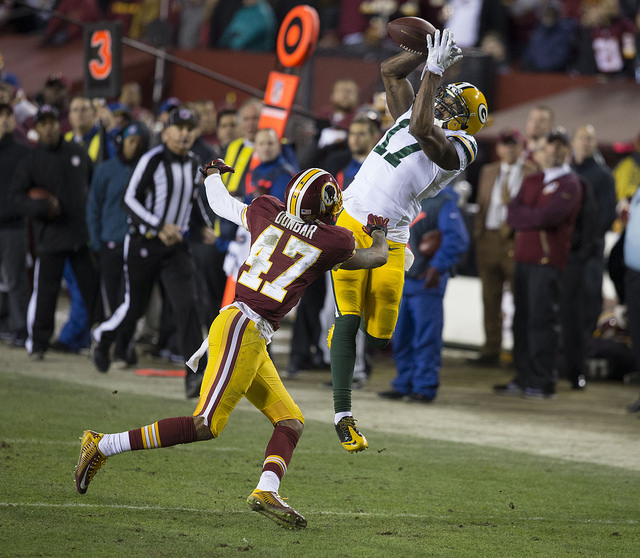 Davante Adams Proves Once Again That He's Elite
Green Bay Packers' wide receiver, Davante Adams, is on pace for his best season and a place in the Green Bay's record books. Adams is in his fifth year in the NFL but was not a standout receiver until the 2016 season. Before this season, he had yet to hit 1,000 yards for a season in his career (he was three yards short in 2016).
After his outstanding 166 yard-game against the Seattle Seahawks and several other strong performances, Adam has surpassed the 1,000 receiving yard benchmark for the first time in his career. Going into Week 15, Adams now sits in seventh for receiving yards on the season with 1,196 yards.
Adams' Time in Green Bay
Adams was the Packers second-round draft pick in the 2014 NFL Draft after he played a two standout years at Fresno State. Without a doubt, Adams has become one of Aaron Rodgers' favorite targets. Since they released Jordy Nelson in the 2017 offseason, Adams has become even more involved. He was also former backup QB Brett Hundley's top target when Rodgers was out for most of the 2017 season.
In the Packers loss in the Week 11 edition of Thursday Night Football against the Seahawks, Adams was the star of the game. He caught 10 of 12 targets for 166 yards. His biggest play of the game came on a big third-down play when he caught a dime pass for 57 yards.
Rodgers' Right Hand Man
Every year, the Packers' receiving core seems lacking. This year is no different. Rising star, Geronimo Allison, was placed on IR right after Week 9. Randall Cobb has been dealing with a groin injury since early in the season.
Tight end, Jimmy Graham, was signed to help replace some of Nelson's production but only has two touchdowns on the season and has not been a huge factor. Now, Graham has a broken thumb and is rarely used in the offense.
Due to all of these injuries, Rodgers has had to rely on an ad-lib system that Davante Adams fits in with well. Adams' football acumen and athletic ability have allowed him to adapt with the offense and remain a cornerstone in their system.
This season he is catching almost 68% of his 138 targets this season. The franchise record for targets is 170, and Adams will likely break it this season.
The Case for Davante
The NFL is filled with highly talented and high-profile wide receivers. Antonio Brown, DeAndre Hopkins, Odell Beckham Jr., Julio Jones, and Jarvis Landry spend a lot of time on SportsCenter and in front of the camera. However, some people tend to forget about Davante Adams.
So far this season, Adams has 12 touchdown receptions, tied for first in the NFL with Brown. This dominance from Adams isn't new. In 2017, he was second in receiving touchdowns with 10, just behind Hopkins with 13. Notably, Adams played two fewer games that season than Hopkins.
In 2016, he was tied for second with Brown for most receiving touchdowns with 12. Just behind former teammate Jordy Nelson with 14. Additionally, no other receiver, since 2016, has more receiving touchdowns than Adams.
The Packers re-signed Davante Adams last December to a four-year $58 million contract extension. His $14.5 million a year salary makes him the fourth-highest paid receiver, just behind Antonio Brown, DeAndre Hopkins, and A.J. Green. Adams should be considered a top receiver and his numbers prove that.
Photo Credit
Featured Image courtesy of Keith Allison
Don't forget to follow TSJ101Sports and your favorite writers like me (Savannah) on Twitter!
Subscribe to get the latest news from TSJ at the TSJ 101 Sports TV YouTube channel!
Play And Win Weekly at ThriveFantasy!