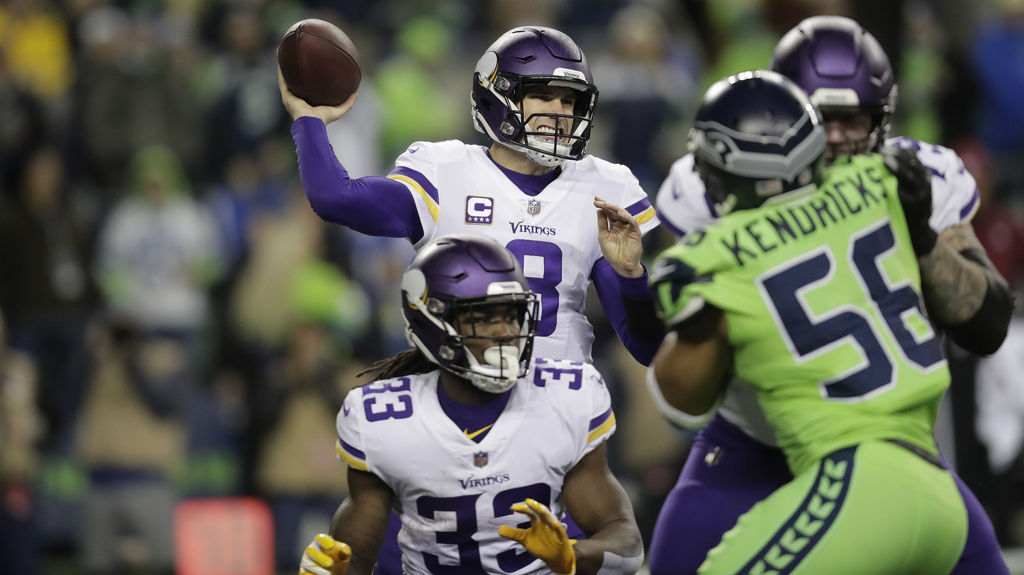 Defensive Battle Ends In Seattle's Favor
The Seattle Seahawks and the Minnesota Vikings squared off in a defensive showdown which the Seahawks won 21-7. Both teams punted a combined six times in the first half. The Seahawks had kicked a field goal earlier in the first half and had a chance to go up by double digits before Russell Wilson tossed a costly interception.
The second half was all Seattle. Chris Carson punched the ball in with 2:45 left in the game to put Seattle up 12-0. After a converted two-point conversion to put the Seahawks up 14-0, Seattle's defense forced a fumble on Kirk Cousins the very next drive and scored to put the game out of reach.
The Vikings would score near the end of the game to cut the score 21-7. They tried an onside kick but failed to recover, and the Seahawks ran the clock out. Although they wouldn't pull away until the fourth quarter, the Seahawks did a great job stifling Minnesota's game plan.
Seahawks Path to Playoffs Looking Brighter
Although they're far off from the 2013 Seahawks, this year's team is shaping up to punch a spot and make a run in the 2018 playoffs. Seattle has now won four straight and has been clicking in on every phase of the game.
Russell Wilson led the way with 72 passing yards on ten attempts. He also put his legs to work with 61 rushing yards.
Wilson created problems for the Vikings' defense all night.
Chris Carson led the team in rushing with 90 yards off of 22 attempts and one touchdown. Carson did a great job taking advantage of the Seahawks' short-yardage situations. Receiver Tyler Lockett caught five receptions for 42 yards. The Seahawks has done an excellent job committing to the run all season, and it has paid off tremendously.
The Seahawks defense kept Minnesota's offense in check all game. They hit Cousins seven times while sacking him twice. Seattle's defense made a key fumble recovery in crunch time to pull away from Minnesota.
Seattle's defense is also brewing into a force that is causing problems for opposing offenses.
Minnesota's Playoff Hopes Slipping
Following a second straight loss, the Vikings have many questions to answers on offense.
Despite throwing for 208 yards, Kirk Cousins looked distressed for most of the game. He got a garbage time touchdown, but the game was basically out of reach at this point though. Cousins' was able to hit Stefon Diggs for 76 receiving yards.
Diggs caught all four of his passes as well despite being phased out most of the game. Adam Thielen, who was phased out as well also contributed with five receptions for 70 yards. Seahawks' coach Pete Carroll did a good job game planning against Minnesota's duo. Dalvin Cook was held to just 55 yards.
Minnesota's offense only converted 2-10 third downs. They will have to be more efficient in that department if they stand a chance for the rest of the way.
The Vikings defensively held the game close throughout the night. Minnesota kept Russell Wilson contained and they also got two sacks and an interception. But Wilson kept the defense on its toes and they had a hard time stopping the outside rushes and passes, and it ultimately hurt them in the end.
Playoff Outlook And What's Ahead
With Seattle winning, they make it four straight improve to an 8-5 record. Seattle pretty much has the fifth seed locked up. After a 0-2 start, Seattle has found its identity and has made an impressive run just in time for the playoffs. They go on the road next week to take on the San Francisco. If they win this game, they should have done just about enough to clinch a spot in the playoffs.
After a second straight loss, Minnesota falls to 6-6-1 and once again finds themselves back at the drawing board to try and figure out how to hold on to their playoff spot. Minnesota will more than likely require help from another team that's looking to get into the playoffs and win out to get in The Vikings get a visit from the Miami Dolphins who are as well fighting for a spot in the crowded AFC playoffs.
Photo Credit
Featured Image courtesy of Highlight Store
Subscribe to get the latest news from TSJ at the TSJ 101 Sports TV YouTube channel!
Play And Win Weekly at ThriveFantasy!