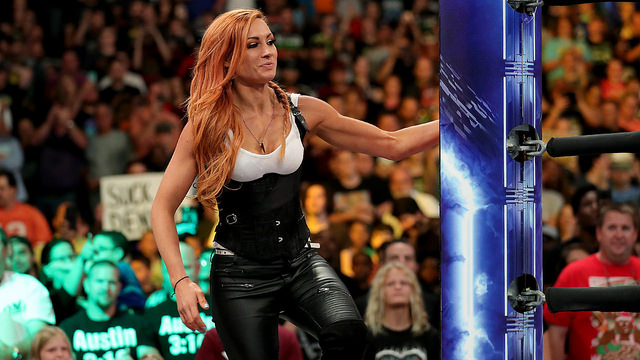 Becky Lynch Discusses her Concussion during RAW Invasion
Becky Lynch recently sat down with Ariel Halwani's MMA Show to discuss her injury during the invasion of Monday Night RAW.  According to Becky herself, Nia concussed her and broke her nose with a punch to the face.
Auto Pilot
Lynch mentions that she 'blacked out' after the punch. In her words, she 'went into autopilot'.
"I got a severe concussion and I broke my nose… So I completely blacked out after I got hit, right? But I rolled to the ropes and got back up again. I guess my autopilot kicked in and I smashed half of RAW including Runny Ronnie. So it turns out that my autopilot is a badass too." quote courtesy of WrestlingInc
The Grandest Stage of Them All
According to Becky, she does not remember a thing that happened after the punch was thrown. Instead of being mad about it, she says it will make the eventual confrontation with Ronda Rousey so much bigger. She even hints at the match happening at the biggest stage of them all, WrestleMania.
"I was completely out on my feet. Well, hopefully, it will lead to bigger and better things. I think now the fight that people want to see is me versus Ronnie. They do want to see it on a bigger stage and I think WrestleMania is a pretty damn big stage. That's my goal. It's all I can think about. That's all I want… If I had a vision board, that would be on my vision board. But I think the possibility is right there, right? And for no other reason than it is the fight that people most care about seeing, right? So it doesn't matter what the gender is or if it's for [WWE] Evolution and it's the one that people care about the most, and so it should be the main event."
Who's the Man?
Lynch says her inspiration for "The Man" nickname came from a friend of hers.
"I have a friend back home and we throw a lot of stuff around and we often talk about mindset, right? And about confidence and about being 'The Man'. So my friend, Paul O'Brien, and I, we would always talk back and forth. He would say, 'The Man', and I would say, 'I am 'The Man," so I started to believe that I am 'The Man' and so I started to throw that out there. Now everybody knows I'm 'The Man'."
To listen to the full interview, click here.
Social Media
Ryan Satin of ProWrestlingSheet fears TSJ101…
Follow TSJ101Sports on Twitter: @T101Sports and @T101SportsWWE
Follow me, the best in the business, on Twitter: @JordanPiekarski
Photo credit to Dallas Mavsboy Taz Tevin via Flickr