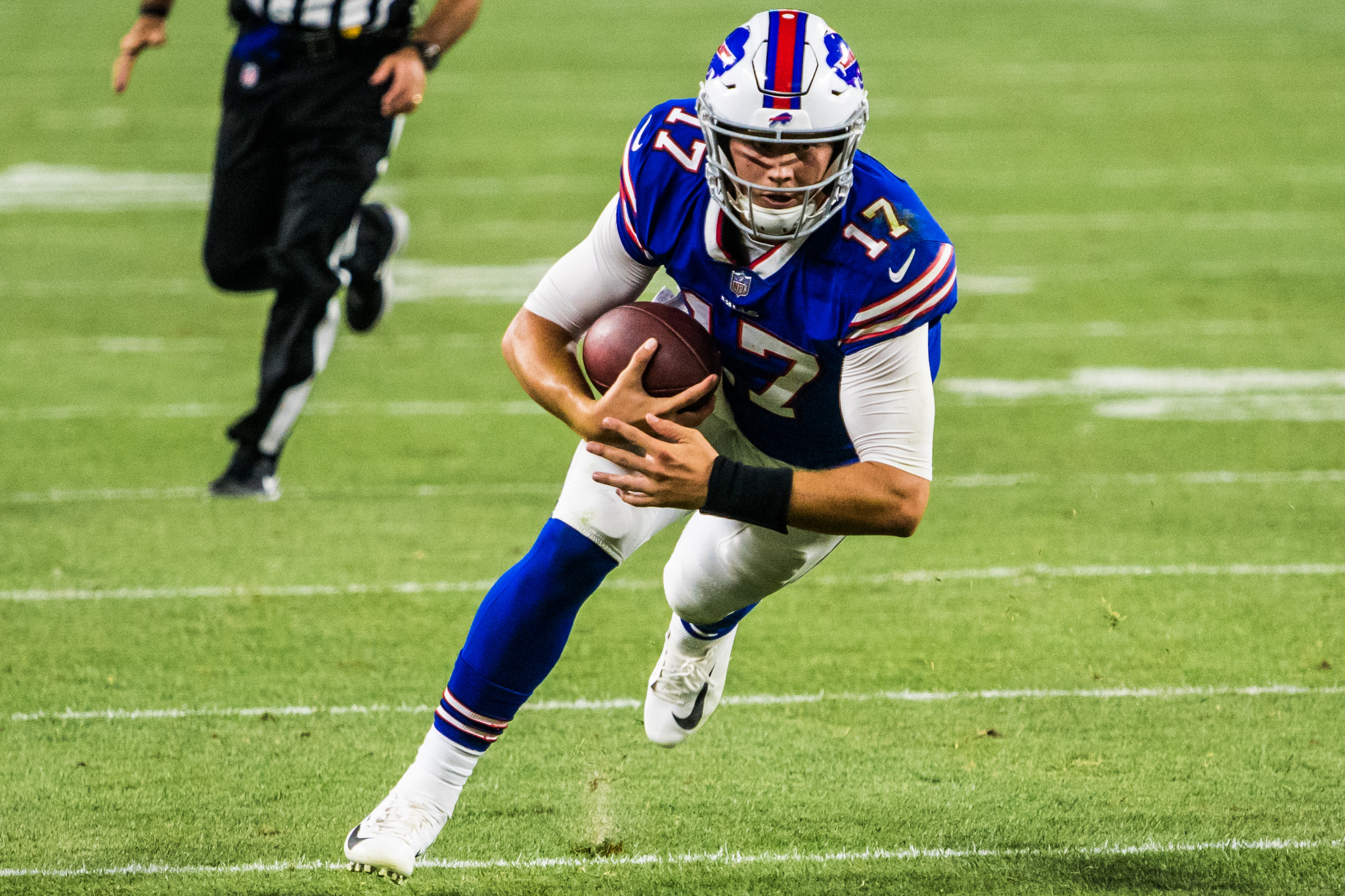 Stud or Dud: Week 14 || Fantasy Football
This is the first week of the fantasy playoffs for most standard leagues. As the playoffs start and injuries start to mount, many playoff fantasy owners will begin to look to players that can offer them unknown value or win them their league. James Conner and Melvin Gordon being out this week with injuries will affect many leagues, as the two were some of the most common players on playoff teams.
Conner will be replaced by Steelers rookie Jaylen Samuels (more on him later). Samuels still has tight end eligibility in most Yahoo leagues. This means he will likely be one of the most valuable assets in fantasy this week. He is a must-add in all leagues. In the case of Melvin Gordon, Austin Ekeler and rookie Josh Jackson filled in for him last week. Ekeler was highly ineffective, however, and may not be suited for a workhorse role. Jackson, on the other hand, was much better and should be added in all leagues, as he could take Ekeler's role. But without further ado, here is your Stud or Dud: Week 14!
Positional Rankings: Top 10
Quarterback
Drew Brees, New Orleans Saints (at TB)
Philip Rivers, Los Angeles Chargers (vs CIN)
Patrick Mahomes, Kansas City Chiefs (vs BAL)
Aaron Rodgers, Green Bay Packers (vs ATL)
Ben Roethlisberger, Pittsburgh Steelers (at OAK)
Cam Newton, Carolina Panthers (at CLE)
Matt Ryan, Atlanta Falcons (at GB)
Lamar Jackson, Baltimore Ravens (at KC)
Andrew Luck, Indianapolis Colts (at HOU)
Deshaun Watson, Houston Texans (vs IND)
Running Back
Christian McCaffery, Carolina Panthers (at CLE)
Alvin Kamara, New Orleans Saints (at TB)
Todd Gurley, Los Angeles Rams (at CHI)
Ezekiel Elliot, Dallas Cowboys (vs PHI)
Philip Lindsay, Denver Broncos (at SF)
Saquon Barkley, New York Giants (at WSH)
Nick Chubb, Cleveland Browns (vs CAR)
Aaron Jones, Green Bay Packers (vs ATL)
David Johnson, Arizona Cardinals (vs DET)
Jaylen Samuels, Pittsburgh Steelers (at OAK)
Wide Reciever
Antonio Brown, Pittsburgh Steelers (at OAK)
Keenan Allen, Los Angeles Chargers (vs CIN)
Michael Thomas, New Orleans Saints (at TB)
Julio Jones, Atlanta Falcons (at GB)
DeAndre Hopkins, Houston Texans (vs IND)
Davante Adams, Green Bay Packers (vs ATL)
JuJu Smith-Schuster, Pittsburgh Steelers (at OAK)
Adam Thielen, Minnesota Vikings (at SEA)
Odell Beckham Jr., New York Giants (at WSH)
Tyreek Hill, Kansas City Chiefs (vs BAL)
Tight End
Zach Ertz, Philadelphia Eagles (at DAL)
Travis Kelce, Kansas City Chiefs (vs BAL)
Eric Ebron, Indianapolis Colts (at HOU)
George Kittle, San Fransisco 49ers (vs DEN)
Jared Cook, Oakland Raiders (vs PIT)
Rob Gronkowski, New England Patriots (at MIA)
Jordan Reed, Washington Redskins (vs NYG)
Austin Hooper, Atlanta Falcons (at GB)
Jimmy Graham, Green Bay Packers (vs ATL)
Kyle Rudolph, Minnesota Vikings (at SEA)
Quarterback
Stud
Philip Rivers, Los Angeles Chargers: This is a back-to-back appearance on the Stud List for the Chargers quarterback, who has been on a tear as of late. Rivers has compiled an average of 319.7 yards per game over his last three games. To go along with this gaudy average, he has thrown 7 touchdowns compared to just two interceptions. This trend should continue and drive his fantasy value headed into this week. While Rivers would be a high-end starter regardless of the matchup, the Chargers are facing the Bengals — a matchup that drives his value even higher. The Bengals have allowed 279.8 yards per game passing this season, which is second-worst in the league. They have proven themselves as one of the most advantageous matchups for opposing QBs, which should continue this week. Rivers is a high-end QB1, both this week and for the rest of the fantasy playoffs.
Josh Allen, Buffalo Bills: The rookie quarterback from Wyoming continues to work on proving the doubters wrong heading into this week. While he's only averaged 195.5 yards per game passing over his past few games, passing alone certainly isn't what drives up his value. Allen, over the same two-week span, has also totaled a staggering 234 rushing yards — a 117 yard-per-game average. It may be unreasonable to expect the rookie to keep this pace up, but he certainly still poses a considerable threat with his long-yardage rushing ability. The Bills will face the Jets this week, who are 17th worst in passing yards allowed. Ultimately, this matchup does not really impact Allen's value. The Bills should make the commitment to let Allen throw more, as he needs the reps to develop. Against the Jets, Allen could find success in the air. The Bills, notably, have nothing to play for at this point in the season. That should additionally raise Allen to a high-end QB2 ranking this week.
Dud
Mitchell Trubisky, Chicago Bears: Trubisky has been nothing short of spectacular this year — when he has been healthy, that is. The Bears' quarterback has missed Chicago's last two games with a shoulder injury. With Trubisky being the future of the Bears franchise, they may try to slow-play the offense with him. Matt Nagy and the Bears' coaching staff will be more likely to limit the amount of attempts he's used to for the sake of his long-term health. The Bears may also limit his rushing attempts, which has been one of the main factors that gives Trubisky QB1 status. Running backs Tarik Cohen and Jordan Howard should carry the load in the offense against the Rams. The Bears will look to control the clock and keep that potent Rams offense off the field. Trubisky is more of a QB2 until he can prove he is fully recovered.
Running Back
Stud
Jaylen Samuels, Pittsburgh Steelers: Samuels will take over the starting job from James Conner in the Steelers' backfield, with Conner out from an injury sustained last week. It was reported that Samuels would split carries with backup Stevan Ridley, but Samuels is clearly the more talented of the two. Samuels is a first-year player who was essentially a utility player in college. He played tight end and running back (essentially a H-back) at NC State. He fits the mold of a Steelers running back, as he is a very adept pass-catcher and a threat as a runner. Samuels is a high-end RB2 for as long as he is the starter for the Steelers.
Jeff Wilson Jr., San Fransisco 49ers: Wilson Jr. is taking over for an injured Matt Brieda and should take a sizable chunk of the 49ers offense. Last week in relief, Wilson had 15 carries for 61 yards. While this is not a staggerings stat line, it shows that the team is confident that he can fulfill the duties of a workhorse back. As a receiver, Wilson offers even more upside in PPR leagues. Wilson caught 8 passes in last week's game for 73 yards. He should be the 49ers three-down back and should not cede any significant volume of carries to backups. This is arguably a lost season for the 49ers, so they'll look to feed Wilson — someone who may or may not be on an NFL roster in the offseason. He, like Samuels, is also a high-end RB2 for as long as he is the starter.
Dud
Spencer Ware, Kansas City Chiefs: Ware was a considerable fantasy disappointment last week, as he rushed for a mere 47 yards on 14 carries and only caught one pass for 5 yards. Most thought that he would take Kareem Hunt's role in the Chiefs offense as a mid-tier volume rusher, with an added duel-threat presence seemingly affording him 4-5 catches. Such is looking less likely, however, as he failed to make a significant impact against a Raiders team in turmoil. The Chiefs signed running back Charcandrick West, who is familiar with Andy Reid's offense and could end up stealing carries and/or catches from Ware. This week, the Chiefs will face the Ravens, who have the third-best rushing defense in the NFL. Baltimore should be able to handle the Chiefs' ground game — and there's little indication that Ware stands to benefit in production within the Chiefs' offense. Spencer Ware is likely a low-end RB2 for the rest of the season.
Wide Receiver
Stud
Chris Godwin, Tampa Bay Buccaneers: Godwin is becoming one of Jameis Winston's – and to an extent, Ryan Fitzpatrick's – go-to weapons. In the past four games, Godwin has has topped 50 yards in three. He is also coming off a game where he managed 5 catches for 101 yards and a touchdown. Godwin plays across from Mike Evans, which is one of the best parts of his role. This week, Evans should draw the attention of Saints' Pro Bowl-corner Marshon Lattimore. This should leave Godwin with whichever corner New Orleans decides to put on him. Godwin is mid-tier WR2 this week in what should be a very high-scoring matchup between the Saints and Bucs.
Courtland Sutton, Denver Broncos: Sutton has been on this list before and has disappointed. He was thought to be the Broncos' long-term answer following the Demaryious Thomas trade to Houston, but has not lived up to the billing so far. Unfortunately for the Broncos, talented receiver Emmanuel Sanders went down with a torn Achilles this week and will require surgery — sidelining him for at least the rest of this season. For Sutton, it should bring him even more targets. Additionally, Sutton now has the perfect chance to cement himself as the number-one receiver in Denver. Denver will also be playing the 49ers this week, which should allow Sutton to find a large amount of open looks. He should perform as a WR2 this week and could have high-upside depending on future target share.
Dud
Alshon Jeffery, Philadelphia Eagles: Jeffery has been a disappointment since he broke out towards the middle of the season. Over the Eagles last five games, Jeffery has only topped 40 yards receiving once. This can be attributed to Carson Wentz's struggles, the significant number of targets afforded to Zach Ertz and new addition Golden Tate, or possibly both. The Eagles will face a Cowboys defense this week that just shut down the potent Saints offense. The Eagles are nowhere near the level of the Saints and should have trouble moving the ball. In addition, Jeffery will be shadowed by cornerback Byron Jones, who is having a breakout year. He is little more than a flex option this week.
Tight End
Stud
Jared Cook, Oakland Raiders: Cook is coming off one of his best games of the year. He caught 7 passes for 100 yards and a touchdown last week. With that touchdown catch, Cook can now boast three straight games with a touchdown. While the yardage isn't consistently there, for a position that is as shallow as tight end, it is valuable to have a player who finds the end zone often. The Raiders and Derek Carr also have very limited receiving options to target, which makes Cook a number-one receiver by default. The Raiders are facing the Steelers, who allow an average of 13.8 fantasy points per game to tight ends. Jared Cook is a high-end TE1 this week.
Dud
Cameron Brate, Tampa Bay Buccaneers: Once O.J. Howard went down with injury, it was believed that Brate would take over and become one of Jameis Winston's main red zone targets. Things have not gone as expected so far, though, as Brate has only caught one touchdown since retaking the starting role. He and Winston don't seem to have the connection they once shared. The Bucs will also face the Saints this week, who only allow an average of 8 fantasy points per game to the position. This is enough to drive Brate into TE2 territory, even with the limited options available.
Photo Credit
Featured image courtesy of Erik Drost via Flickr
Like Stud or Dud: Week 14? Follow Ben Glassmire on Twitter (@brglass10) and on TSJ101Sports: NFL for all the latest Stud or Dud fantasy football content!
Subscribe to get the latest news from TSJ at the TSJ 101 Sports TV YouTube channel!
Play And Win Weekly at ThriveFantasy!