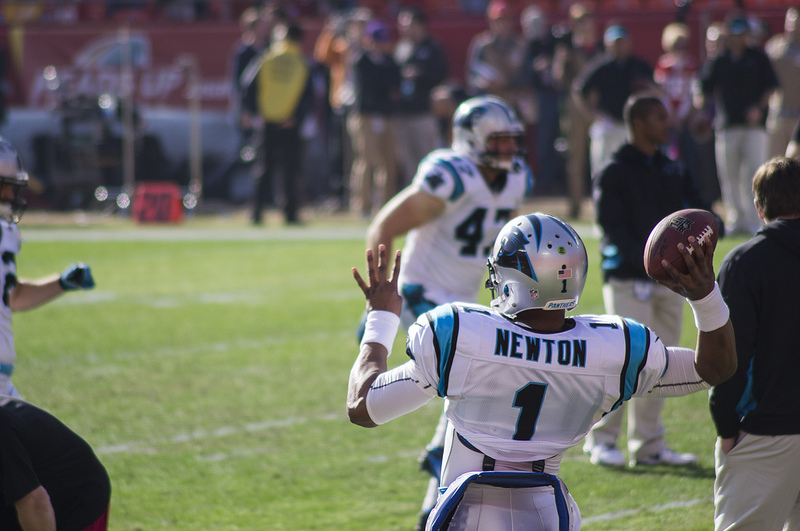 Baker Mayfield and the Browns Stand in the Way of Cam Newtown and the Panthers Snapping Losing Streak
In his rookie year, the Carolina Panthers' quarterback Cam Newton was having a record season. He gave the franchise and Carolina region some hope. The team missed the playoffs his rookie and sophomore year, but each year he steadily improved their record.
On the other side of the ball, Cleveland Browns' QB Baker Mayfield has given fans something to look forward to. He has led the team to four wins so far this season. Last season the team didn't win a game. The 2016 season, the Browns could only pull out one win. If Mayfield wins three of the last four games, he could lead the Browns to tie their best record in over a decade of 7-9 from the 2014 season. The last time the Browns went better than 7-9 was in 2007, going 10-6. 
Take a Look at Your Surroundings
Carolina Panthers
Although the Carolina Panthers have lost four games in a row, the supporting players around Newton are all but missing from their explosive offense. Running back Christian McCaffrey has been the story of this team the last few games. He is a great dual threat. In fact, McCaffrey leads the league in receptions with 53 since Week 6. 
Newton is the backbone of the offense. He has bad games, and then he can have MVP type games. Over his last four games, Newton is nearly perfect when throwing to the right 1/3 of the field. Yet he's has thrown all seven of this interceptions when targeting the left or middle 1/3 of the field.
With star tight end Greg Olsen being placed on IR after re-injuring his foot, it puts pressure on wide receivers Devin Funchess, Torrey Smith, and D.J. Moore to step up to the plate.
Fourth-year receiver Funchess has 41 receptions for 525 yards and four touchdowns so far this season. Smith is in his eighth season but first for the Panthers. He hasn't been much of a factor so far this year with only 171 yards and two touchdowns. Moore is standing out as a rookie for Carolina. He has record 609 yards on 42 receptions and took it to the end zone twice. 
Cleveland Browns
Mayfield has the second-most pass yards per game by a rookie starting QB since 1970. In his nine games started, Mayfield has completed 63.3% of his passes for 2,639 yards, 18 touchdowns, and ten interceptions. His receiving core and backfield have helped him tremendously. 
The Cleveland Browns traded for WR Jarvis Landry in the offseason. Although he's only found the end zone twice this season, he's accumulated 733 yards and has connected with Mayfield on huge plays when the Browns needed it most. This is with missing a game and a half. 
RB Nick Chubb has been tremendously successful. He is a powerful back but can sometimes help out the receiving game. He has 827 total yards and nine total touchdowns this season. He also went 92 yards for a touchdown Week 10 against the Atlanta Falcons, setting a franchise record for longest rushing play. 
Sunday Matchup
The Carolina Panthers and Cleveland Browns haven't met since 2014. The playoffs are on the line for the Panthers but slightly out of reach for the Browns. The Panthers have been off lately, and the Browns are coming off a bad loss against the Houston Texans.
When playing in Cleveland, which team will prevail? With both sides having a decent defense, it'll be a good offensive game. Newton will need to pull out hat tricks from his 15-1 2015 season to pull out the win and Mayfield will need to stick to his guns as he did at Oklahoma to steal the win at home.
Photo Credit
Featured Image courtesy of Satoshi Inoue
Don't forget to follow TSJ101Sports and your favorite writers like me (Savannah) on Twitter!
Subscribe to get the latest news from TSJ at the TSJ 101 Sports TV YouTube channel!
Play And Win Weekly at ThriveFantasy!