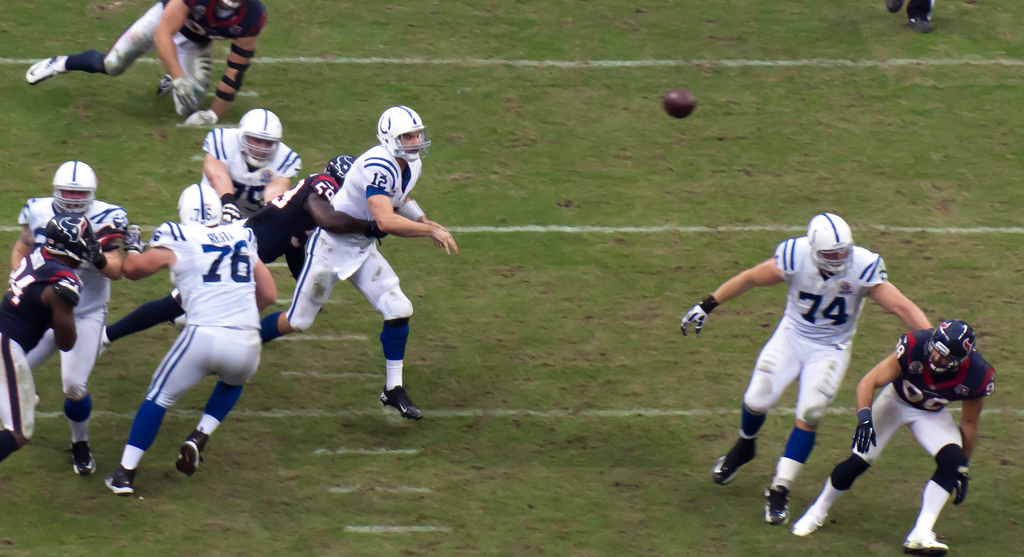 Andrew Luck and the Colts Enter Texans Territory For Week 14
A red-hot Houston Texans team hosts Andrew Luck, also known as the possible comeback player of the year, on Sunday afternoon. The Texans have won nine in a row and are the first team in NFL history to win nine straight after starting 0-3. 
Last Meeting
The last time these two teams met, the Texans began their win streak in Indianapolis. They topped the Colts 37-34 in overtime.
Texans' quarterback Deshaun Watson went 29/42 for 375 yards, two touchdowns and an interception. Top wide receiver DeAndre Hopkins caught ten receptions for 169 yards and a touchdown.
Luck went 40/62 for 464 yards and four touchdowns. Wide receiver T.Y. Hilton racked up four receptions for 115 yards and tight end Eric Ebron put up five receptions for 40 yards and a touchdown. 
In overtime, after both teams have put up three points the Colts went into desperation mode. They went for it on 4th and 4 on their 43-yard line. Failing to convert they turned it over on downs and Watson was able to bring his team down the field in 24 seconds to win the game.
Texans Defense
This strong Texans defense is ranked tenth overall. They're ranked 18th in pass defense, allowing 250 yards per game on average. Yet, their rushing defense is ranked fifth, only allowing 91 YPG. 
Their fifth-ranked defense has something to do with the fact that this team has some top defenders in the league right now. J.J. Watt and Jadeveon Clowney combined have 62 tackles, 18.5 sacks, and five forced fumbles so far this season. 
Free safety Tyrann Mathieu has 72 tackles, three sacks, and two interceptions. As well as six deflected passes, Mathieu has been a tremendous addition for the Texans. 
Andrew Luck and Co.
Before their Colts shutout last week against the Jacksonville Jaguars, Luck had eight straight games with over 230 yards as well as three or more touchdown passes. 
Eric Ebron was not a huge part of the game at the beginning of the season, but now he has looked like a great tight end. Before Week 5 against the New England Patriots, Ebron only had 150 yards and three touchdowns. Since that Week 5 game, Ebron has 439 yards and eight touchdowns. 
WR T.Y. Hilton has been a good receiver since entering the league in 2012. In 2016, he led receivers in yards with 1,448. So far this season, Hilton has 787 yards and six touchdowns. He is a top receiver and even Texans defensive coordinator Romeo Crennel joked "I might have to triple-team the guy." 
How Do They Matchup
The Colts' offense is good, but the Texans' defense is strong. They have great players all over the field. Luck can throw incredible deep passes, and he doesn't get tired of constantly throwing the ball. Watt and Clowney will put tremendous pressure on Luck to get the ball out of his hands quick.
This game will be a high stakes one because of playoff implications. The Texans are sitting in the third seed at 9-3 behind the 9-3 Patriots because of their loss in Week 1. The Colts are at 6-6 vying for a wild-card spot with three other teams sitting at 6-6. Also behind the 7-6 Tennessee Titans, 10-3 Los Angeles Chargers and the 7-5 Baltimore Ravens. 
This game is a must win for the Colts to stay in the playoff race. The Texans are trying to run the table to possibly earn first-round bye for the first time in franchise history. 
Photo Credit
Featured Image courtesy of Traveler 999
Don't forget to follow TSJ101Sports and your favorite writers like me (Savannah) on Twitter!
Subscribe to get the latest news from TSJ at the TSJ 101 Sports TV YouTube channel!
Play And Win Weekly at ThriveFantasy!