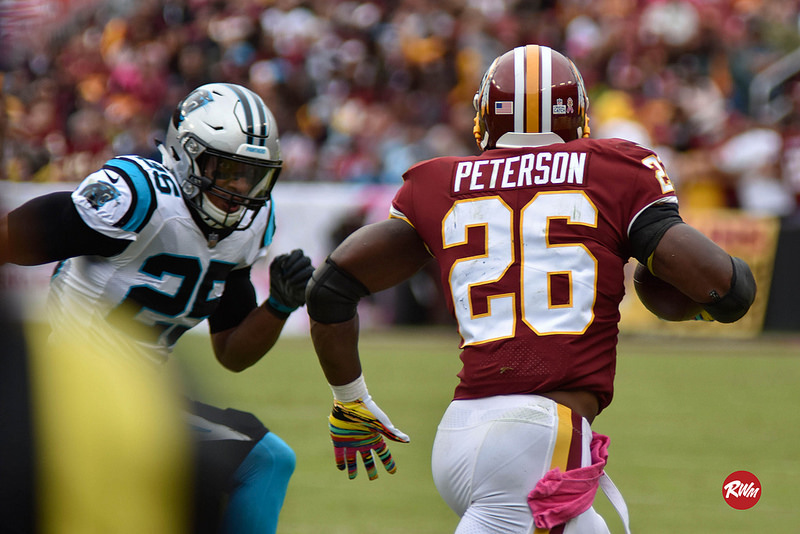 Panthers' Safety, Eric Reid Believes Random Tests Aren't So Random
Since signing with the Carolina Panthers back in Week 5, safety Eric Reid has found himself the target of multiple random drug tests. The tests are specifically looking for the presence of performance-enhancing drugs. Reid is starting to question how "random" these tests really are.
Eric Reid was randomly selected by the NFL to take a drug test today. He told me it's his 6th drug test since signing w/ Panthers on Sept. 27, 5th random (1st test was part of his physical).

"This is supposed to be a random system. It doesn't feel very random."

— Marcel Louis-Jacques (@Marcel_LJ) November 25, 2018
According to the NFL's policy on PEDs, ten players from each team get selected from a computer program. The program then randomly selects from the active roster, practice squad, and the reserve list. Eric Reid has supposedly been apart of that drug testing protocol six times.
It's hard to deny that the league wants to find a way to get rid of Eric Reid since he's been protesting alongside Colin Kaepernick since 2013. He and Kaepernick have undoubtedly become two of the most polarizing figures. But as much as Reid has been talking he also has been letting his game talk, tallying 53 tackles, one sack and one interception.
Reid is so far doing the right thing by not playing into the hands of the NFL. As long as he doesn't give the NFL a reason to come after him, he should be good. Reid should instead focus on rallying with his teammates to make a push into the postseason. The Panthers need a handful of scenarios to go their way in order to get a spot into the playoffs.
Reid's Response
When Reid was asked what his thoughts were on the matter a week ago, he said,
"I know what I'm dealing with. I have a collusion case against the NFL. This is something that doesn't surprise me from them. It's supposed to be random. It's obviously not. I'm not surprised about it. Even though it seems crazy on the outside looking in, and it is, I'm not surprised."
If the NFL is targeting Reid due to his legal battles with them, these comments did not help his case. There is obviously no proof, as of yet, to back up his claims. Reid is not the only player in the league frustrated with the current standing and enforcement of the program.
Photo Credit
Featured Image courtesy of Red Weasel Media
Subscribe to get the latest news from TSJ at the TSJ 101 Sports TV YouTube channel!
Play And Win Weekly at ThriveFantasy!