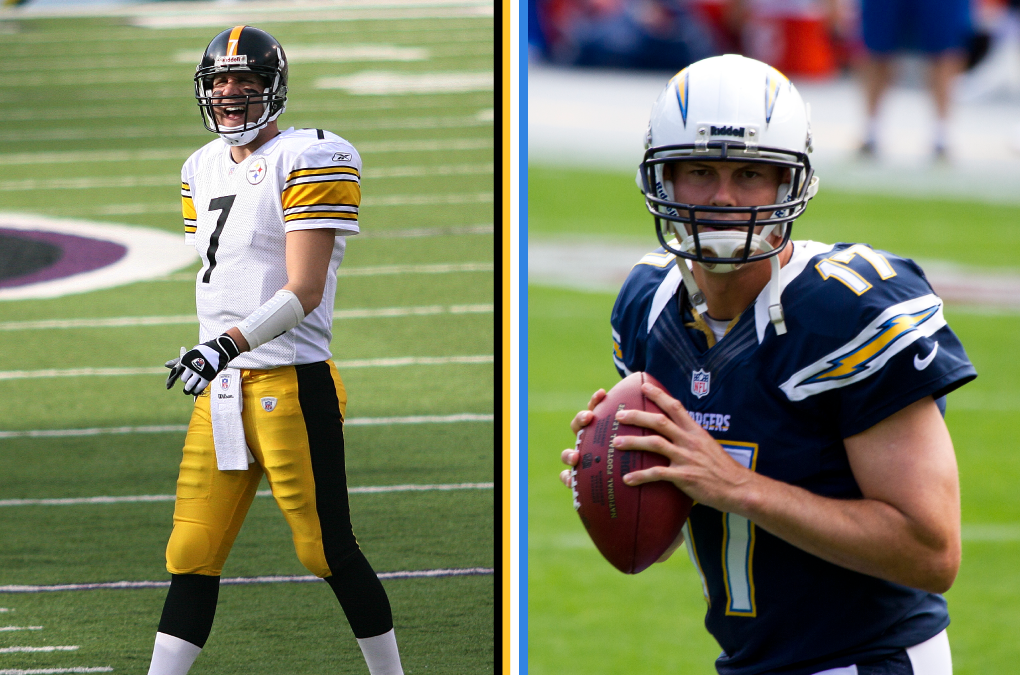 Roethlisberger and Rivers' Divergent Journeys through the NFL
The first-round of the 2004 NFL Draft had almost as much drama as it did talent. Fifteen of the first round selections went on to become Pro Bowlers. The first overall pick of the draft was Eli Manning, selected by the San Diego Chargers.
After an adult temper-tantrum from Manning who did not want to play in San Diego, the Chargers and New York Giants agreed to a trade. The Giants selected Rivers fourth overall and then traded him to San Diego in exchange for Manning.
In the midst of all the chaos, the quarterback from Miami University (Ohio) was quietly selected 11th overall by the Pittsburgh Steelers. Ben Roethlisberger was met with some cheers and some boos from the Steelers fans in the audience. However, the main focus was on Eli, younger brother of then super-star Peyton Manning.
Let's Get Physical
Ben Roethlisberger, who is currently 36, is listed as 6'5″ and 240lbs. Philip Rivers who is also 36 and 6'5″ is slightly slimmer than Roethlisberger at 228lbs. In 2011 there was speculation that Rivers was suffering from a hidden injury due to his poor performance. Throughout his career, he has avoided any major injuries. In 2014, Rivers admitted to suffering from back problems. However, he claimed they did not affect his performance.
Roethlisberger has had a series of minor injuries that have taken him out of a game for only a quarter or two. A 2005 shoulder injury, a foot injury in 2010, and a leg injury in 2011 are all examples of his minor scuffles. However, in 2012 Roethlisberger missed three games, a game in 2015, and a game in 2016 due to injuries. While Big Ben's health record is much spottier than Rivers', both have remained healthy for the better part of their careers.
Rookie Campaigns
Ben Roethlisberger
At the beginning of the preseason, Roethlisberger found himself third on the depth chart behind Tommy Maddox and Charlie Batch. After Batch got hurt in the preseason and a string of poor performances by Maddox, Roethlisberger had his number called. Roethlisberger stepped in for Maddox after Maddox fell awkwardly and needed medical attention. Roethlisberger went 12/20 for 176 passing yards, two touchdowns, and two interceptions.
Big Ben went onto start the next week against the Miami Dolphins. His performance slipped, completing just 54.5% of his passes for only 163 passing yards. He also threw one touchdown and one interception. Interceptions would become, and remain, a problem for the QB. Out of the 16 games he played in his rookie year, Big Ben threw at least one interception in ten of them.
However, the Steelers went 13-1 that year making it into the playoffs and losing to the New England Patriots in the AFC Championship game. At season's end, Roethlisberger finished with a 98.1 rating, a 17/11 touchdown-interception ratio, a 66.4% completion rate, and 2,621 passing yards. Roethlisberger was named the Offensive Rookie of the Year for his efforts.
Philip Rivers
In contrast to Roethlisberger's near story-book rookie year, Rivers found himself on the bench for all but two games his rookie year. Playing behind starting QB Drew Brees and second string QB, Doug Flutie, gave the NC State alumni very little playing time. Rivers only threw eight attempts that season completing five of them, with one resulting in a touchdown.
Rivers would see his first starting season in 2006 after Brees signed a massive contract with the New Orleans Saints. That year he would lead the Chargers to a 14-2 record completing 62% of his passes and throwing for a total of 22 touchdowns and just nine interceptions off 3,388 yards. His 92 rating wouldn't save the Chargers from falling to the Patriots, however, in the playoffs that year.
In contrast, the New York Giants went 6-10 that year. Eli Manning played in nine games that season. Manning went 95 of 197 (48.2%), with six touchdowns and nine interceptions. His brother Peyton Manning was named league MVP that year.
Success by the Numbers
Ben Roethlisberger, 15 Starting Seasons
Conference Championship Wins/Appearances: 3/5
Super Bowl Wins/Appearances: 2/3
Career Passer Rating: 94.1
Career Passing Yards: 55,010
Career Yards Per Game: 259.5
Career Touchdowns/Interceptions: 355/187
Philip Rivers, 13 Starting Seasons
Conference Championship Wins/Appearances: 0/1
Super Bowl Wins/Appearances: 0/0
Career Passer Rating: 96
Career Passing Yards: 53,766
Career Yards Per Game: 258.5
Career Touchdowns/Interceptions: 370/172
Context is Key
Two Super Bowl wins, and three conference championships make for a strong resume. Roethlisberger has secured his place in the Hall of Fame, and rightfully so based on his on the field merits. However, there are several more discrete factors working in Ben's favor.
To state the obvious, Roethlisberger has started two more seasons than Rivers has, yet Rivers only trails him by just over 1,000 career passing yards. If Rivers starts the same amount of seasons as Roethlisberger does by the end of his career, it's highly likely that he will have posted higher career numbers.
Divisional Competition
In comparing two quarterbacks, it is important to look around them. Both quarterbacks have played their entire careers with the teams that drafted them. Big Ben has been with the Pittsburgh Steelers in the AFC North while Philip has been with the San Diego/Los Angeles Chargers in the AFC West.
From 2004 to 2007 only one team in the AFC North had a winning record with the exception of 2005. In contrast, the AFC West in 2006 had three out of their four teams bosting winning records. For the majority of their time in the NFL, Rivers has met greater competition in the West against the Broncos, Chiefs, and Raiders than Roethlisberger has in the North. Given, the Baltimore Ravens have had a few strong years, but overall the Ravens, Browns, and Bengals haven't put up much of a fight.
Supporting Cast
Since 2004, Roethlisberger has thrown to a league-leading receiver twice and has had a league-leading running back behind him six times. Rivers has yet to have a league-leading receiver alongside him, but he did have a league-leading rusher with him twice in LaDainian Tomlinson. From 2013 to 2018, Ben has had at least one of the top 10 wide receivers on his team, while Rivers has had only one in that span (Keenan Allen).
From 2010 to 2012, neither QB had a top ten WR on their team. In those three seasons, Rivers was ranked first, sixth, and 17th in the league at the QB position meanwhile Roethlisberger was ranked 18th, ninth, and 21st. Rivers has shown he can be elite without elite talent around him, unlike Roethlisberger. Ben's average ranking at the QB position those years was 15.6.
It's impossible to judge a quarterback though without looking at their offensive line. Since 2014, Roethlisberger's offensive line average ranking is 8.4 while Rivers' has been 13. However, Rivers did play behind the top offensive line in 2017.
Defense Wins Championships
At the end of the day, the offense is only half of the team. A good defense can maintain an offense's work, and great defense can win games themselves. Roethlisberger with the Steelers has received the help of several top-tier defenses. The average ranking of the Steelers' defense throughout his tenure has been 6.7. During five seasons Big Ben had the top-ranked defense in the league. Pittsburgh's defense only found themselves out of the top 20 rankings once since 2004, and that was in 2015 when they were ranked 21st.
On the other hand, Rivers on average was working with a 14 ranked defense. In 2010, the Chargers' had the top-ranked defense. However, they've also had the 25th, 23rd, and 20th ranked defenses in his time with the franchise.
While having a great defense doesn't take away any of Big Ben's accomplishments, recognizing the lack of support Rivers has had makes his success more impressive.
How Much is a Ring Worth
In summation, Ben Roethlisberger has had a better offensive line, far superior supporting offensive talent, and for the most part, an easier division to compete in. He also has two additional starting seasons on Rivers. This is not to say Philip Rivers has drawn the worst lot of modern NFL quarterbacks. Nevertheless, Rivers' journey has been far more uphill than Roethlisberger's.
There is one pesky fact that undoubtedly nags at Rivers and will inevitably affect his legacy if it doesn't change. Philip Rivers has yet to appear in a Super Bowl, let alone win one. Big Ben has won two and appeared in three. While circumstantially, it would have been more impressive for Philip to accomplish this feat, the fact is he didn't, and Ben did.
With an equivalent wide receiving core, backfield, and offensive line, statistics would tell you to pick Rivers, but history would advise you to pick Roethlisberger. The truth is probably somewhere in the middle.
Statistics would tell you to pick Rivers while history would tell you to pick Roethlisberger. With an equivalent wide receiving core, backfield, and offensive line, it seems Rivers is the better shot caller. Had Rivers been selected by the Steelers it's safe to say he would have a ring, maybe even more than two.
Had Roethlisberger been drafted by San Diego, it is hard to say if he would have been more or less successful than Rivers has been there. The truth to this tale is that we will never know.
Week 13 Matchup
This past Sunday in Week 13, the two QB's came head to head. Rivers and the Chargers escaped with a 33-30 win. Rivers ended the night with two TD's, and 299 yards off 26 completions from 36 attempts. Roethlisberger threw two TD's, one INT, and 281 yards off 29 completions from 45 attempts. This gave Rivers a rating of 115.4 and Roethlisberger an 87.4 rating. Maybe there'll be another chapter of this tale in the postseason this year.
Photo Credit: Keith Allison and Nathan Rupert via Flickr
Stay informed, follow our NFL Department and Lauren on Twitter for upcoming stories and news.
Subscribe to get the latest news from TSJ at the TSJ 101 Sports TV YouTube channel!
Play And Win Weekly at ThriveFantasy!