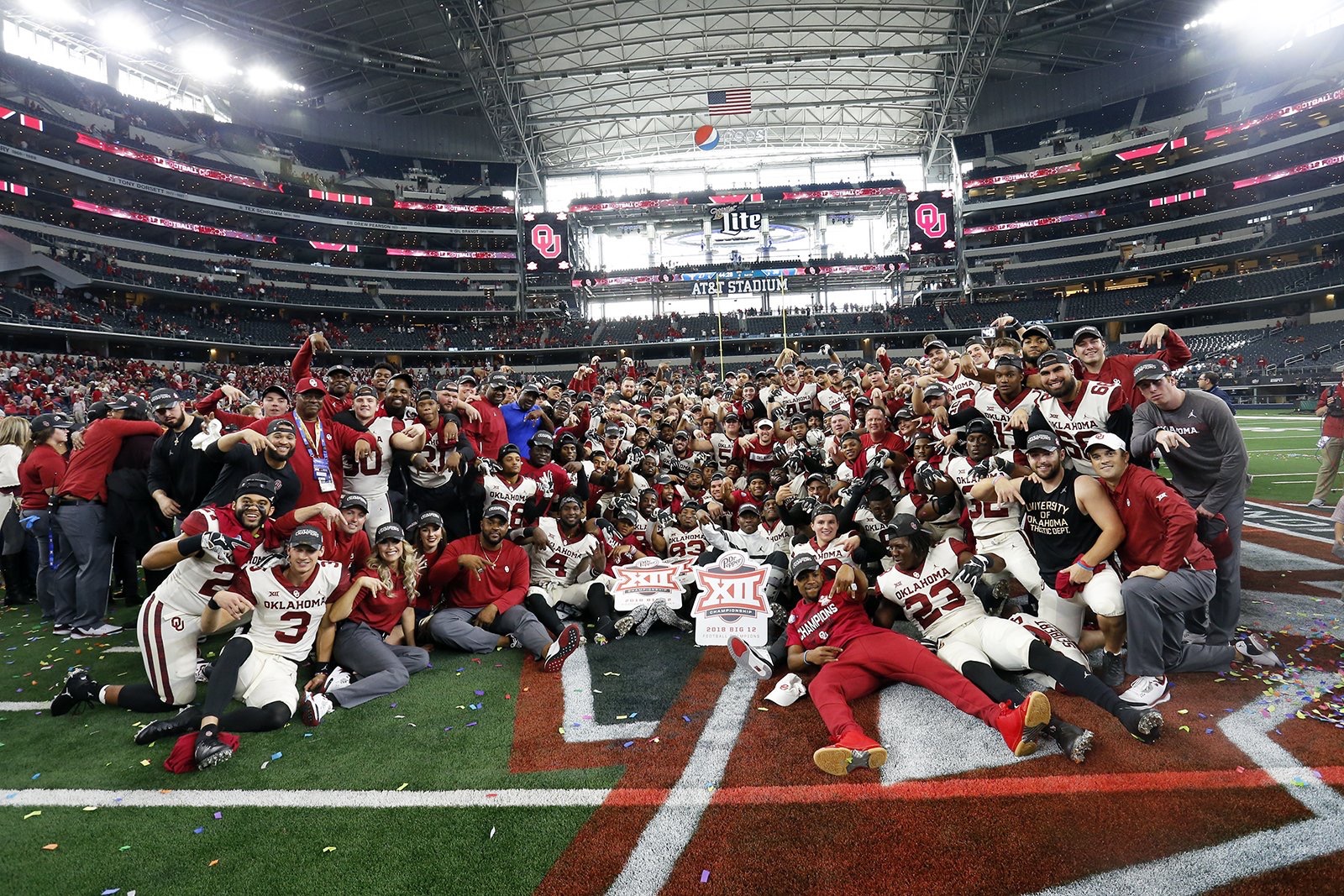 The Big 12 Championship game was a successful game. The Oklahoma Sooners was able to get a 39-27 win over the Texas Longhorns. Let's step into the review of the Big 12 Championship review!
Oklahoma Wins Big 12 Championship
Four years in a row the Sooners of Oklahoma have been Big 12 champions.
Oklahoma Player Stats
Quarterback Kyler Murray had 379 passing yards, 3 touchdowns, and also 10 receives with 39 yards. Running backs Trey Sermon and Kennedy Brooks had a total of 28 carries for a total of 98 yards. Wide receivers CeeDee Lamb and Marquise Brown had a total of 10 recieves with a total of 221 yards combined.
Texas Player Stats
Quarterback Sam Ehlinger had 349 passing yards, 2 touchdowns, 1 interception and along with 15 carries, and 42 rushing yards. Running back Tre Watson had 13 carries, and 39 yards rushing. Wide Receiver Collin Johnson had 8 receiving for a total of 177 yards.
What's Next?
Oklahoma was able to finish the season 11-1 with an impressive revenge win over the Longhorns, after Texas beat them in regular season and gave them that game loss. The Sooners came fighting and didn't give up during the game. After the championship game came to an end, both teams waited for their next step. Playoffs or bowl game, what would it be? Sunday afternoon the results came official to where both teams, will go from here.
After the Georgia Bulldogs lost to Alabama Crimson Tide, that pushed the Sooners to number four spot.
Oklahoma will face Alabama in the Orange Bowl on December 29 at 8pm on ESPN. On Jan 1, 2019 the Texas Longhorns will face the Georgia Bulldogs in the Sugar Bowl.
Will Oklahoma be able to stop the Roll Tide of Alabama and go onto the national championship? Can Texas stop Georgia and get another win?
Stay tune to more news from the Big 12 Conference.
Social Media
Follow TSJ 101 Sports on Twitter: T101Sports
Department: T101SportsCFB
Writer:  justbeingk88
Picture Credit: Oklahoma Football via Twitter