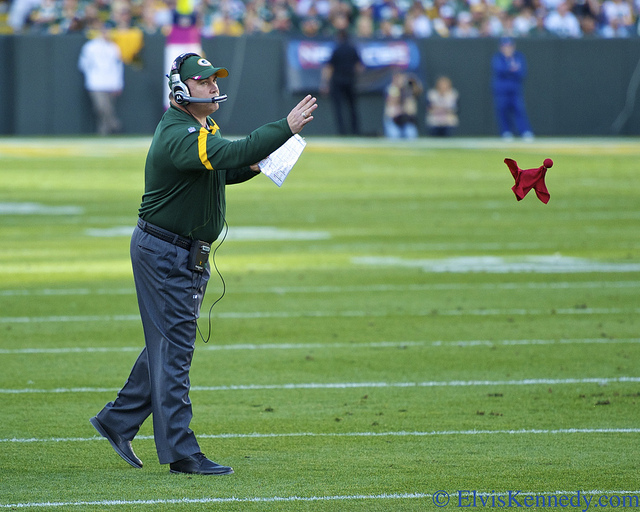 Packers Fire Head Coach Mike McCarthy Immediately After Loss to Arizona Cardinals
President and CEO of the Green Bay Packers, Mark Murphy announced just a few hours after the 20-17 loss to the Arizona Cardinals, that the organization decided to part ways with Mike McCarthy. The firing came earlier than expected but was definitely not a surprise to the Packers' fan base. Murphy took to Twitter to release a statement to the media.
McCarthy's Tenure in Green Bay
McCarthy was hired in 2006 as Green Bay's head coach. But before he started his 13-year journey with the Packers, he was the offensive coordinator for the New Orleans Saints from 2000-2004. As well as the offensive coordinator for the San Francisco 49ers in 2005. McCarthy was the second-longest tenured head coach in Green Bay.
Mike McCarthy's 13 seasons with #Packers

TENURE
• 2nd-longest tenured head coach in @packers history, behind Curly Lambeau (29 seasons)

2006-2016
• 114-61-1
• 6 NFC North titles
• 9 playoff appearances
• Won Super Bowl XLV

2017-2018
• 11-16-1
• 0 playoff appearances

— NFL Research (@NFLResearch) December 3, 2018
What Went Wrong
Rodgers has the right to overrule McCarthy in his play-calling if he sees fit. McCarthy gave Rodgers then took back the play-calling abilities in the 2015 season. This caused great tension and the inability to provide McCarthy with rhythm in play-calling. Rodgers has one of the best minds in football and McCarthy if one of the better coaches in the league. Growingly since 2015, they have been beginning to clash.
Things went from a match made in heaven to the verge of a divorce between Rodgers and McCarthy these last few seasons. Colin Cowherd stated on his show The Herd that "this has been a simmering divorce for years" and former star Packers receiver Greg Jennings backed up that sentiment.
Last season Booger McFarland sat down with Rodgers and McCarthy separately and ended up saying he sensed something was off. "Maybe it's their personalities, but to me, I find it very [unusual] that you get two people who really enjoy working together and enjoy being around each other, but you can't sense or see that [they do]. I didn't sense that from either Aaron or coach."
What's Next For Mike McCarthy
With a Super Bowl winning head coach on the market, and some NFL teams possibly looking for a head coach, McCarthy won't be without a job for long.
An obvious head coach opportunity for McCarthy would be Cleveland. The Cleveland Browns have young and talented team hungry to win. Interim head coach Gregg Williams has helped vamp up this team since taking over midseason after Hue Jackson's firing. An experienced and veteran head coach, however, is exactly what the Browns need to get on track and be a serious threat in the AFC North.
McCarthy went from having a Super Bowl winning QB to an inexperienced third-year player. He knows how to coach newbies and knows how to strengthen veterans.
Other positions available would be the Arizona Cardinals, Jacksonville Jaguars, and New York Jets. All teams whose coaches have been unable to bring their teams more than a few wins this season.
Possible Replacements
With McCarthy gone, former OC Joe Philbin will serve as interim. But after only four games, will it be enough to prove that Philbin can work out this teams' kinks and keep the head coaching job?
Long time Packers' coach, Joe Philbin has been named interim head coach. He was the HC for the Miami Dolphins back in 2012-2015 and the asst. head coach for Colts 2016-2017 before returning to GB as offensive coordinator

— Lauren Phillips (@LaurenP_52) December 3, 2018
If Philbin's not the right man for the job, some replacements include New England Patriots' OC Josh McDaniels. He's been in the NFL since 2001. He's been with the Patriots with the exception of three seasons. He was the head coach of the Denver Broncos from 2009-2010, and the offensive coordinator for the St. Louis Rams in 2011. He has had tremendous success and knows who to coach a successful quarterback. He would be a good fit and is a huge name for in the conversation.
Bruce Arians was the former Arizona Cardinals' head coach. As an offensive coordinator for the Pittsburgh Steelers from 2007-2011, he helped the team win Super Bowl XLIII. He also won NFL Coach of the Year in 2012 when he as the interim head coach for the Indianapolis Colts.
He won the award again in 2014 for leading the Cardinals to an 11-5 record. This lands second in the franchise record books for most wins in a season. Only behind 13 wins in 2015. It's probably a long shot since he said he would only come back for the Browns. Yet, this experienced coach is a top pick for almost every team in need of a head coach.
John DeFilippo is the OC for the Minnesota Vikings. He was hired in the offseason after helping coach the Philadelphia Eagles' quarterbacks to a Super Bowl win last season. The Vikings' offense is ranked 16th overall, and Kirk Cousins has been having a decent season. With 3,289 yards and 22 touchdowns so far this season, DeFilippo could certainly bring Rodgers and the Packers back up to where they used to be.
Photo Credit
Featured Image courtesy of Elvis Kennedy
Don't forget to follow TSJ101Sports and your favorite writers like me (Savannah) on Twitter!
Subscribe to get the latest news from TSJ at the TSJ 101 Sports TV YouTube channel!
Play And Win Weekly at ThriveFantasy!