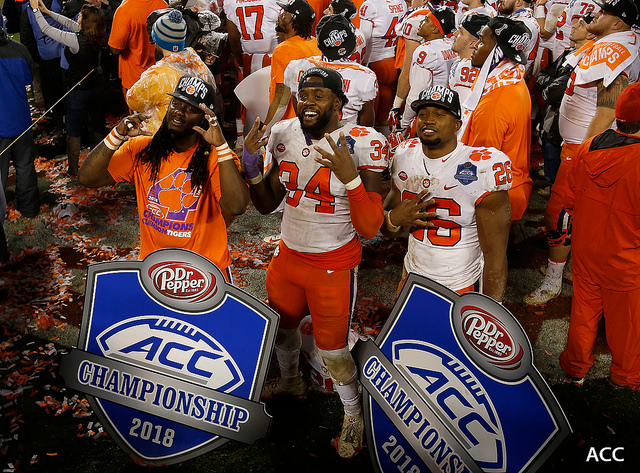 Clemson Wins Record Fourth Straight ACC Title
The weather wasn't pretty but the ACC witnessed history Saturday night. Clemson became the first team in the 66 years of existence in the ACC to win four straight titles outright. Travis Etienne opened the game with a 75-yard rushing touchdown that gave Clemson the lead within 13 seconds of the game starting. Etienne would finish with 156 yards rushing and two touchdowns to help the Tigers take home the ACC crown with a  42-10 over victory over Pittsburgh.
Clemson Review
The Tigers came out and punched Pittsburgh in the mouth. Scoring on the first touch of the game then wreaking havoc on defense was fun to watch as a fan. Over 400 yards of offense isn't a bad night for a team that had to play in some nasty weather. Still, the offense did sputter at times and could have scored more points. The scary part of this review is that the offense didn't even play at a high level and still managed to score 42 points!
Clemson's defense rose to the challenge after last week's disappointing outing against rival South Carolina. After surrendering over 600 yards to the Gamecocks, Clemson's defense only allowed 200 yards of total offense. Pittsburgh was clearly committed to the run even late in the game only managing eight yards of passing…ALL GAME. Clemson's defense definitely played with an edge this game so it'll be interesting to see how they manage once their postseason opponent is announced.
Pittsburgh Review
Well, the Panthers were not shut out. Pittsburgh's offense was basically non-existent other than a couple of scoring drives. The Panthers managed to rush for 192 yards but had eight yards passing. There's not much to say other than Pittsburgh has some talented running backs but needs a passing game that can compliment them to make the offense more potent. Understandably, neither team was heavily relying on the pass on Saturday.
Can you give a defense a pat on the back for moral victories? Truth be told, Pittsburgh managed to stop a few Clemson drives from getting points. However, the Tigers still hung 42 on the Pittsburgh defense. Pittsburgh can be a stingy team and these spoiler games are their specialty but tonight Clemson was on a mission and no one was going to stop the Tigers.
What did you think of the ACC Championship game?
Photo credit to Tigernet.com via Flickr.