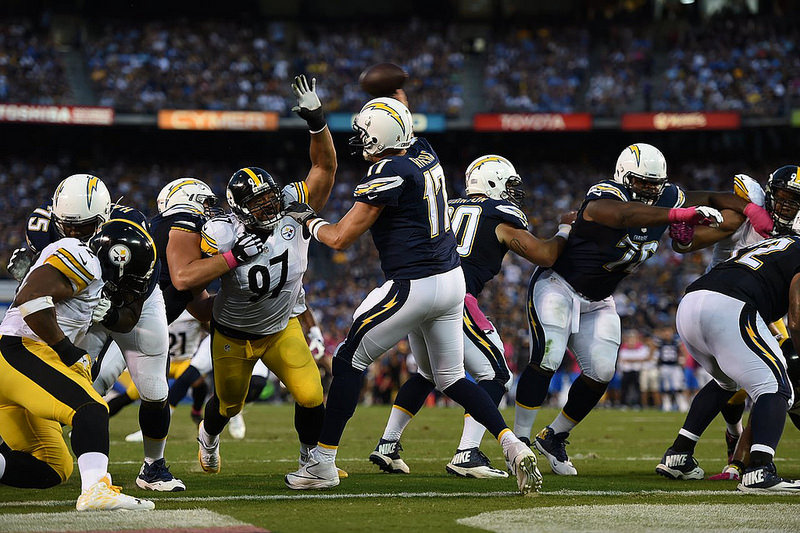 Week 13: Los Angeles Chargers vs. Pittsburgh Steelers Preview
Week 13 features a matchup between two AFC juggernauts in the Los Angeles Charges and Pittsburgh Steelers. Pittsburgh has dominated the matchup between these teams leading the series 23-9 all time.
The last game between these two teams saw Michael Vick lead the Steelers to a win in San Diego. That game also featured a walk-off touchdown by Le'Veon Bell as time expired.
Injury Report
Los Angeles Chargers
The Los Angeles Chargers enter this week with some key players on the injury report. Pro Bowl running back Melvin Gordon is listed as a non-participant with a knee injury and appears likely to miss this game. While the offense has been potent this season, missing Gordon could prove fatal. Gordon is leading the team in rushing yards, touchdowns, and explosive plays.
Another key player down is wide receiver Tyrell Williams who was listed as a limited participant after missing last week. Williams is second on the team in receiving yards and touchdowns while averaging 18.5 YPC.
Pittsburgh Steelers
The Pittsburgh Steelers have a few key players missing practice as well this week. Starting right tackle, Marcus Gilbert has been missed the last two games and is still out with a lingering knee injury. Safety Morgan Burnett lost a lot of time early this season, and after coming back from injury, he appears banged up again. Burnett is listed as a non-participant this week with a back injury.
One other notable player to watch is starting outside linebacker Bud Dupree. Dupree injured his pectoral muscle in last week's game against Denver and is still on the injury report late this week. Losing Dupree would be a huge hit to an already shallow position.
Key Matchups
Joe Haden vs. Keenan Allen
Keenan Allen has been on a tear as of late, but Joe Haden has done his fair share of locking down this season. Over the past three games, Allen is averaging 7.3 receptions, 72.6 receiving yards, and one touchdown. In the Steelers' past few games, Haden has played an important role in an inconsistent but improving Pittsburgh secondary.
Although Haden only has one interception this season, he has been lock-down, and a matchup with Allen will be a fun shown to watch.
Ben Roethlisberger vs. Philip Rivers
While these two will not actually be on the field at the same time, a battle between marque quarterbacks is always noteworthy. Both Roethlisberger and Rivers were drafted in the 2004 NFL Draft and have produced HOF potential careers.
Roethlisberger and Rivers are killing it this season, ranking in the top ten for both passing yards and touchdowns this year. With both men having MVP caliber seasons a Sunday night matchup should be one for the books.
Chargers' Pass Rush vs Steelers' O-Line
One the of biggest matchups this weekend will be Joey Bosa and Melvin Ingram against the Steelers' talented offensive line. Pittsburgh has allowed the third fewest sacks and QB hits this season. While Ingram has had a down year and Bosa is just coming back from injury, both pose a huge threat to the Steelers' offense.
Since returning from injury, Joey Bosa is averaging at least one sack per game. Ingram started slow, but over his last five games, the outside linebacker has accumulated three sacks. With both on the field, it will be a tough due to block.
Fantasy Implications
Los Angeles Chargers
The Chargers' biggest threat this week is WR, Keenan Allen. The talented wide receiver is averaging 13 fantasy points over his last three games. Another receiver to look at is Mike Williams who may not get a lot of targets, but when he touches the ball he scores. Williams leads the team in receiving touchdowns with seven, scoring on nearly 30% of his receptions.
Quarterback Philip Rivers is in contention for QB1 play as he is averaging 19.9 fantasy points per contest. The only drawback to his game is the fact that Pittsburgh has been pretty good on defense this season. Pittsburgh is ranked first overall in sacks and sixth in both passing yards per game allowed and completion percentage this season.
Pittsburgh Steelers
Pittsburgh's offense is always primed to show out no matter who their opponent is. Both Antonio Brown and JuJu Smith-Schuster are in the wide receiver top ten of total fantasy points scored this season. Brown is averaging 13.9 points per contest while Smith-Schuster is sitting at 12.1.
Running back James Conner is also a must-start, averaging 17.8 fantasy points per contest this season. Conner will also be going up against a defense that is surrendering an average of 107.5 rushing yards per game.
Prediction
These teams enter this game coming off of very different outcomes. The Chargers dominated the Cardinals at home with a convincing 45-10 win. While the Steelers were shell-shocked in Denver losing a tight one 24-17. The Pittsburgh Steelers generally fare well in prime-time games at home and are in need of a big win.
The #Steelers are 8-0 in primetime games in the month of December at Heinz Field since the stadium opened in 2001:

12/7/06: CLE 27-7

12/2/07: CIN 24-10

12/23/10: CAR 27-3

12/8/11: CLE 14-3

12/15/13: CIN 30-20

12/28/14: CIN 27-17

12/6/15: IND 45-10

12/10/17: BAL 39-38

— Dom Rinelli (@drinelli) November 29, 2018
While I do believe the Chargers are a great team they have not been tested all too much. The wins the Chargers have are against teams with a combined winning percentage of .490% with only one of those teams having a winning record before playing the Chargers.
The combined record of the 8 teams the #Chargers have beaten so far this season is 25-51-1. Only team they have beaten that had a winning record at the time they played them were the #Seahawks. Steelers are 7-3-1 entering Sunday night game.

— Steelers Depot (@Steelersdepot) November 29, 2018
The Steelers will need a complete effort from both sides of the ball. But with this game being played at Heinz Field it's hard to pick against the home team. The Steelers should take this one in a shootout 35-24.
Date: Sunday, December 2nd, 2018
Time: 8:20 pm Eastern
Location: Heinz Field, Pittsburgh PA
Team Records:
Los Angeles Chargers: 8-3-0
Pittsburgh Steelers: 7-3-1
Photo Credit
Featured Image courtesy of steeltownusa.com
To stay updated on news from the Steelers and around the NFL, follow James Hall on Twitter: @jhallT101sports
Subscribe to get the latest news from TSJ at the TSJ 101 Sports TV YouTube channel!
Play And Win Weekly at ThriveFantasy!