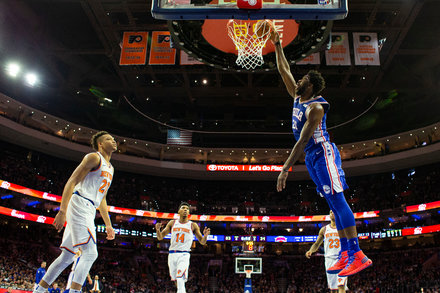 The Sixers Stomp Division Rival Knicks At Home 117-91
The Philadelphia 76ers dealt the New York Knicks one of their worst losses of the season on Wednesday night. Once establishing a 14 point lead in the first quarter, the momentum was with the Sixers the entire way. The only two categories which the Knicks bested the Sixers in were steals (11) and turnovers (13).
However, they were not able to capitalize by utilizing those two stats to their advantage. As a result, the Sixers stomped the Knicks in a blowout victory 117-91. This is the 11th home victory for the Sixers and the second loss in a row for the 7-16 Knicks on the road.
Embiid, Redick and Simmons aka The Defenders
In this universe Joel Embiid and JJ Redick are the center and shooting guard for the Sixers. Their performances against the Knicks indicated a higher power not of this world. Unlike their Marvel Universe counterparts Luke Cage and Iron Fist, this show wont be ending for them anytime soon. Embiid might not be invincible, but his power of being able to earn double doubles (26 points and 14 rebounds) doesn't appear to be fading anytime soon.
Redick's hot hand was put to good use as he was able to hit 4-6 (66.6%) three pointers from downtown. It helped him tally a total of 24 points. Dare I say that Ben Simmons' heightened sense of court vision and his ability to rack up triple doubles was on display again on Wednesday. He nearly gained another with 14 points, 8 rebounds and 7 assists. He also limited Emmanuel Mudiay to three points and it was fitting for a trio that protected their home turf similar to Marvel's Defenders.
Knicked Up…
The Big Apple trio of Mario Hezonga (17 points, 5 rebounds), Enes Kanter (17 points, 6 rebounds) and Damyean Dotson (16 points, 4 rebounds) combined for 50 of New York's 91 points. Without their contributions, the score would've looked even less respectable in what turned out to be a pretty lopsided affair for the Knicks.
We're Off To See The Wizards…
The Sixers had Thursday off. They'll face the 8-13 Wizards tonight at home. The Wizards possess a 2-8 road record will face one of their toughest challenges of the season. They'll also be taking on a Sixers squad that has an 11-1 home record.
Obviously, Washington's 2018 season has been a complete disappointment so far. One thing is for sure there won't be any easing on down the road for this Wizards team. The Sixers will also be eager to remind them that "There is no place like home". Tune in this evening to see how it all unfolds!
Photo Credit
Gaurav Kumar via Flickr