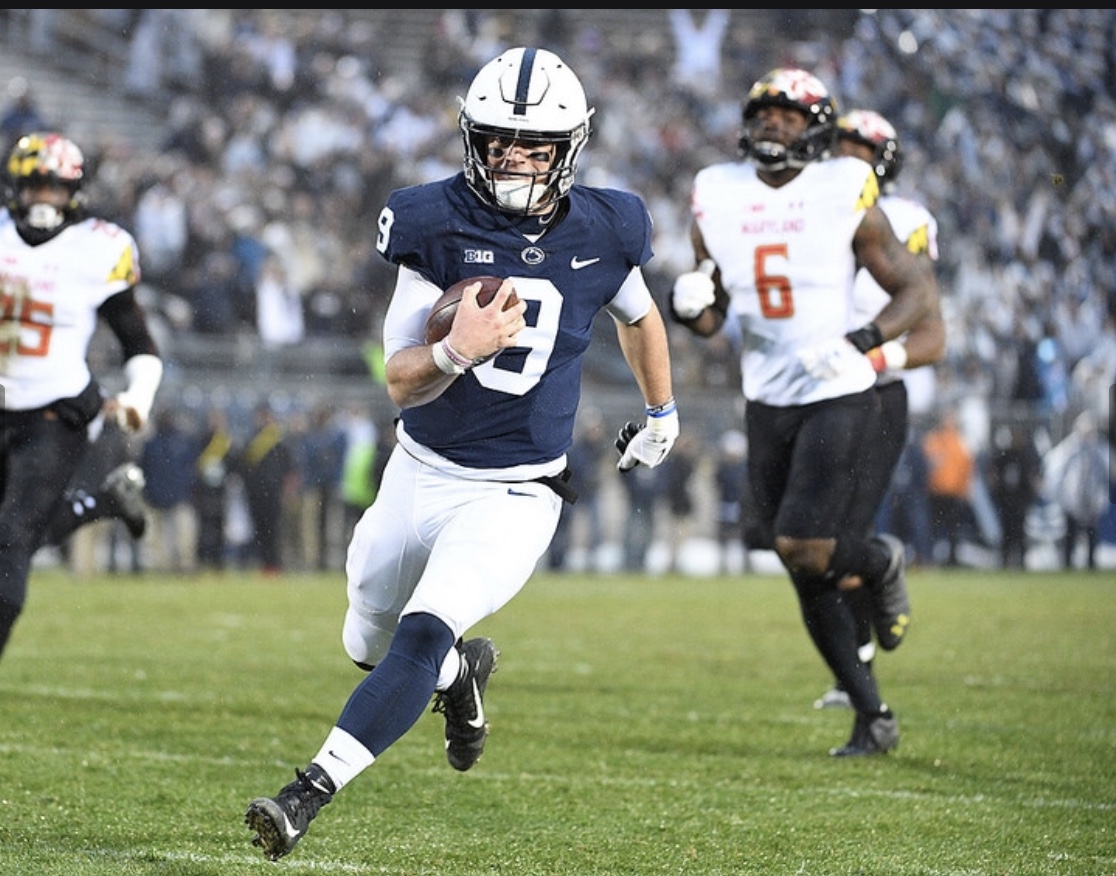 Trace McSorley Paves The Way for Penn State
In what was a farewell game for twenty some seniors including Trace McSorley., Penn State hailed victorious over the Maryland Terrapins 38-3. Penn State seniors whom dedicated their lives to this program and sort were able to finish it strong.
Game in Review
Penn State was dominant throughout this game surrendering the only three point field goal that Maryland achieved, was from Joseph Petrino, when he put it through the upright from 26 yards out. Petrino did miss a field goal attempt from 31 yards out.
On the other hand, Trace McSorley did what he always does take control. McSorley went 12-122 for 233 yards total with a touchdown, and he tacked on that performance with eleven rushes for 71 yards and two additional rushing touchdowns.
Penn State
Offense
Trace McSorley paves the way for Penn State. Trace McSorleys' performance in his final game echoed Beaver Stadium. Likewise, besides McSorleys' 71 yards on the ground he was also sacked once. Miles Sanders' rushed 14 times and contributed another 128 yards. However, Ricky Slade had a nice game for his final regular season game garnering 11 rushes for 62 yards along with two touchdowns.
Receiving wise, K.J Hamler had three catches for 90 yards. However, Pat Freiermuth had two catches for 27 yards with one of those being Trace McSorleys' sole touchdown pass. DeAndre Thompkins also had three catches for 36 yards.
Defense
The defense stepped up big for allowing that three-point field goal early on. Cam Brown led the way for Penn State with five tackles. Additionally, Brown had a one-and-a-half tackles for loss for a total of seven yards. Micah Parsons also had four tackles including one tackle for loss for two yards.
Yetur Gross-Matos had a big day defensively with three and a half tackles for loss for 13 yards. Overall, the defense came to play and it showed.
Maryland
Offense
Even though Maryland's only account of offense was through a field goal, Maryland got little to nothing besides that. Tyrrell Pigrome went 14-23 for 185 yards. However, Pigrome was sacked five times by a Penn State defense that was on its game. Additionally, Javon Leake led the Terps in rushing with eleven touches for 39 yards. However, the Nittany Lions were able to stop just about everything.
Receiver Brian Cobbs had two receptions for 58 yards and Dontay Demus had three receptions for 35 yards.
Defense
Isaiah Davis led the defense with nine tackles six solo and three assisted. Jordan Mosley and Antwaine Richardson had six solo tackles each. Maryland did have one of the worst defenses in the NCAA as is.
Conclusion
Trace McSorley paves the way for Penn State. For the last time at Beaver Stadium twenty some seniors donned the navy blue and white for four seasons and the last time in Beaver Stadium. Penn State will now look forward to some rest and players grinding out the rest of the semester.
Furthermore, Penn State will soon enough know which bowl they're headed to. Even though they won't contend for the Big Ten Championship, Penn State may be good enough for a New Year's six bowl.
Follow the writer on Twitter @TJ22_PSU
Photo Credit to Penn State alumni association via Flickr