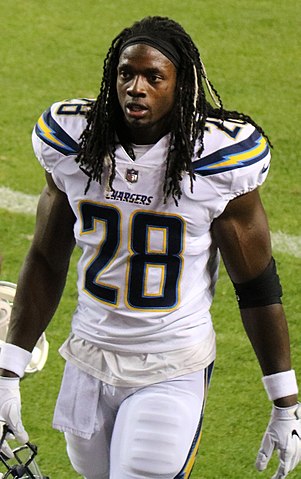 Chargers' Running Back Melvin Gordon Suffers MCL Sprain in Win Over Cardinals
According to NFL insider Ian Rapoport, Los Angeles Chargers running back Melvin Gordon suffered a knee injury early in the third quarter of Sunday's game. Gordon did not return in the Chargers' 45-10 win over the Arizona Cardinals.
Good news for the Chargers is that it is not a tear, meaning it is likely not a season-ending injury. Due to a collision with defensive lineman Robert Nkemdiche, the RB was diagnosed with a grade two MCL sprain after an MRI. Gordon is scheduled to miss 2-4 weeks. However, the date of his return is uncertain.
Before suffering the knee injury, Gordon was battling a hamstring injury. He was forced to miss the Week 7 win over the Tennessee Titans. This sprain occurred on his opposite leg, however.
"His knee is swollen right now," Chargers coach Anthony Lynn told reporters after the game. "We don't know exactly what it is. We'll get a further evaluation tomorrow, and we'll go from there."
Future of the Playoffs
The Chargers are sitting pretty in a wild card spot with a record of 8-3 and are just one game behind their AFC West rival, the Kansas City Chiefs (9-2). With their top running back gone, this could serve as a major problem for L.A.
Gordon leads the Chargers in rushing with 802 yards and nine touchdowns on 153 carries, adding 44 catches for 453 yards and four touchdowns.
Most importantly, LA will have to rely on their backup running back Austin Ekeler. Once Gordon left the game, Ekeler recorded 108 yards from scrimmage and a rushing touchdown. He had a personal season-high ten catches in the game against the Cardinals. The 5'10" running back lacks the power Gordon possesses. But he did show  promise with his great performance against Arizona on Sunday.
The Chargers' up and coming schedule features their AFC West division rivals the Denver Broncos and Kansas City Chiefs. Both of these teams account for two of the Chargers' three losses on the season. They also travel to Heinz Field next Sunday to face the Pittsburgh Steelers, who are leading their division but have fallen to the fourth seed in the AFC after their loss to the Broncos on Sunday.
Photo Credit
Featured Image courtesy of Jeffrey Beall
Don't forget to follow TSJ101Sports and your favorite writers like me (Savannah) on Twitter!
Subscribe to get the latest news from TSJ at the TSJ 101 Sports TV YouTube channel!
Play And Win Weekly at ThriveFantasy!