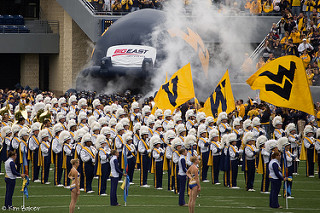 Week 12 of Mountaineer football has came to an end. West Virginia falls to Oklahoma, after a back and forth game. What really happened at Milan Puskar Stadium in Morgantown, WV? Let's review the game stats.
West Virginia Falls to Oklahoma
West Virginia
The Mountaineers came up short against the Oklahoma Sooners in a 59-56 loss. Quarterback Will Grier made history during the game by having  539 passing yards, which happened to be the most for his career. Grier had 4 touchdowns as well. Unfortunately, Will Grier is a senior, and will not be returning to West Virginia as quarterback next year. Who will replace him? Will they be just as good?
Wide Receiver Kennedy McKoy had 16 carries and 81 yards against the Sooners. Martel Pettaway had 15 carries, and 76 yards. As far as passing yards, Gary Jennings had 7 recieves and 225 yards; and David Sills had 8 receives and 131 yards. Jennings and Sills are both seniors, and won't be returning for the next season.  West Virginia falls to 8-3.
Oklahoma
The Sooners were able to get the win over the Mountaineers. Quarterback Kyler Murray had 364 passing yards, 3 touchdowns, and 1 interception; Murray also had 9 carries, and 114 yards rushing. Rushing stats for Kennedy Brooks was 21 carries, and 182 yards rushing. Wide Receiver Marquise Brown had 11 receiving and 243 receiving yards.
Final Score: 59-56 Sooners
What's Next?
West Virginia Mountaineers finishes up the season at 8-3, there is nothing set in stone yet; but more then likely the Mountaineers will receive a decent bowl game.
Oklahoma Sooners will head to AT&T Stadium in Arlington,Texas for the Big 12 Championship. The Sooners finish up the season 11-1, with the loss being to the Texas Longhorns. In the championship the Sooners, will get a round 2 with Texas. Will the Sooners be victorious, or will they just fall short to the Longhorns again?
Mountaineer football has came to the end for now.. Stay tune for more news coming your way!
Social Media
Follow us on Twitter: @T101Sports and @T101SportsCFB
Writer: @justbeingk88
Picture Credit: Kim Baker via Flickr