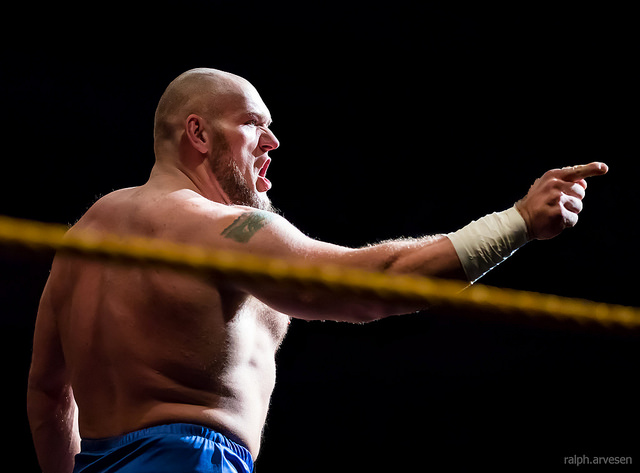 Lars Sullivan is Reportedly Getting a Huge Main Roster Push
When the man isn't disrespecting KFC or giving away WrestleMania tickets, Lars Sullivan is manhandling other wrestlers on NXT. The man born as Dylan Miley is NXT's resident monster-man. He is apparently making the jump to the main roster after vignettes aired during Survivor Series. It isn't clear which brand he's joining (unless you check out Wikipedia where it says (SPOILER WARNING) SmackDown Live), but he'll get a huge push when he gets there.
The Case at Hand
WWE informant Dave Meltzer says that Lars Sullivan is getting quite the push when he appears on the main roster. This is interesting because Sullivan hasn't had much exposure to NXT in the first place. He's still relatively new to the yellow brand when comparing him to others such as Johnny Gargano or Kassius Ohno. Sullivan hasn't held any NXT gold, but he has competed in title matches; One of which is the 5-star classic 6-Man Ladder match at NXT TakeOver: New Orleans.
This is being met with mixed reactions. Some are excited to see Lars on the main roster, but many others are critical to this transition. According to some news sites, EC3 was supposed to get the call. But since he was recently injured, they gave the slot to Lars.
Some NXT stars tend to lose their momentum or promise when transitioning to either RAW or SmackDown Live. Bobby Roode, Sami Zayn, Neville, amd Bayley are just some that come to mind.
But, much like Elias before him, Lars may benefit from a less strenuous work rate on the main roster. The work horses like Gargano, Tommaso Ciampa, and Velveteen Dream get over because they are incredibly gifted in the ring.
Elias and Sullivan, though talented in their own respects, aren't as flashy or over-the-top as others. Elias has found success with the crowd using his unique gimmick. Sullivan, which is a sort of George "The Animal" Steele throwback, could be over with the crowd if he sticks to what he's good at: beating the hell out of everyone. Much like Elias sticks with his guitar routine, and Kalisto keeps doing Lucha things, Lars Sullivan could be a success story if he sticks to what makes him good.
What Kind of Push Exactly?
The planned main event of SummerSlam 2019 is Lars Sullivan vs The Miz for the WWE Championship. No, that's not true, but can you imagine? Crazy things have happened. Jinder Mahal, for example, got a WWE title win for no reason.
It probably won't be a WWE title push right away. But who can really guess at this point? They may make Lars the first ever man to hold both halves of the tag, Unites States, and WWE Championships all at once. As ridiculous as it sounds, to remind you again, a former member of 3MB is a former WWE Champion.
Just like his main roster debut (assuming you haven't checked Wikipedia), it isn't clear what kind of push Lars will have. Maybe it's just a monster tear through the roster. Or maybe they give him the WWE Title in his first match. It's anybody's guess until "Davey Boy" Dave Meltzer Esq. clears the air, or we see it for ourselves.
Social Media
aideM laicoS
Follow TSJ101Sports on Twitter: @T101Sports and @T101SportsWWE
Follow me, the writer, on Twitter: @JordanPiekarski
Photo credit to Ralph Averson via Flickr