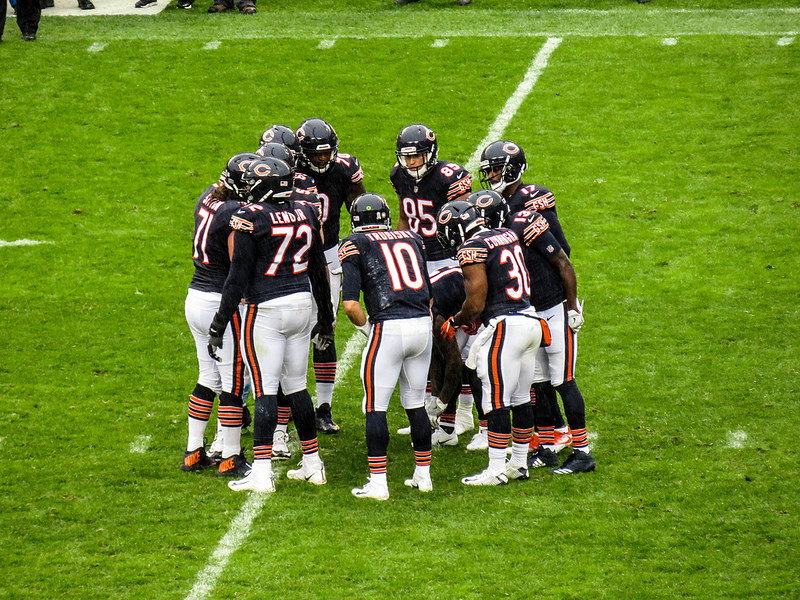 Bears Take Control of Division with Statement Win Against Bears
The Chicago Bears defeated the Minnesota Vikings 25-20 on Sunday Night to take sole control of the NFC North. Even though it was an ugly win, Chicago's defense looked unstoppable against Minnesota's offense.
Bears Win Their Fourth Straight
The Chicago Bears made their grand appearance with an all-out performance attacking all phases of the game. On defense, the Bears collectively shut down Dalvin Cook and Latavius Murray and only allowed 17 rushing yards. The Chicago defense put the game on Kirk Cousins' shoulders.
Khalil Mack once again proved to be a one-man force registering two sacks and a forced fumble.
Chicago cornerback, Eddie Jackson, also returned a critical interception for a touchdown in the fourth quarter to put the game out of reach. To tell the truth, the Bears' defense is without a doubt looking like the league's best. They continuously shut down offenses on a weekly basis.
Mitchell Trubisky and the offense looked flawless throughout most of the night. They dominated the clock all game and made clutch plays. Trubisky leads the way with 165 yards, two touchdowns, and two interceptions off of 31 pass attempts. He also showcased his athleticism a few times as well.
There's no question that's he's light years ahead in terms of his development considering how bad he looked last season. Nevertheless, a lot can lot change for a player the better given the right personnel.
Jordan Howard led the way on the ground with 63 yards off of 18 rushing attempts. Taylor Gabriel would finish as the leading receiver with 52 yards and seven catches.
Bears' head coach Matt Nagy has done a great job with this team. He has quickly turned this franchise around and has made them into a resilient group.
Inconsistency Continues to Doom Minnesota
It's hard to tell which team is going to show up with the 2018 Minnesota Vikings. One week the team that dominated the Lions and Jets will appear. But then the one that has sputtered throughout most of the year will come out.
In this game, Minnesota's offensive line troubles would be the deciding outcome in their loss. Without a run game, Kirk Cousins was able to come away with 262 passing yard and two touchdowns although a chunk of that came in garbage time. Most of the game, Chicago's rush attack kept Cousins in distress as he coughed up two costly interceptions.
Including one costly one that resulted in a pick-six from Eddie Jackson:
Vikings' wide receiver Stefon Diggs was the most productive offensively with 132 receiving yards and 13 catches. Admittedly, Minnesota's offense has a lot of talent, but poor in-game adjustments still hurt them. It's odd to see a team this good to have so many issues. That being the case, they still have six weeks to ride the ship and spread the ball around collectively.
Minnesota's defense battled hard to the game close. Despite staying on the field more than they would've liked, Vikings' safety Anthony Harris came away with two key picks to keep Minnesota in the game. As hard they tried to avoid mistakes, Minnesota's lack of communication would ultimately hurt them.
Photo Credit
Featured Image courtesy of tim putala
Subscribe to get the latest news from TSJ at the TSJ 101 Sports TV YouTube channel!
Play And Win Weekly at ThriveFantasy!