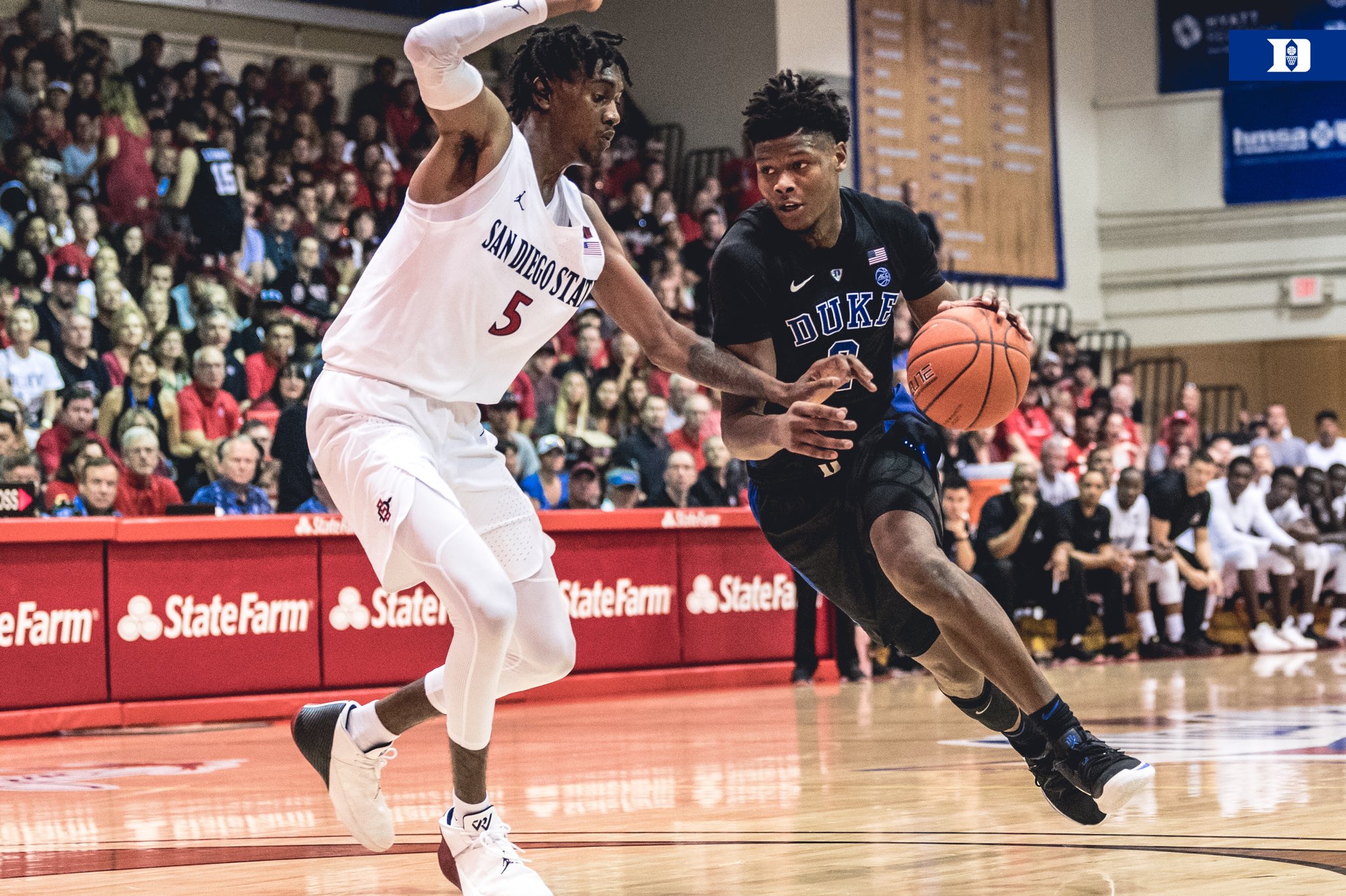 Maui Invitational Preview: #1 Duke vs #8 Auburn
Top Ten Battle
The Bruce Pearl led Auburn Tigers come into the Maui Invitational semifinals off of a 88-79 overtime win over Xavier on Monday. Prior to the Maui Invitational, the Tigers beat South Alabama, Washington, and Mississippi College.
The Duke Blue Devils skated through the Maui Invitational quarterfinals with a 90-64 win over the Aztecs of San Diego State. Before Maui, Duke has wins this seasons over Kentucky, Army West Point, and Eastern Michigan.
Starters
Duke
Center – #20 Marques Bolden
Forward – #01 Zion Williamson
Small Forward – #05 RJ Barrett
Guard – #02 Cam Reddish
Point Guard – #03 Tre Jones
Auburn
Forward – #05 Chuma Okeke
Forward – #24 Anfernee McLemore
Guard – #10 Samir Doughty
Guard – #02 Bryce Brown
Point Guard – #01 Jared Harper
Statistics
Auburn is led by the guard pairing of junior Jared Harper and senior Bryce Brown. Harper leads the Tigers in both scoring and assists, scoring 17.5 points per game and dishing out 7.5 assists per game. Big man Chuma Okeke leads Auburn in rebounds per game, with 8.3 per contest. As a team, Auburn has been lights out offensively, clocking in at 95.0 per game. Defensively. teams have struggled to score on the Tigers, as they have allowed only 63.8 points per game.
Duke is led by their star trio on offense, all of which average double figures in scoring. Freshman trio RJ Barrett, Zion Williamson, and Cam Reddish have lead the offensive. Canadian RJ Barrett, who has averaged 24.0 points through four games played, leads the entire team. Freshman point guard continues to lead the team in assists, averaging 6.0 per game. Zion Williamson has dominated the rebounding and blocks category, with 9.5 rebounds and 2.5 blocks per game.
Duke's Key
If Duke wants to advance to the Maui Invitational Championship, they will need to handle the defensive pressure the Tigers will bring. Against Xavier, Auburn forced 22 turnovers which resulted in 31 points. Duke can't afford to turn it over and let Bryce Brown and Jared Harper get out and run for easy buckets in transition.
Auburn's Key
Auburn is second in the country in total second chances on offense per game with 16.7. This is all due to their work on the offensive glass. If Auburn is able to crash the offensive boards and score enough on their second chance opportunities, they will be in a good spot to beat Duke.
Prediction
Tre Jones will control the ball on the offensive end for Duke and the team will turn it over less than eight times and they will handle the overall pressure better than expected. Auburn will be unable to keep Zion Williamson and Jack White off of the boards and Duke will limit their offensive rebounds.
Duke: 89
Auburn: 71
Photo credit to Duke Basketball via Twitter