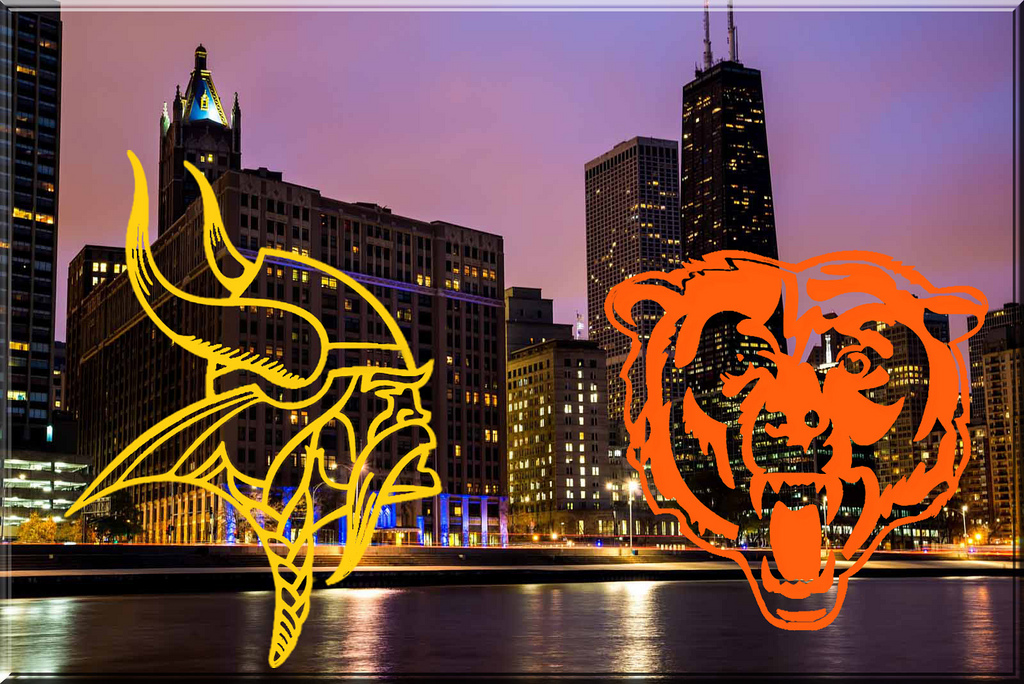 Vikings and Bears Defense Battle for NFC North Supremacy
Two of the NFL's top defenses will battle under the lights on Sunday Night. The Minnesota Vikings are coming off their bye week to on the surging Chicago Bears in what looks to be a defensive showdown. This will be the first time these teams have squared off since last December. Both sides look very different since then, especially Chicago.
Minnesota and Chicago Battle for NFC North Supremacy
Chicago currently leads the division at 6-3 with only Minnesota trailing them. The Bears have had success so far in divisional play with only one loss which came at the hands of Green Bay back in Week 1.
They routed the Lions 34-22 last Sunday to take the lead in the division. The addition of pass rusher Khalil Mack in the offseason skyrocketed Chicago's development as a franchise. If Chicago wins on Sunday Night they'll have a comfortable two-game lead in the NFC North.
Minnesota trails only Chicago with a 5-3-1 record. After tying Green Bay in Week 2, they quickly got back to form and crushed the Detroit Lions at home 24-9 just before their bye. After sputtering defensively, Minnesota is finally starting to look like a contender again. A win for them will give them a one-game lead in the division.
Key Matchups
Kirk Cousins vs. Khalil Mack
Kirk Cousins will try to avoid being the latest victim of Khalil Mack this week. Since being surprisingly traded to Chicago just before the start of the season, Mack has made his presence felt on this Bears' top five defense.
In seven games, Mack has already registered seven sacks, an interception, and two touchdowns. Kirk Cousins' greatest attribute is diagnosing defenses. Unfortunately, he'll be facing a defense that's great at getting to the quarterback, and he leads the league in quarterback fumbles with eight.
Minnesota's offensive line will need to be on their A-game if they want to try and contain Khalil Mack. Games like these are the reason why the Vikings' made Kirk Cousins the highest paid free agent in the offseason.
Mitchell Trubisky vs. Danielle Hunter
With reliable offensive weapons this season, Mitchell Trubisky is looking like the franchise quarterback Chicago was hoping for when they drafted him last April. Trubisky put on a show at home vs. the Lions last week with 355 passing yards off of 30 attempts to go along with three passing touchdowns and one rushing touchdown.
Chicago's Trubisky will have his biggest challenge in Vikings' pass rusher, Danielle Hunter. Hunter has put up a Pro Bowl season so far posting 11.5 sacks in ten games. He will have his work cut out for him when he goes up against one of the best offenses in the league.
Fantasy Implications
If you're an owner of any offensive players of either team, I would recommend sitting them. Both teams have very stingy, stout defenses.
However, Chicago's defense is definitely worth starting. With the home crowd behind them, they could easily get pressure on Kirk Cousins and shut down the Vikings offense. Chicago is also first in points allowed on defense.
For Minnesota, kicker Dan Bailey is about as clutch as they come. Despite playing in the Windy City, He should be able to knock down some key field goals to keep your team in the game.
Prediction
Minnesota is 4-1 against Chicago in the last five games. But three of the last four games that have been played in Chicago have been decided by three points. On paper, Chicago is the better team, but Minnesota is more experienced.
Vikings 17, Bears 14.
Photo Credit
Featured Image courtesy of Nick Kave
Subscribe to get the latest news from TSJ at the TSJ 101 Sports TV YouTube channel!
Play And Win Weekly at ThriveFantasy!