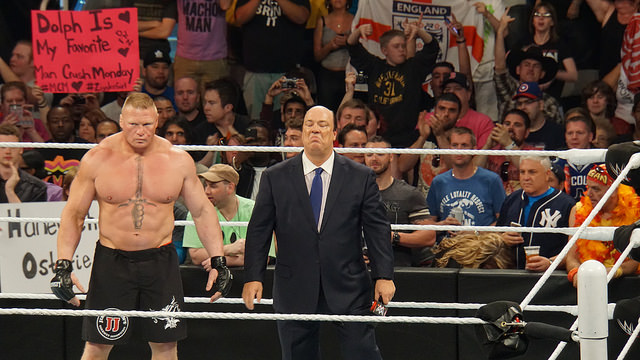 Brock Lesnar Updates
Recently at the Crown Jewel pay-per-view, The Beast Incarnate, Brock Lesnar, defeated the "Monster Among Men" Braun Strowman, in what was essentially a squash match. Brock has been planning a return to the UFC for quite some time now, especially after regaining the WWE Universal Championship at Crown Jewel in Saudi Arabia. So, what exactly does Brock Lesnar, his WWE future, and UFC have in common?
What's Next for Brock Lesnar in WWE/UFC?
According to sources, the UFC and Dana White are targeting Brock to headline their March 2nd show against the current Heavyweight Champion Daniel "DC" Cormier. UFC has teased Cormier vs. Lesnar, with the Champion calling out Lesnar after a win against Stipe Mirocic back in July.
It should be noted and is worth noting that Lesnar is currently scheduled to work the Royal Rumble in WWE. This is part of his newly signed deal with the company. However, currently Lesnar's Royal Rumble opponent is unknown. Additionally, Lesnar will be moving forward, and his future plans will not include Braun Strowman. It is unknown if or when we will see another match between these two.
Lesnar's return to UFC, however, has been an ongoing story for quite some time. In fact, it has been mentioned on WWE programming going all the way back to SummerSlam.
Paul Heyman brought it up on multiple occasions in the buildup to SummerSlam, saying that Lesnar would take the WWE Universal Championship back to UFC with him. He also said Brock will become the first person in history to hold a UFC and WWE title at the same time.
What are your thoughts on all this as fans? Do you think Brock Lesnar should have special treatment? Who do you think his next opponent should be for the Universal title?
Feel free to comment your thoughts and let us know how you feel about this.
Social Media
Follow us on Twitter:  @TS101Sports
You can also follow the Writer: @RollinsReign_
Picture Credit: Miguel Discart via Flickr