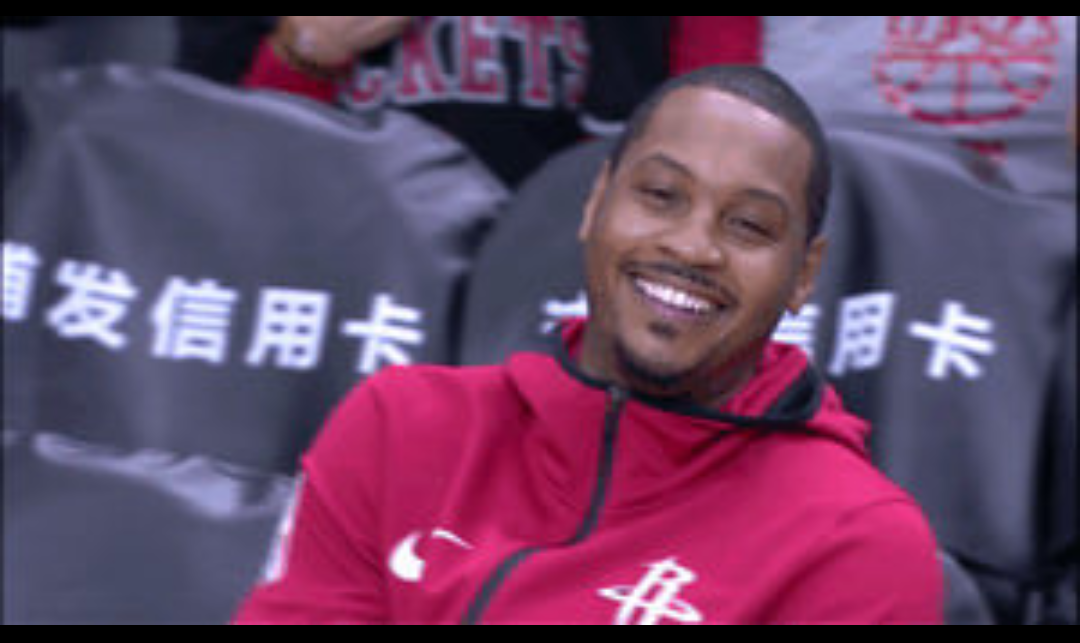 Rockets Are Considering Cutting Ties with Carmelo Anthony
The Houston Rockets have had a rough start to begin the season and are looking to make a significant change to their roster. After their loss to the San Antonio Spurs on Saturday night, the Rockets are now in discussions of cutting ties with Carmelo Anthony. General manager Daryl Morey declared that the 10-time All-Star is the target of "unfair speculation." The Rockets have reportedly told Anthony that his "time with the team will soon be ending," according to Marc Stein of the New York Times.
The Rockets have denied they are waiving Carmelo Anthony, but two sources close to the situation say Anthony has been informed that his brief time with the team will soon be ending. Anthony has been listed as "out" for Houston's game tonight against Indiana due to illness

— Marc Stein (@TheSteinLine) November 11, 2018
Houston, We Have a Problem
For the second straight night, Anthony was listed as "out" due to illness against the Indiana Pacers on Sunday night. With his second consecutive absence from the court, speculations already began that the Rockets were ready to ship him out of Houston. But on Sunday afternoon, Rockets general manager Daryl Morey met with reporters. He stated that Anthony was still a member of the team and that he is in fact sick. Also, Morey said he expects Anthony to play again when healthy.
Anthony, 34, isn't expected to fly with the team on Tuesday to face the Denver Nuggets. ESPN reported that players and coaches think Anthony has likely played his last game as a Rocket.
This is the first in Anthony's career he hasn't been in the starting lineup. He has severely struggled coming off the bench this season. It doesn't help when your new team who we're one win away from making the Finals last season, begin this year with a 4-7 record.
Anthony is averaging a career low 13.4 points and 29.4 minutes per game this year. His last game against his former team (Oklahoma City Thunder) he scored a measly two points. Anthony shot only 1-of-11 from the field and 0-of-6 from behind the arc. According to NBA.com statistics, the Rockets' net rating is 8.8 points per 100 possessions better when Anthony is on the bench than when he is on the floor.
What's Next?
"One of the reasons I'm here, besides it's 10 games in, about, is I think there's just a lot of unfair, like, rumors and everything going around about him," Morey said before Sunday's game against the Indiana Pacers. "He's been great with us. As Coach [Mike D'Antoni] said yesterday, his approach has been great. He's accepted every role Coach has given him — starting, off the bench, whatever it's been.
"We're struggling as a team, and it's my job, it's Coach's job to figure this thing out. But from guy one to guy 15 — and I'll put myself in there; a lot of this is on me right now — we're not playing well. We've just got to figure it out. We're evaluating everything."
"I know, like Daryl said, they're exploring all options," D'Antoni said. "With everybody coming back, it squeezes some things, and then we'll see how it goes."
The Rockets signed Anthony to a veteran's minimum $2.4 million deal this off-season. Once Anthony clears waivers, he will be free to sign with any other team in the league.
Miami Heat 3x champion and one of Anthony's best friends, Dwyane Wade tweeted about the rumor on Sunday afternoon. Hinting that the Rockets have a far bigger problem in Houston than just a simple roster issue.
Trying to make my guy @carmeloanthony the fall guy huh!? Man y'all need to stop. That's the easy way out instead of addressing what the real problem.

— DWade (@DwyaneWade) November 12, 2018
Carmelo Anthony Update
If Anthony does end up being let go by the Rockets, he might have an unexpected suitor for his services. According to Chris Sheridan, the Philadelphia 76ers are "kicking the tires" of claiming him off waivers if the Rockets cut ties with him.
Photo Credit
Pankaj Sharma via Flickr