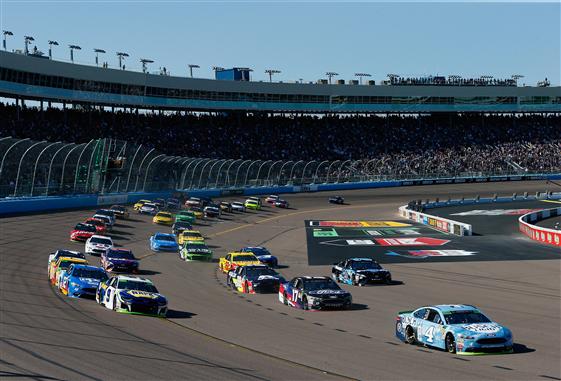 Miami Championship 4 Field Is Finalized in Phoenix Elimination Race
35 races are in now the books for the 2018 Monster Energy NASCAR Cup Series season. All that remains is the season finale at Homestead-Miami Speedway next Sunday. After the final elimination race in Phoenix, the Miami Championship 4 was determined. Kyle Busch won, and he will be joined by Joey Logano, Martin Truex Jr, and Kevin Harvick in the title fight. In less than a week's time, 1 of these 4 drivers will be the 2018 NASCAR Cup Series Champion.
Promising Day Yields Early Setback for Harvick
Coming into Phoenix, all eyes were on Kevin Harvick after his L1 Penalty. With his 9 previous Phoenix wins, many thought Harvick would be a favorite to win in spite of the penalty. Even though the 4 started the day on pole, their time out front was short-lived. With 3 laps remaining in Stage 1, Harvick had a flat tire send him back to 30th. He had led every lap up until that point, and would not lead again. This handed the Stage win over to Chase Elliott, who was racing Harvick for a spot in the Miami Championship 4.
Even though Harvick lost a lap and was penalized for pitting late in Stage 1, he would quickly recover. By the next caution for Joey Logano's spin, Harvick had the free pass position. From here on out, Harvick would race inside the top 10 for much of the remainder of the race. However, he would not be up front contending for the win again. A 5th-place finish would secure Kevin Harvick into the Miami Championship 4 for the 4th time.
Playoff Driver's Early Exit Sets Up Dash to Finish Stage 2
Not long after Joey Logano's spin on lap 97, another Playoff driver would have a similar accident. On lap 135, Clint Bowyer also had a tire failure in turn 4. This would send the 14 into the wall, and out of postseason contention. This caution would set up a 10 lap sprint to finish turn 2. Kyle Busch, who restarted with fresh tires, was able to win Stage 2 over Brad Keselowski. Unlike in Stage 1, Harvick actually scored points in Stage 2, by finishing 4th.
Prior to the end of Stage 2, a rare penalty was issued to Playoff contender Kurt Busch. While pitting as the leader on lap 135, Kurt passed the pace car while entering the pits. This resulted in a 1 lap penalty for the 41, which he would take nearly 100 laps to recover from.
To start off the final stage, it was all Kyle Busch up front. Though he did not have to win, Busch still wanted to enter the Miami Championship 4 with lots of momentum. Busch's 18 was very strong up front, only losing the lead in a pit stop on lap 224.
Near-Simultaneous Penalties for 2 Bubble Drivers
Not long after the 18 made his pit stop, the 4 made his way to pit road on lap 230. Unfortunately for him, while he was on pit road a caution came out. This trapped Harvick a lap down again, but he was able to take the wave around. This caution would benefit Harvick's teammate, Kurt Busch, who got the free pass.
While pitting under this same caution, Chase Elliott had a pit road speeding penalty. This sent the 9 car from the top 5 to restarting at the tail of the field.
With Kurt Busch back on the lead lap, him and Harvick were racing hard for the final spot in the Miami Championship 4. At one point, they were tied, with the tiebreaker going to Kurt. While racing each other hard on lap 241, Harvick misjudged his gap to David Ragan's 38 car. Harvick made contact with the 38 in turn 3, sending him around and causing a caution.
Fiery crash, Red Flag set up Race-Changing Restart
On lap 264, Ricky Stenhouse Jr had a catastrophic brake failure entering turn 1. This sent the 17 Ford hard into the wall, bringing out a red flag for cleanup. The coming restart would change the outlook of the Miami Championship 4.
On the lap 269 restart, Denny Hamlin would bring out an immediate caution with a major crash. Hamlin was racing Kurt Busch hard down the backstretch, and did not clear the 41. Hamlin drifted high, forcing Busch into the wall, and the 41 turned back into the 11. Others collected in this crash included Chase Elliott and Alex Bowman. This crash ended title hopes for both Kurt and Chase, since neither raced their way into the Miami Championship 4.
2 more cautions came out in succession, the first caused by Alex Bowman. Similarly to Stenhouse's incident, Bowman hit the wall in turn 2. Bowman's 88 had an engine failure, causing a red flag for fluid cleanup.
Last Chance Must-Win Effort For the Miami Championship 4
For these last few restarts, Aric Almirola was up inside the top 5. Almirola had to win to move on to the Miami Championship 4, and he was closing in on the lead. For the final restart with 12 to go, Aric was 2nd to Kyle Busch. On the restart, Busch got a great jump, and cleared himself by turn 2. The 18 would hold on to win his 8th race of 2018. Meanwhile, Almirola would fall back to finish 4th, and failed to advance to the Miami Championship 4.
Miami Championship 4 Finalists
Behind Busch and Almirola, Harvick finished in 5th, which would be enough for him to make the Miami Championship 4 on points. They both will join Martinsville winner Joey Logano and 2017 Champion Martin Truex Jr next week in the title fight.
Interesting Group of Drivers in Top 10 from Phoenix
The top 10 finishers from Phoenix were a mix of Playoff and non-contending drivers. Busch, Brad Keselowski, Kyle Larson, Almirola, Harvick, Jamie McMurray, Matt Kenseth, Austin Dillon, William Byron, and Bubba Wallace were the top 10.
Previewing the Championship Race
The 4 drivers who will be racing for the 2018 Monster Energy NASCAR Cup Series title all are deserving of the win. They represent 4 different teams, 3 of them are going for their 2nd championship. In addition, they all combine for 22 wins in 2018. It will surely be an action-packed race to see who stands tall on the Championship Stage.
How to Watch the Miami Championship 4 Race
The 2018 NASCAR Cup Series finale, the Ford Ecoboost 400, will be next Sunday, November 18 at 2 PM EST. Coverage will be on NBC, MRN, and SiruisXM NASCAR Radio Channel 90. 35 weeks and thousands of miles have led to the Miami Championship 4, tune in to see who reigns supreme in south Florida.