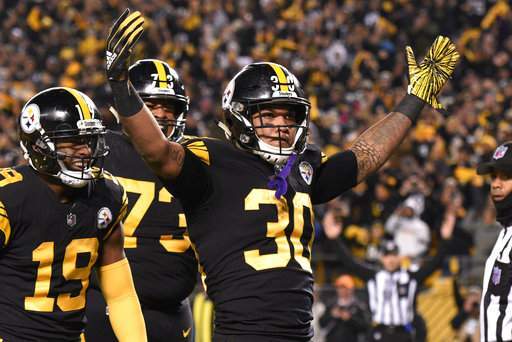 Pittsburgh Steelers Decimate the Carolina Panthers in Prime Time
The Pittsburgh Steelers came away with an impressive 52-21 win against a talented Carolina Panthers team. This game showed that Pittsburgh is a Super Bowl favorite, and the Panthers have some work to do.
Both teams came into this week rolling on winning streaks, but Pittsburgh's dominant performance keeps them going with their fifth straight win.
First Quarter
The Carolina Panthers started this game on fire, driving 75 yards downfield to score a touchdown on their opening drive. Newton hit Christian McCaffrey on a wheel route for a 20-yard touchdown giving Carolina a quick 7-0 lead.
Pittsburgh responded quickly with one play, a 75-yard touchdown to the growing sensation JuJu-Smith Schuster. Carolina's defense bit hard on a Ben Roethlisberger pump fake leaving Smith-Schuster wide open down the field, tying the game 7-7. Pittsburgh's defense fed on the energy forcing a pick-six on the next offensive play for the Panthers.
T.J. Watt brought pressure in the end-zone forcing an errant throw by Cam Newton, leading to a Vince Williams pick six. After the extra point, Pittsburgh was up 14-7 scoring 14 points in just 24 seconds of play. Carolina had little success going three and out on the ensuing drive. The Panthers punted the ball back to the Steelers who wasted little time before scoring again.
Pittsburgh orchestrated an eight play 61-yard drive that ended with a two-yard touchdown run by James Conner. Following the extra point, Pittsburgh was up 21-7 with their foot on the pedal. That touchdown was Conner's tenth rushing touchdown of the season, giving him more than Le'Veon Bell had all of last year. Carolina received the kickoff and ended the quarter driving downfield.
Second Quarter
Although Carolina made it to Pittsburgh territory, negative plays forced the Panthers to punt to the Steelers once again. Pittsburgh surged again driving all the way to the Panthers' 32-yard line before settling for a 50-yard field goal that Chris Boswell nailed, giving Pittsburgh a 24-7 lead.
Carolina finally showed some life answering back with a 73-yard touchdown drive. Cam Newton connected with Christian McCaffrey once again on the exact same wheel route they scored on in the first quarter, making the score 24-14.
The Pittsburgh Steelers wasted little time answering back, going four plays for a 75-yard touchdown drive. Ben Roethlisberger hit a streaking Antonio Brown down the right sideline for a 53-yard touchdown.
That touchdown was Browns tenth of the season and seventh consecutive game with a score. Boswell nailed the extra point giving Pittsburgh a 31-14 lead entering halftime.
Third Quarter
Pittsburgh opened the half on offense and continued right where they left off. Ben Roethlisberger put on a show going for a 12-play 75-yard drive ending with a 12-yard touchdown to tight end Vance McDonald.
After a review the touchdown was upheld, giving Pittsburgh a 38-14 lead following the extra point. Carolina went three and out on the next drive giving Pittsburgh the ball back primed to end this game early. Roethlisberger continued his hot streak, driving the Steelers downfield for another score.
Roethlisbergerr led an 11-play 65-yard drive ending with another touchdown pass, this time to tight end Jesse James giving Pittsburgh a 45-14 point lead. Carolina continued to implode, fumbling the ensuing kickoff giving Pittsburgh the ball at their nine-yard line.
Fourth Quarter
The Steelers capitalized on the great field position, having Ben Roethlisberger hit rookie running back Jaylen Samuels for a six-yard touchdown. This was Ben Roethlisberger's fifth touchdown of the game, ending his night early with more touchdowns than incompletions.
With Pittsburgh up 52-14, they brought their backups in which lead to a pretty easy score by the Panthers' offense. Carolina took advantage of the Steelers' backups driving 58 yards downfield to score a garbage-time touchdown.
Christian McCaffrey scored his third touchdown of the game, being Carolina's only real bright spot tonight. The game ended with nothing but backups in on both sides, Pittsburgh on top 52-21.
Fantasy Implications
Carolina Panthers
Carolina had one true spotlight tonight, and that was running back Christian McCaffrey. McCaffrey had 19 touches for 138 yards and three touchdowns giving him 31.8 fantasy points on the night. The only other player worth mentioning for the Panthers is quarterback Cam Newton who had a below average performance.
Newton had a total of 203 yards two touchdowns and an interception leaving him with 14.7 fantasy points. Overall this was a very poor performance from Carolina's fantasy players.
Pittsburgh Steelers
Pittsburgh's offense was lethal tonight scoring on every drive the starting offense was on the field. No player outperformed Ben Roethlisberger who had a perfect quarterback rating on the night. Roethlisberger had 355 total yards five touchdowns and 0 interceptions leaving him with 35 fantasy points.
Running back James Conner performed well getting 14 touches 73 yards 1 touchdown for 13.3 fantasy points. Both of the Steelers' primary wideouts Antonio Brown and JuJu Smith-Schuster showed out with over 90 receiving yards and a touchdown apiece giving them both over 15 fantasy points.
The sleeper play was tight end Vance McDonald who ended the night with four receptions 44 yards a touchdown and 10.4 fantasy points. Even the Steelers' defense showed out, scoring 17 fantasy points on the night aided by the early pick-six.
Final Observations
Carolina Panthers
Carolina scored on their opening drive and then completely fell apart. The Panthers only managed 242 total yards of offense and could not keep Cam Newton upright all game. Even their touchdowns were more breakdowns on Pittsburgh's part rather than earned.
This was a very ugly performance from a team many people thought was a top contender in the NFC. Carolina will head to Detroit next week second in their division with a 6-3 record, needing a rebound from this disastrous performance.
Pittsburgh Steelers
Pittsburgh absolutely dominated this game following the Panthers' opening drive. Ben Roethlisberger was the star of the night, having more touchdowns (five) than incompletions (three) to five different receivers.
All of the Steelers' primary offensive players scored a touchdown, giving them an opportunity to play the backups late. Perhaps the biggest story was the Steelers' defense that essentially shut down one of the best NFL offenses. The defensive unit had five sacks, seven QB hits, and two takeaways leading to a very lopsided victory.
Pittsburgh will head to Jacksonville next Sunday in first place of the AFC North with a 6-2-1 record. This playoff rematch will certainly have the Steelers ready to exact revenge against a struggling Jacksonville team.
Photo Credit
Featured Image courtesy of Highlight Store
To stay updated on news from the Steelers and around the NFL, follow James Hall on Twitter: @jhallT101sports
Subscribe to get the latest news from TSJ at the TSJ 101 Sports TV YouTube channel!
Play And Win Weekly at ThriveFantasy!