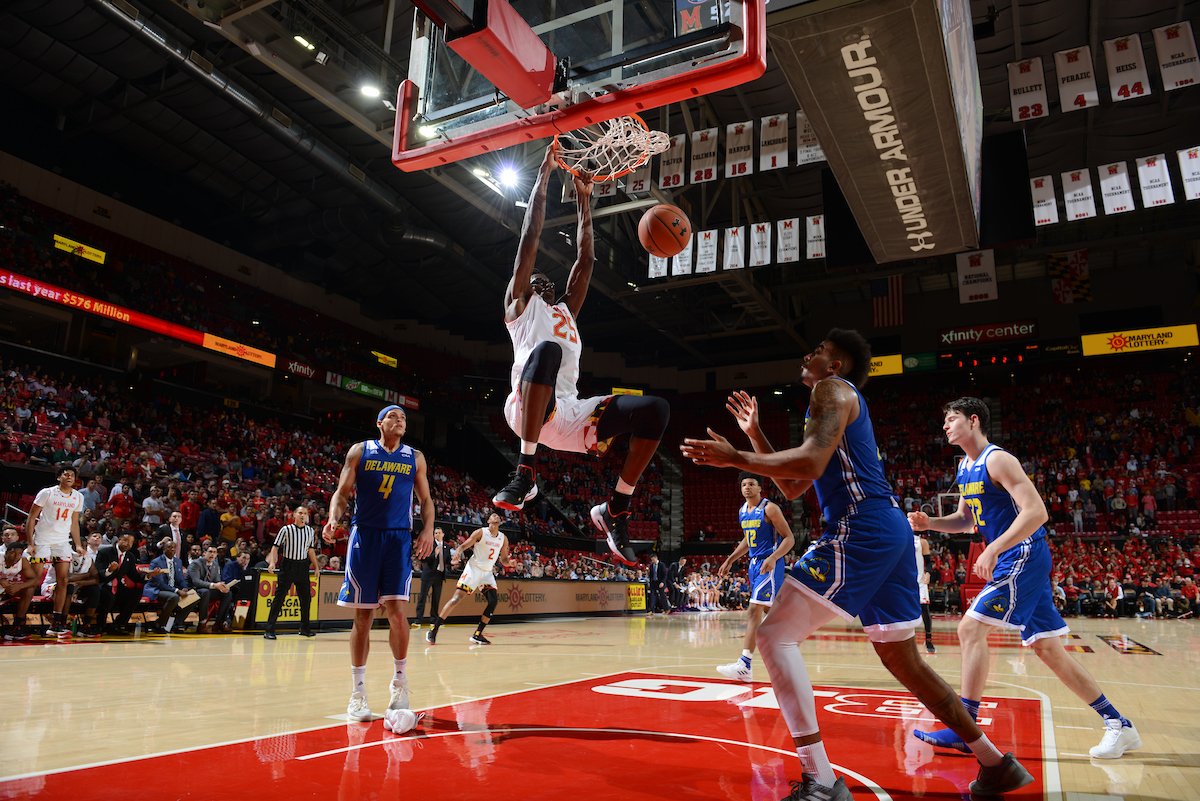 College Hoops Preview: Maryland vs Navy
Matchup: Maryland Terrapins (1-0, 0-0) @ Navy Midshipmen (0-1, 0-0)
Date: Nov. 9, 2018
Time: 8:30 p.m. (est)
Network: CBSSN
Location: Annapolis, Maryland, USA
Venue: Alumni Hall
Seating Capacity: 5,710
The Maryland Terrapins take a short road trip to Annapolis where the Navy Midshipmen serve host to their annual Veterans Classic.
Despite pulling off a 73-67 win over Delaware, the Terps saw a 22-point lead dissipate in the second half. Meanwhile, the Midshipmen started their season with a 44-67 defeat at the hands of the Old Dominion Monarchs.
Nonetheless, Maryland saw freshman forward Jalen Smith lead the way with a 19-point, 13-rebound (double-double), and added two blocks in crunch time. Smith became the first Maryland freshman to obtain a double-double since Buck Williams in 1978 where he grabbed 10 points and 13 rebounds.
Unfortunately for Navy, they were outscored for the majority of the night against Old Dominion despite the efforts from Luke Loehr, Ryan Pearson, and George Kiernan to keep it a close game in the first minutes of the first half.
Navy Midshipmen
The Navy basketball team enter an eighth-season under the helm of head coach Ed DeChellis. Since 2012, DeChellis has an 88–131 record with the Midshipmen and have been unable to make a tournament. However, they finished tied for third place last season since 1999-2000.
The Mids hope to continue building from the last 20-win season. However, they only have two returning players in senior forward George Kiernan and senior point guard Hasan Abdullah. Abdullah is being poised as the assertive leader for Navy who will need to continue creating for himself and others after being Navy's top scorer.
Maryland Terps
Maryland struggled with the long ball against Delaware on Tuesday. Shooting 2-of-11 from the three-point line and missing their last seven in the half. In a game that should never be this close, Delaware kept the Terps on its toes when they fought off and took a 14-8 run to give them the lead with 10 minutes remaining to play. Nonetheless, the Terps talented players were able to fight it off and took back the lead late in the game against the Blue Hens.
Jalen Smith was phenomenal against Delaware. However, the Terps will have to extend their bench's minutes. Ricky Lindo only saw 10 minutes of play while Serrel Smith Jr. saw just nine minutes. Additionally, Ivan Bender and Joshua Tomaic saw four minutes each.
Additionally, Maryland has a huge concern shooting beyond the arc. The Terps ended the night going 2-of-19 from the three-point line. Darryl Morsell and Aaron Wiggins connected for the only threes of the night. Head coach Mark Turgeon will have to work on this with the team by the time they start playing Big Ten and tougher out of conference opponents such as the Virginia Cavaliers.
Nonetheless, their options against the Midshipmen are wide open for a win. However, they shouldn't come out too confident after their struggles in offense against the Fightin' Blue Hens.
Follow us on YouTube and Twitter
Photo credit to Maryland Terps via Twitter