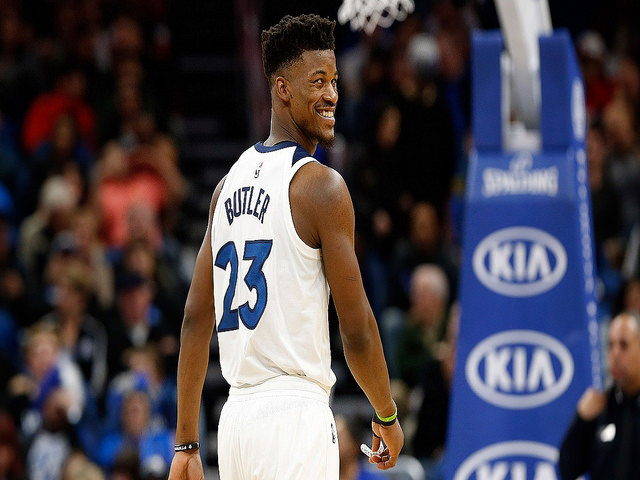 Minnesota Timberwolves Lose Tough One To Lakers 114-110
Last night, the Minnesota Timberwolves were in the city of angels to play the Los Angeles Lakers at the Staples Center. It was a primetime game on ESPN with two teams both dealing with off court issues. The Lakers are dealing with coaching situation with head coach Luke Walton due to an underwhelming beginning of the season. Minnesota dealing with well…a little bit of everything from coaching issues, to Jimmy Butler demanding a trade, the front office having internal fights, and just lack of team chemistry.
This was a big game for both teams. Both teams are trying to avoid falling too far behind in the playoff race. The Timberwolves also needed this just to get some traction again. They were on a three game losing streak coming in. All of those losses we're by double digits, including a 30 point loss the other night against Portland. They needed a good win to get things back on track.
Timberwolves vs Lakers: Game Recap
From beginning to end the game was tight. No team ever created separation because both teams were playing some lazy defense. Minnesota's Karl-Anthony Towns and Andrew Wiggins controlled the first half for them. Both scoring double digits in the half, but in the second half they were borderline non-existent. Towns was getting beat up down low by the Lakers newest acquisition, 18 year vet and defensive guru Tyson Chandler.
Derrick Rose once again was a bright point for the Timberwolves. He led all scorers with 31 points. He also had five assists, three rebounds, and a new career high in three pointers made with seven. Once again, everyone witnessed vintage Rose. He started the game for an injured Jeff Teague and made the most of it.
The beginning of the fourth quarter is when it fell apart again for the Timberwolves. It started with a four minute scoreless drought that gave the Lakers a chance to go on a 10-0 run and take the lead. Butler then decided to revert to his streaky, inefficient and iso hero ball tendencies.
He had been playing solid in the game, but he started to falter. Butler had three straight possessions in the  fourth in which he attempted contested fadeaway 3-point shots, while leaving an open Towns next to him on two of those possessions.
LeBron James Took Control For Lakers, Torches Timberwolves
While that was happening, Lebron James was still taking command of the game like he always tends to do against the Timberwolves. He ended the game with a near triple double with 24 points, 10 rebounds, and 9 assists. The Lakers also had three other players with over 20 points. Brandon Ingram had 20, Kyle Kuzma and Josh Hart had 21 points each.
The final score was 114-110. The Timberwolves and Lakers played in yet another close game against each other this season. That game went the Timberwolves way 124-120 in Minnesota. For the Timberwolves, it's another close tough loss they have to endure. Also, it's another loss to add to the mayhem that is going on in Minnesota.
Timberwolves Bright Spot Of The Night
Minnesota's bright spot on the night is they hit a new franchise record for 3-pointers made in a game with 20. Also, all of the starters for the Timberwolves were in double figures. They were responsible for 103 of the team's 110 points. Unfortunately that wasn't enough to get the win.
This loss also keeps the Timberwolves winless on the road this season with an 0-7 record. However, Minnesota has only one more game on this west coast road trip against the Sacramento Kings on Friday night. Then they have a three game home stand.
Jimmy Butler Saga Update
Butler wasn't too "sore" to play against James and the Lakers in Los Angeles on ESPN. He has played the last two games, but both were in Los Angeles. Except the previous game was a loss to Clippers. Butler did manage to get 24 points, 5 rebounds, and 5 assists for the game though. They seemed like empty numbers in the end.
You can really start to notice who he likes to play with and who he doesn't. Butler primarily not liking playing with Towns. While Butler was on the bench, Towns played better because he was getting touches. But in the second half it almost looked like he was purposely avoiding passing to Towns. He can say how he is a team player, but when you're messing up a locker room environment as much as he has, it's hard to believe that.
Minnesota's front office needs to get it together and find a trade for Butler. Nothing good is coming out from holding out anymore. Offers have slowed down and it is looking like Butler will be here for the foreseeable future.
This is not good news for the fanbase either. The Timberwolves are once again at the bottom in attendance. Owner Glen Taylor raised ticket prices at the end of last season. Now the Timberwolves have expensive tickets for a dysfunctional team. with Butler's sideshow leading it all.
Photo Credit
BipHoo Company via Flickr