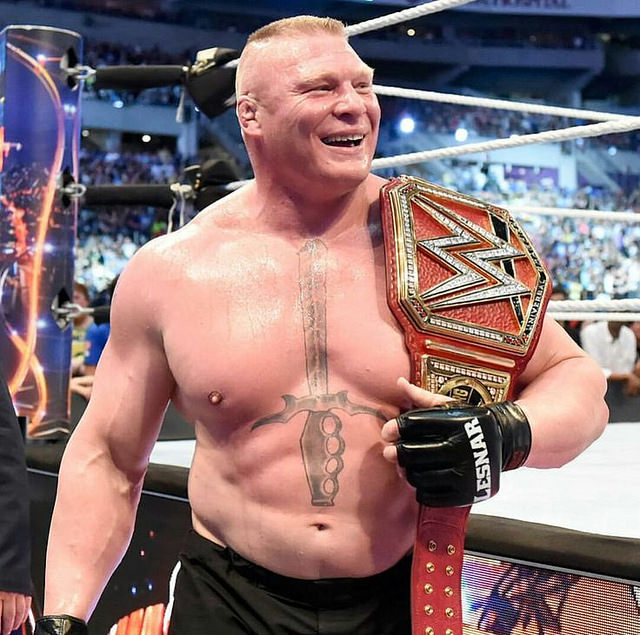 The Crown Jewel pay-per-view crowned a new WWE Universal Champion. The original plan was for Roman Reigns to keep the title, but due to his relinquishing of the title to battle Leukemia, a new Champion had to be crowned. The new Champion was Brock Lesnar. The beast had a little assistance from acting General Manager Baron Corbin. This was done by knocking Braun Strowman out. History was made at Crown Jewel when Lesnar became the first ever two-time Universal Champion.
Meanwhile, a new Brock Lesnar contract deal was made.
Brock Lesnar New Contract/Matches
Management made the call to have Lesnar win at the King Saud University Stadium. They also agreed to have a deal where we will see the six-time world champion in at least two matches. The first match will be at Survivor Series on November 18th at the Staples Center in Los Angeles, California. That match will be against WWE Champion AJ Styles. It will be a Champion vs. Champion match. The contract of Lesnar isn't permanent. In fact, it will allow him to return to UFC. There is no information on much we will see the Universal Champion. Most likely the same results as before; a no-show unless he needs to. Rumors have already started that he will still be Champion at Wrestlemania. Right now, that's just rumors. All we can do is sit back and wait to see what the future of the WWE Universal Championship shall be.
What's Next?
The 41-year-old fighter might go back to Dana White and UFC for a Heavyweight Championship showdown, against Daniel Cormier.  The match should be UFC 233 on January 26, at the Honda Center in Anaheim.
What do you think about Brock Lesnar's new deal? Will we see more of him? When will Brock Lesnar lose the title? Feel free to comment below and let us know what you think.
Social Media
Follow us on Twitter: @T101Sports and @T101SportsWWE
Writer: @justbeingk88
Picture Credit: Matin Talukdar via Flickr