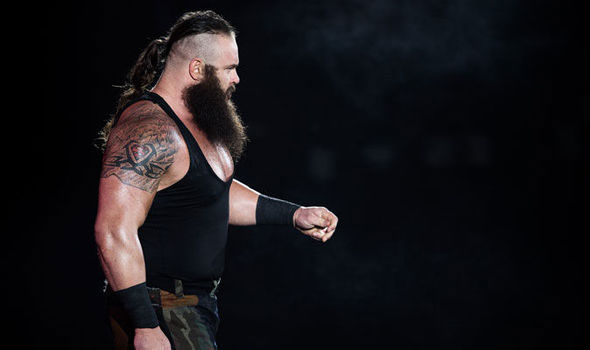 Possible Reason Braun Strowman isn't Universal Champion
Just when we thought that Brock Lesnar would be off our television screens forever (save UFC) the WWE has other plans. At Crown Jewel last Friday, Braun Strowman and Brock Lesnar toed up in the squared circle once again. There, the two men battled for the Universal Championship. Unfortunately, the title was vacated by Roman Reigns after he announced he was battling leukemia.
If the fans could have it their way, Braun would've been crowned the Universal Champion. After all, he's been making his way to the top for a good year or so. But right when it looked like he'd get his moment, he lost in a literal squash match against the Beast Incarnate.
While many fans are left scratching their heads and/or throwing things at their TVs, the true question on everyone's mind is why?
Well, apparently Braun isn't behaving himself backstage. According to PWInsider, Braun hasn't been able to get to the next level because of this. Mike Johnson of PWI reports:
"…There are times where Strowman is negligient when it comes to showing up on time. He has a reputation for leaving a little early and sometimes makes mistakes in terms of etiquette in the backstage scene and locker room. "

"As one person [of management] put it, he is 'his own worst enemy'".
This might explain why Braun Strowman continues to be on this stop/start push by the WWE. Johnson also states that right when the WWE is high on him, he makes some kind of misstep backstage and they reel him back in.
Ashley Sweetly Writes
Hopefully, Braun can correct these issues. That way, he won't get decimated by some F-5's next time. Or, hey, remember when he was crushed with a freakin' trash compactor!? Sigh.
The fans are already behind him, and the WWE is silly to be putting the belt back on Lesnar.
However, one argument I have is that the WWE made him look pretty silly with his Tag Team Championship "run" with Nicholas. It's hard for me to take the Monster Among Men seriously after that totally awkward WrestleMania moment. But again, was that strange move done to embarrass Braun? It sounds like he's had quite a few problems backstage already. And, as we all know, WWE loves to "teach lessons" to Superstars that make bad choices.
Perhaps this too was meant to "teach Braun a lesson."
Social Media
Because we're not trash.
Find us on Twitter!
@T101Sports and @T101SportsWWE
Be a dear and follow the writer:
Photo credit to Raheel MEMON via Flickr