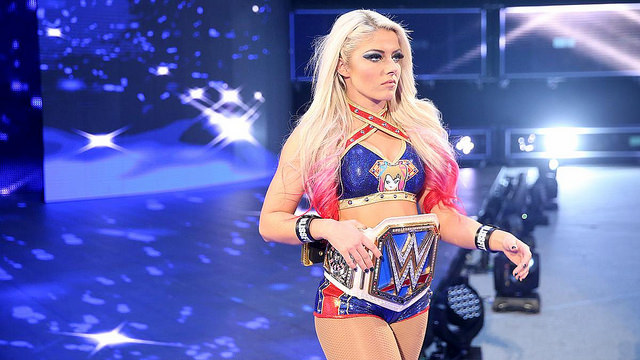 Alexa Bliss Injury Update; Things Not Improving
Alexa Bliss is currently out of action due to a concussion. During a house show a few weeks ago, she was accidentally struck in the face by Ronda Rousey. A concussion, for those unaware, is when the skull is struck hard enough that the brain makes contact with the inner wall of the skull. This leaves the person disoriented and can lead to further problems if not treated correctly. In a recent Alexa Bliss injury update, it appears she still isn't ready to return to in-ring action.
Blissed Off
This past Monday Night RAW, Alexa Bliss was named leader of this year's women's Survivor Series team. Dressed unusually in a business suit, Bliss made the remark that she could "get used to this". Obviously she was referring to staying out of the ring and calling the shots instead. Several fans picked up on this line and wondered what she meant by this.
According to Dave Meltzer of WrestlingObserver, Bliss' condition has not improved since being pulled from Evolution. She is still injured, and WWE is playing it safe when it comes to one of their main event women's stars.
"[Meltzer, regarding Bliss] Only time will tell how long it will be until Bliss is medically cleared. Hopefully, it will be soon because WWE certainly can't afford to lose any big stars at this point. But at this time, it looks like WWE is playing it safe with Bliss." quote courtesy of RingsideNews
It would be in WWE's best interest to keep Bliss away from in-ring competition for the time being to ensure a quicker healing process. As we've seen recently, Superstars such as Sasha Banks and Samoa Joe can miss several weeks in cases like this. Hopefully, Bliss recovers quickly and we see her in a WWE ring again very soon.
Social Media
100% Authentic: No Plagiarism in Our Articles
Follow TSJ101Sports on Twitter: @T101Sports and @T101SportsWWE
Follow me, the writer, on Twitter: @JordanPiekarski
Subscribe to get the latest news from TSJ at the TSJ 101 Sports TV YouTube channel!
Photo credit to philliesfan136 via Flickr