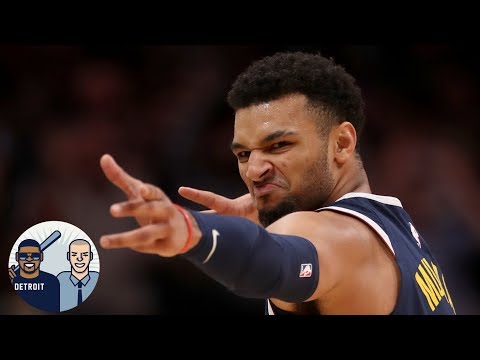 Jamal Murray Has Career Night, Leads Nuggets Past the Celtics
A battle between two of the best teams in the league ensured last night. The Boston Celtics came into last night off a heart-wrenching loss to the Pacers on Saturday. On the other hand, the Denver Nuggets were riding a hot start of 8-1 before their matchup with the Celtics. As soon as the game began, it was apparent that it would come down to the final quarter. It was in these minutes that Nuggets point guard Jamal Murray, who had a career high 48-points, would take over.
The Celtics walked off the Pepsi Center court after losing back-to-back games to teams they are more talented than. There are many people that Celtics critics could point to in the loss. Kyrie Irving's defense, Brad Stevens' gameplan, the poor shooting of Jayson Tatum, etc… However, at the end of the day the problem lies in the effort. The Celtics have been playing down to the level of their opponents. It makes for exciting basketball, but frustrating as the team loses to teams they are better than.
The Celtics are Fired Up
In the closing minutes of last nights game, Kyrie Irving launched the basketball into the 10th row after Murray took a disrespectful shot at the end of regulation. According to the Atlantic's Shams Charania, Irving was fined 25,000 for the incident. The frustration of the Celtics superstar spilled over, and into the locker room. Irving, who is seen as laid back, inspired his team last night. Throwing the ball was just the tip of the iceberg, one only knows what was said in the locker room.
The best bet is if the Celtics have any kind of heart to them, they will play out of their mind against the Phoenix Suns on Thursday. The beginning of a streak, similar to last year's 16-game win streak, is in order. I expect players like Marcus Smart and Jayson Tatum to start hitting important shots down the stretch, and the team to show more urgency.
Player of the Game: Kyrie Irving
As previously mentioned, Irving was the only Celtics player that came to play. His shootout with Murray gave him 31-points on 17 shots. He has been the Celtics MVP in the past 4 games. Great players find their footing after an injury, or slow start. Gordon Hayward needs to be the next to find his footing.
Honorable Mention: Nobody
A Look Forward to the Next Game
The Celtics take on the Suns on Thursday night in Phoenix. The Suns have had some bright moments this season. However, they're still struggling to win games. This is also a game that the Celtics need to blow the opposition off the court and gain some confidence.