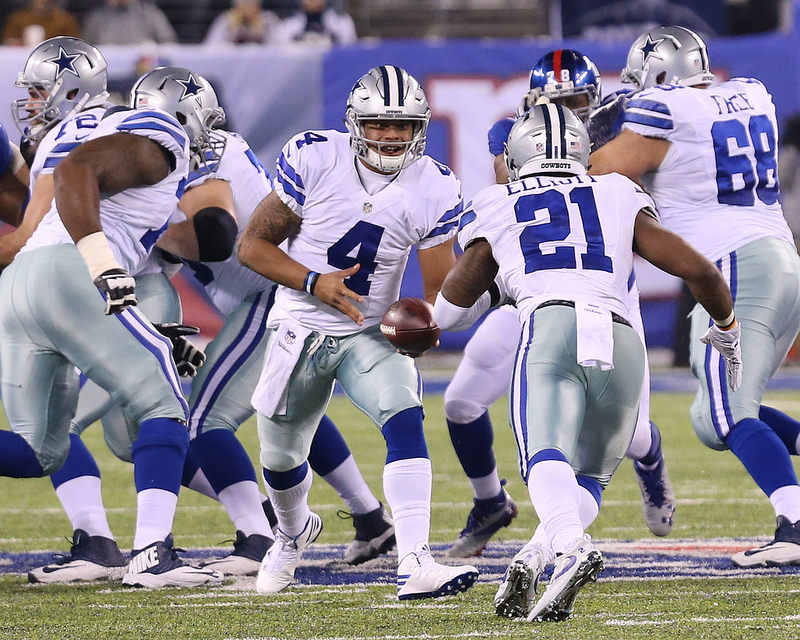 Titans and Cowboys Set For Primetime Faceoff On Monday Night
The Tennessee Titans and Dallas Cowboys have a huge game with playoff implications on Monday night for both teams. A win for either side will place them just one game out of first place in their respective divisions. Both teams are also coming off a bye week.
Week 7 Recap
Tennessee Titans
The Titans lost to the Los Angeles Chargers after a late comeback 20-19. Quarterback Marcus Mariota completed 24 of his 32 pass attempts for 237 yards, one touchdown, and one interception. The team had a huge day on the ground with 164 rushing yards. Running back Dion Lewis had 91 yards on 13 carries.
The defense played well giving up just 47 rushing yards. Holding Philip Rivers to only 306 yards passing and two touchdowns are considered a win in most cases.
Dallas Cowboys
The Cowboys couldn't get anything going in the running game in their 20-17 loss to the Washington Redskins. The team had a whopping total of 73 yards on the ground. RB Ezekiel Elliott had only 33 yards on 15 carries. QB Dak Prescott had 273 yards on 22 of 35 pass attempts with one touchdown. Unfortunately, he was sacked four times and lost two fumbles. Those types of numbers usually make it hard for a team to win.
Dallas' defense held Alex Smith to 178 yards passing but struggled with the run. Adrian Peterson had 99 yards on 24 carries. Washington had a total of 130 yards rushing.
Monday's Keys To Victory
Titans Need Better Offensive Production
Tennessee is averaging a dismal 15.1 points per game. That's either two touchdowns and a field goal or five field goals. No matter what, that's not good production. QB Marcus Mariota has more interceptions (5) than he does touchdowns (3) this season. RB Dion Lewis has only 277 yards rushing through seven games.
They're going to need more production in order to win Monday night or any other game for that matter. This has to be disheartening for the defense since they only give up 18.1 points per game.
Dallas Has To Establish The Run
In a league where passing yardage is heavily glorified, the Cowboys' success hinges on their ability to run the ball. They have to feed RB Ezekiel Elliott the ball at least 20 times in the game.
Letting QB Dak Prescott run the ball will help keep the defense on its toes as well. The Titans are giving up 112.3 yards rushing per game. Dallas should challenge that defensive line.
Dak Should Test His New Weapon
Along with running the ball, Prescott should target newly acquired wide receiver, Amari Cooper. The passing game has struggled for Dallas this season, and they need to see a return on their investment. Cooper is sure to be ready to prove that Oakland was wrong in trading him. Dallas would be wise to target him early and often.
Prediction
The Titans' offense has really struggled this season. They will be energized and ready to prove themselves Monday night, but it won't be enough. Dallas is coming off of a loss to a division rival in Washington, and they will have something to prove as well. The Cowboys win this game 21-13.
Fantasy Implications
Look for Ezekiel Elliott to have a big day on the ground. Amari Cooper just might have a breakout game for the season.
Photo Credit
Featured Image courtesy of Bruce Adler Sports Photography
Subscribe to get the latest news from TSJ at the TSJ 101 Sports TV YouTube channel!
Play And Win Weekly at ThriveFantasy