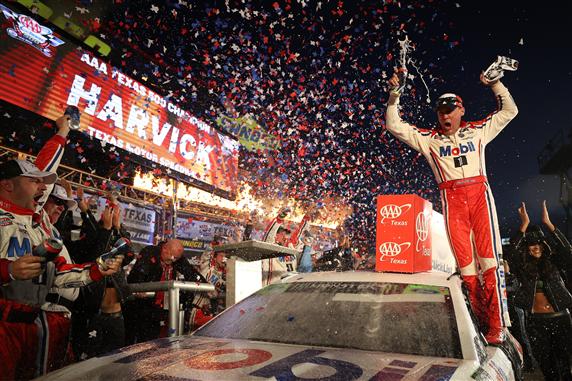 After a Commanding Win at Texas, Kevin Harvick is In the Championship 4 for the 4th Time
Although several Playoff cars had troubles throughout the race, one thing was a near-constant at Texas. Kevin Harvick was the fastest man in town. After leading 177 laps, he was able to hold off the field in an Overtime finish. This win punches Harvick's ticket to the Homestead Championship 4, his 4th time in the finale.
Several Drivers Start Texas in a Hole
Prior to the start of the AAA Texas 500, a total of 7 drivers would take the green flag from the rear. This list included Playoff contenders Martin Truex Jr, who changed an engine, and Aric Almirola for an illegal body modification. In addition, the 19, 37, 32, 24, and 48 cars would be penalized pre-race. There was some controversy involved in one of these sanctions handed down by NASCAR. Jimmie Johnson and the 48 team failed inspection twice, which would normally not lead to a penalty. NASCAR admitted to their mistake in calling this infraction during the race.
First Lap Frenzy Up Front
On the initial start, disaster was averted for most of the field. However, 2 drivers had their shot at the win end prematurely. 2nd-place starter Clint Bowyer got loose in turn 2 on the bottom lane. The 14 drifted up the banking, into the side of Denny Hamlin. Because of damage, Denny would have to pit on lap 10 after losing many positions. Just a few laps later, Bowyer would also pit due to damage from the lap 1 contact. Both Bowyer and Hamlin would lose 2 laps, resuming the race outside of the top 30.
While Denny was just racing for the win, Bowyer needed a strong race from Texas to make up ground in the Playoffs. Bowyer started the day 7th in points, 42 behind the cut line. Clint would finish the day 8th in points, 73 points outside of the Championship 4. Bowyer will head to Phoenix next week needing to win for a berth at Homestead.
Fast Fords Surge Ahead in Stage 1
Ahead of the contact, Ryan Blaney led the way early from the pole. Even though he was not in postseason contention, Blaney had a fast car at Texas. The Penske 12 would lead up until the competition caution on lap 30.
After pit stops, Kevin Harvick took over the top spot for the first time. After taking the lead, Harvick never looked back, as he would lead every remaining lap in Stage 1. The opening Stage at Texas would mark Harvick's 17th Stage win of 2018. In addition, Martin Truex Jr rallied from starting in the rear to finish Stage 1 in 5th.
Teammates Tangle in Stage 2
On lap 96, Jimmie Johnson spun while entering turn 3. The 48 slid for awhile, but was able to save it. However, his rookie teammate, William Byron, hit him in the rear. The caution would come out for this 2 car incident, the first yellow for an on-track incident. Johnson and Byron would go on to finish 15th and 16th.
Other than during a green flag pit stop cycle, Stage 2 was status quo for Kevin Harvick. Harvick would pit on lap 131, giving up the lead, but would charge back up front just 29 laps later. Harvick would sweep the Stages, taking the Stage 2 win over Ryan Blaney.
Bad Day Goes Worse For Bowyer
During the green flag pit cycle in Stage 2, Clint Bowyer was penalized with a questionable call. NASCAR deemed that he had a pit crew member over the wall too soon. In reality, he was making a fuel-only stop, and another crew member was sitting on the pit wall, with his feet touching the pit box. This call would send Bowyer another lap down, as he had to serve a drive through penalty.
After the pit stops following Stage 2, Harvick went back to 4th for the restart. He took 4 tires, while others just took 2. During this time, Penske showed the speed from their Fords, as their 3 drivers took turns out front. For awhile, Penske was running 1-2-3 at Texas.
Tough Moments for the Big 3
Midway through the 500 mile race at Texas, each of the 'Big 3' drivers had issues that impacted their day. Kyle Busch was forced to pit on lap 219. Busch was not having the same performance he had at Texas in April, when he won. This pit stop sent Kyle back to 25th, 2 laps off the pace. Busch would only recover to finish in 17th.
Martin Truex Jr came to pit road with a loose wheel on lap 248. On this pit stop, Martin drove through too many pit boxes, and had to serve a drive through penalty. This sent Truex deep in the field, but he would manage a 9th place effort.
The last member of the 'Big 3' to be hit with an issue was Kevin Harvick. While chasing down leader Joey Logano after a restart, Harvick also reported a loose wheel. After hearing from his crew chief that others were having the same issue, Harvick did not pit. The 4 car would charge on and retake the lead on lap 254 from Logano.
Harvick would only surrender the lead again with 54 laps remaining, when he made his final pit stop. Just 12 laps later, Harvick would retake the lead for the 4th time when Jimmie Johnson pitted.
A series of 3 cautions would bunch up the field late in the going at Texas. Harvick held serve on all but 1 of these restarts. On lap 311, Ryan Blaney beat Harvick through 1 and 2 and pulled away. The 4 car would pass the 12 again for the top spot just 7 laps later.
Overtime Finish Leaves Competition in the Dust
An Overtime Finish would put Blaney and Harvick side-by-side for 1 final restart. But there was no challenging Harvick on this last 2 lap run. Harvick shot out of a cannon, despite Blaney getting a push from Kyle Larson. Harvick cruised to his record 8th win of 2018. This win is also his 2nd-straight in the Texas Playoff race, which marks his 4th time making the Homestead Championship 4.
Behind Harvick making the Championship 4 for a 4th time, there were a majority of Playoff drivers in the top 10. Harvick was closely followed by Ryan Blaney, Joey Logano, Erik Jones, Kyle Larson, Chase Elliott, Kurt Busch, Aric Almirola, Martin Truex Jr, and Austin Dillon.
Significance of the Texas Win for Harvick
This is just Kevin Harvick's 2nd win at Texas Motor Speedway, but it could not come at a better time for the 4 team. In 5 seasons of the Elimination Playoffs, 2018 will be the 4th time that the 4 has made the Championship race. Harvick and the 4 team have been arguably the fastest car all season long, so them making Homestead for a 4th time could be dangerous for the competition.
How to Watch the Next Race
Up next for the Monster Energy NASCAR Cup Series is the Round of 8 finale, the Can-Am 500 at Phoenix's ISM Raceway. With a newly reconfigured track, this race could be as big of a wildcard as any Playoff race so far. Catch all of the action on Sunday, November 11, at 2:30 PM EST on NBC, MRN, and SiriusXM NASCAR Radio Channel 90. This race will determine the last 2 in the Championship 4, with 6 drivers gunning for these spots. Be sure to not miss a lap of this penultimate race of the NASCAR season.