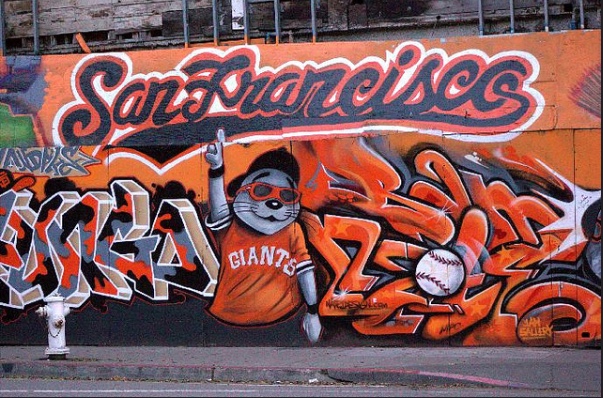 Giants 2018 Season Recap
The 60th year in San Francisco for the Giants will unfortunately not be fondly remembered. Coming off a disaster 2017 where the team turned in a 98-loss season, the front office made some serious moves in the offseason to make a 2018 run, trading for franchise stars Andrew McCutcheon and Evan Longoria. But as we all know, the Giants were far from contention even with these two big names added. A below-average 2018 filled with injuries and frustration led to a fourth-place finish in the NL West with a 73-89 record. Let's take a look back at the 2018 San Francisco Giants.
Starting Rotation
The Negatives
The Giants' usual strong point is the pitching, highlighted by a killer rotation. But this year, injuries killed the Giants rotation from the beginning with Madison Bumgarner hitting the DL after getting hit by a comebacker in Spring Training. He wouldn't make his first start until June 5th, and he would not be the same dominant Bumgarner we are used to seeing, posting a 3.26 ERA in 21 games. Soon after, it would be Johnny Cueto biting the dust with elbow problems causing him to bounce on and off the DL until his last start on July 28. On August 1st it was announced he would need Tommy John Surgery. Next, it was Samardzija who was limited the entire season with shoulder problems. He made his last start on July 14th. This left the Giants' 1-3 starters nowhere to be found for a majority of the season.
The Positives
It was not all doom and gloom for the Giants' rotation this year though. With the Giants' 1-3 starters gone for significant amounts of time, we got to see the future of the Giants rotation step up faster than expected. Andrew Suarez and Chris Stratton showed promise as future lower rotation starters. But, this young core was highlighted by 2018 surprise Dereck Rodriguez, who was easily one of the top bright spots of the season. He would start 21 games his rookie season, posting a 2.81 ERA through 118.1 innings pitched, pitching five or more innings in 17 of those 21 starts. Another surprise on the year was 31-year-old Derek Holland. Holland would step up big with all the injuries, starting 30 games, putting in a team-leading 171.1 innings and posting a 3.57 ERA.
Bullpen
The Negatives
The Giants' bullpen this season was very questionable. What was once automatic for Bruce Bochy, 2018 was more of a guessing game than we've come to expect over the last couple of seasons. Hunter Strickland continued the same struggles of the last few years as a back-end reliever, allowing 20 earned runs and 21 walks in 45.1 innings. Strickland's ability to throw the fastball in triple digits, but the inability to use and develop his off-speed stuff, has long frustrated the Giants and their fans. As the icing on the cake, Strickland broke his pinkie and was gone for 8 weeks after punching a door following a blown save in June.
Mark Melancon, the Giants' 62 million dollar closer, also started his year off on the DL with greater fears for his arm and the future. He would come back and appear in 41 games, but not at the level the Giants expected after signing him in free agency. He will be interesting to keep an eye on for 2019. The Giants had a tie at team leaders for saves, which would be great. Sadly, that number was 14. Look away, Giants fans, because the team led the entire league with 30 blown saves in 66 opportunities.
The Positives
PABLO SANDOVAL PITCHED A PERFECT INNING! Pablo Sandoval has 1 professional inning under his belt and turned in a 0.00 ERA. We'll always have that, Giants fans.
In serious notes, Will Smith made his triumphant return from Tommy John surgery, which cost him the entire 2017 season (he didn't miss much). And the best part is, he was excellent, turning in 53 innings and posting a 2.55 ERA. He also was one of the two tied for the team lead in saves. The person he was toed with, ironically enough, was Hunter Strickland. But that can be something for Strickland to build on.
Other positives for the bullpen include 25-year-old surprise Reyes Moronta. Moronta gave 65 innings with an ERA of 2.49. He came into many tight situations over the year and managed to pitch his way out of most. He will definitely be a future key piece to the 'pen for Bruce Bochy. Ty Blach continued to be a reliable long relief/spot start piece and Tony Watson and Sam Dyson continued to be positive members.
Offense
The Negatives
It's hard not to jump straight to negatives when discussing the Giants' offensive production. And that's why we're starting with the negatives. The Giants mustered 603 runs for 2018, enough to be second worst in baseball behind only Miami (589). The stat most people jump to is home run totals. The league values the long ball overall more than anything nowadays. Seeing as every playoff team except the Cubs were in the Top 10 in the league for homers, I'd say they're pretty important.
The Giants finished with 133 Home Runs, again good enough for second worst in the league. Again, ahead of only Miami (128). The team leader in home runs was Evan Longoria with a grand total of 16. The Giants have not had a SINGLE 20 home run hitter on the team since Brandon Crawford in 2015. To put that in perspective, the Dodgers had SEVEN players hit over 20. Three players hit over 25. The last time a Giant hit 25 or more in a season? You'd have to go back 8 seasons to the magic of 2010 when 33-year-old Aubrey Huff hit 26.
Does some of that blame go to the ballpark the Giants play in? Sure. The Giants hit 60 of their 133 Home Runs at home (that's 45.1% of their total). Visiting teams were about the same hitting balls out at AT&T Park. They accounted for 64 home runs, only 4 more than the Giants. But let's not pretend the Giants' only problem with hitting for power is the park. They are a lineup that is getting older and not hitting as well as they used to, thanks in part to injuries. Still, it's hard not to look at the rest of the league and then look at the Giants and think no major changes need to be made.
The Positives
It's hard to call injuries a positive but here we are. The Giants were littered with DL visits in 2018. A lot of those lingering and more serious injuries cost the Giants a lot of offensive production. Things like Belt dealing with knee issues, eventually leading to surgery. Posey with his hip cost him a ton of his power for the majority of the year before he was shut down for hip surgery. Longoria and Crawford were out at times with injuries that lingered all year. Pablo was proving to be very effective coming off the bench until he went down for hamstring surgery. The point is we can expect all these bats back to 100% for 2019, expecting their offensive productivity to come back with them.
Other highlights included a peak into the Giants future with the likes of Duggar (24), Hanson (25) and Avelino (23). Also, the rise of Gorkys Hernandez who went from zero home runs to 15 in 2018. At 30 he should be a default leader for the young outfield in 2019 after the departures of Hunter Pence and Andrew McCutcheon.
The Final Outlook
The 2018 season for the San Francisco Giants may not have been a great one, but it was an important one. It will not be remembered fondly, but it will be remembered as a turning point for the franchise. The Giants fired GM Bobby Evans at the end of the season. They are currently looking for their GM of the future and beyond. Someone to lead the Giants into the new analytics-driven era of baseball where home runs are king and you can hit .220 but put the ball over the fence 30 times and be a key asset. No matter who they choose, from that moment on the Giants will be a completely different team.
As for 2019, it will be exciting to see the young guns rise up. And will be interesting how the team takes shape and what the front office values more in a player. Of course, the Giants could get Bryce Harper in free agency and completely turn everything upside down. But the odds of that happening are slim to none. So, a rebuild it is, making 2019 sort of an unpredictable one. Which is exciting in its own way. Right?
Photo credit to Steven P Moreno via Flickr