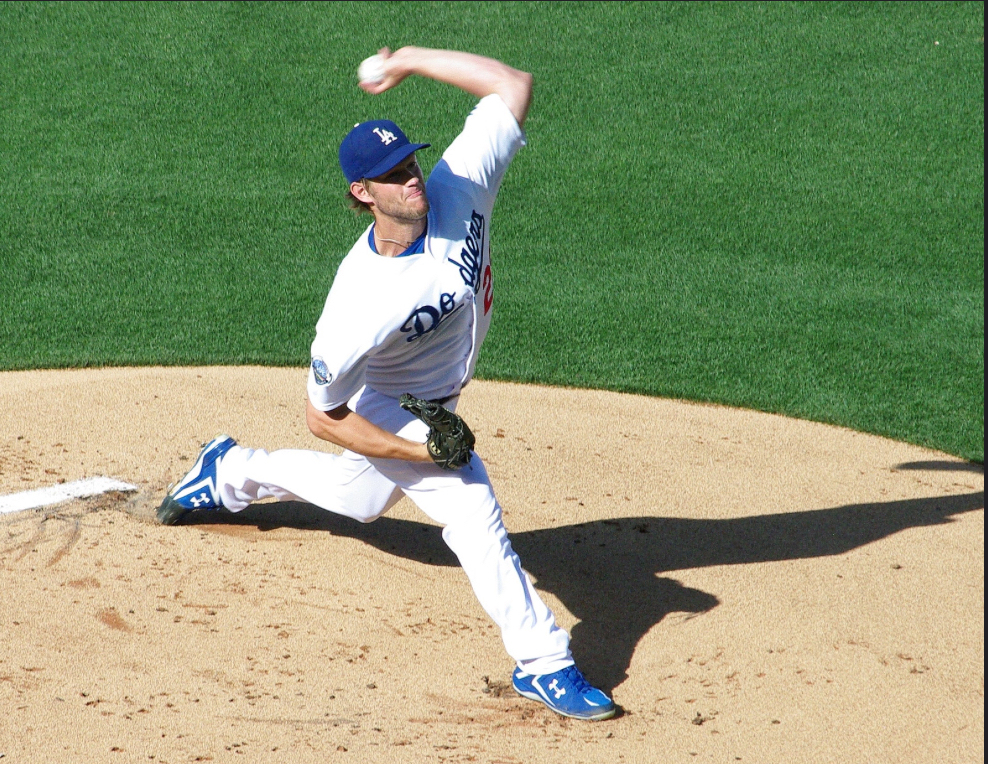 Dodgers Season In Review Part 1: Starting Pitching
Welcome to Part 1 of the Dodgers Season in Review. Although the Dodgers came up just short of a World Series title for the second year in a row, they still had an amazing season. The beginning of the year was definitely a low point. After starting off the season 16-26, everybody was willing to write off the Dodgers. Everybody except for real Dodgers fans. This is because real Dodger fans understood how deep the team is.
Real Dodger fans knew that there were many injuries that sidelined many of their starting pitchers. In fact, every opening day roster starting pitcher ended up on the disabled list at least before the All-Star break as well as afterward for some. Knowing that everyone would be back and that once they were healthy, combined with the platoon of players the Dodgers have off the bench, the Dodgers would do great things, which they did. Let's take a look at what the Dodgers' year had in store for their starters and who helped them get to another World Series.
Dodgers Starters 2018
The Dodgers starters went 57-38 on the year with 68 no decisions. However, as I mentioned above, literally, every Dodger starter listed on opening day made a trip to the disabled list and some were quite extensive. Let's focus on the guys who were there in the postseason and start with and spend the most time on longtime Dodger ace Clayton Kershaw.
Clayton Kershaw
Clayton Kershaw ended up finishing 2018 with a 9-5 record and a solid 2.73 ERA. Since Kershaw spent time on the disabled list he didn't qualify to get ranked amongst the National League leaders; however, he would have been fourth on the list for 2018. He started the season going 1-4, but only had a 2.86 ERA. Lack of run support is what really hurt Kershaw in those early games. In early May, Kershaw then went on the 10-day disabled list with bicep tendinitis. He then went back right back on the disabled list after one start on June 1st with a lower back sprain and missed about four weeks. Kershaw then returned to the DL at the end of July, again for his back where he spent about another four weeks before he returned.
The postseason had some ups and downs for Kershaw. A positive was that Kershaw threw probably his best two postseason outings. Kershaw dominated the Braves in the NLDS, shutting them out in 8 innings with only 86 pitches! He then threw a great game against the Brewers in the NLCS giving up just 1 run in 7 innings. Although in those starts Kershaw excelled, it wasn't the same result in the World Series. Kershaw started in two games of the World Series and posted a staggering 7.36 ERA. Although some fluke incidents went on with Yasmani Grandal that definitely would have messed with most pitchers, there is still no excuse for an ERA that high, on the world's biggest stage and nobody is more upset by Kershaw's performances than himself.
As for his future, Kershaw just signed an extension that will keep him a Dodger for the next three years. He has a big chip on his shoulder and is excited to "prove people wrong". Goal number one is to keep healthy and stay off of the disabled list. Looking forward to what the 2019 season brings for Clayton Kershaw!
Hyun-Jin Ryu
Hyun-Jin Ryu might have been the biggest surprise of the season. Ryu finished the year 7-3 with an amazing 1.97 ERA! Unfortunately, Ryu spent May 2nd to August 15th on the disabled list due to groin issues, so didn't qualify to be amongst the league leaders, but had he, he would have been 2nd in ERA, behind Jacob deGrom. Ryu really dominated this year and is definitely a bright spot going forward for the Dodgers. As for the postseason, Ryu had one dominating start in the NLDS where he pitched 7 scoreless innings. However, his NLCS and World Series performances were by far his two worst starts of the year, where he averaged about an 8 ERA.  If Ryu can shake those uncharacteristic starts off, stay healthy in 2019 and emulate close to what he did last regular season, he could be in Cy Young talks next year.
Walker Buehler
23-year-old rookie stud Walker Buehler wasn't on the Dodger opening day roster. However, he got the call-up in late April and although the plan was for him to move up and down throughout the year, once he was up there was no way Dave Roberts could send him back down. Buehler ended the year going 8-5 with an awesome 2.62 ERA. Like all of the other Dodger starters, Buehler was also sidelined with a microfracture rib injury three weeks after he took a line drive off the chest. Buehler came back stronger than ever and really helped the Dodgers get to the postseason. Like, really helped them, as in starting game 163 against the Rockies and giving up zero runs in 6.2 innings!
Speaking of the postseason, with each start Buehler got better. Buehler had his worse start of the postseason against the Braves in the NLDS where he gave up 5 earned runs. In his next start against the Brewers, he gave up 4 earned runs, not great but better. Then, in game 7 of the NLCS Buehler only gave up 1 run. Buehler's best postseason performance came when it counted most in the World Series. Buehler started Game 3 and pitched a beautiful 7 scoreless innings. Unfortunately, the Dodgers would go on to lose the game, but not due to any fault of Buehler's. Walker Buehler really stepped up this year and if his rookie season is a hint of things to come, then the Dodgers are set for years to come.
Rich Hill
Longtime veteran Rich Hill had a slow start to the season. His ERA was high and he took a couple of trips to the disabled list, first with a torn nail on the middle left finger, then for an infection in the same finger, then later for blisters. However, after getting healthy, Hill seemed to improve with each start.
Hill ended the season going 11-5 with a 3.66 ERA. Hill had a solid postseason as well. Although he gave up 2 runs in only 4.1 innings in the NLDS, he still got the win. In his next start in the NLCS, Hill gave up only 1 run in 6 innings pitched to get another win. Hill's World Series performance was great as well, also only giving up 1 run in 6.1 innings pitched, however, after an apparent misunderstanding with Dave Roberts, Rich Hill exited the game after striking out the last batter and the Dodgers ended up managing to lose that game.
The 38-year-old is definitely getting up there in age. However, he is slated to be the third man in the Dodgers 2019 season. If he can stay healthy and pitch how he pitched in 2018 when he was healthy, then he will still be very valuable next season.
Ross Stripling
To start, Ross Stripling probably had one of the most emotionally draining seasons a player could have. Stripling started the 2018 season in the Dodger bullpen. After numerous injuries plagued the Dodger starting rotation, Ross Stripling got moved to starter. He dominated the first half of the season going 8-2 with a 2.08 ERA. Outstanding numbers that earned him his first All-Star nod. However, at the end of July Stripling was placed on the disabled list with a toe injury and then was placed on it once again in August with a back injury. When Stripling finally came back in September he wasn't the same as the first half of the season. He was sent back down to the bullpen.
The second half of the year Stripling went 0-4 with a 6.41 ERA. Enough to leave him off of the postseason roster. Talk about a fall from grace, going from being a starting pitching All-Star, to not even making the postseason roster! With all that said, the Dodgers still believe in Stripling and currently have him listed as the fourth starter on their depth chart for next season. Let's hope he can get back to the first half of 2018 level.
Kenta Maeda
Kenta Maeda finished the season with an 8-10 record and 3.81 ERA. Like all of the other Dodger starters, Maeda is no different in that he spent time on the disabled list as well. Maeda missed two weeks after suffering from a strained right hip. For the postseason, Maeda got moved to the bullpen. He pitched 6.2 innings, struck-out 10 and had a 4.05 ERA. According to the Dodgers' current depth charts, next year Maeda is slotted to be the fifth starter. Maeda's career ERA is 3.8 and is projected to be around the same next year.
Other Starters/Potential Starters…
First off, Julio Urías has to be mentioned. I'll be talking about him more in-depth in the next part in my Dodgers Season In Review series, but have to at least mention him. The kid is good! Okay, more than good. Known as "The Teenager", Urías has electric stuff. Unfortunately, almost all of 2018 was spent on the disabled list as Urías had season-ending shoulder surgery in June of 2017. However, Dave Robert has already said that the plan for 2019 is to get Urías back to starting. Just another weapon the Dodgers have waiting for next year.
Next, Caleb Ferguson is another young pitcher who stepped up this season. The 22-year-old lefty went 7-2 with a 3.49 ERA. He came out of the bullpen for the postseason, but is another guy who has potential solid starting pitching stuff!
Lastly, there's Alex Wood. Alex Wood had an amazing 2017 season. Wood was an All-Star and went 16-3 with a 2.73 ERA. The 2018 season, however, did not fare as well for him. Wood just wasn't himself this year. Wood went 9-7 with a 3.67 ERA, not bad numbers, but not great numbers either. Like all of the other Dodger starters, Wood did spend some time on the disabled list for left adductor tendonitis. Wood eventually got moved to the bullpen and gave up 4 earned runs in just 6.2 innings pitched in the postseason. Hopefully, some rest and adjustments in the offseason can get Wood back to the caliber we've all seen and know he's capable of.
2019 Starting Pitching Outlook
After reviewing the Dodgers year of starting pitchers a couple of things are clear. One, they had a ton of injuries. Obviously, every team has injuries, but the 2018 Dodger pitching staff was plagued by them! With that said, even with the plethora of injuries they had they still made it back to the World Series. Why? Because secondly, they have a ton of talent! The Dodgers have multiple previous and potential All-Stars as starters or potential starters that will be starting in the bullpen next year. If the Dodgers starters can stay healthy, that is a scary thought for the rest of the league. The Dodgers are definitely deep when it comes starters. Let's hope everyone got their trips to the disabled list out of the way in 2018 and are ready to dominate in 2019!
Photo Credit: Ryan Reiring via Flickr