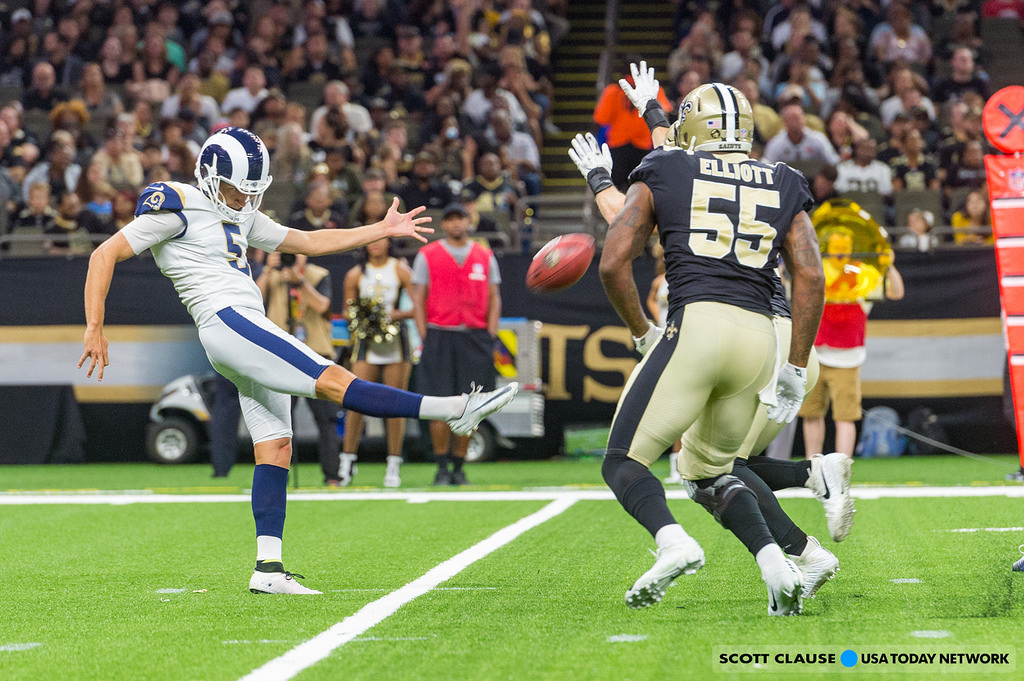 Los Angeles Rams vs. New Orleans Saints Preview
The Rams are set for one of their biggest challenges yet as they take on the Saints, who are on a six-game win streak. Everything has been going right so far for the Rams. They are on pace to average more than three points per game greater than their incredible season last year. The Saints have been flaming hot as well.
So far this season both the Rams and the Saints are averaging 33 points. The only difference is that while the Saints opponents are averaging 26 points against them, the Rams only let up 19 per game to opposing teams.
If the Saints' defense can hold up, this should be a sensational matchup. Fans will get to see two stud running backs face off in Alvin Kamara and Todd Gurley. Also two elite quarterbacks will face off in Drew Brees and Jared Goff.
Michael Thomas vs. Marcus Peters should also be a great matchup to watch.
Players To Watch Out For
Aaron Donald
Donald has been an absolute force for the Rams this season. He is arguably the most important part of their defensive success so far this year. He leads the league in sacks with ten in eight games. If that stat doesn't tell, then I don't know what will.
Even when he isn't racking up sacks, he is in the backfield putting heavy pressure, setting up a sack for Ndamukong Suh. When Donald is on the field, quarterbacks shake in their cleats. That is very often considering he plays 88% of the Rams defensive snaps.
Look out for Donald to force Brees into some difficult throws this Sunday.
Todd Gurley
Gurley has been sensational so far this season. It's truly a joy watching him work. Being a fantasy owner who has to compete against his production is very frustrating though. On the season, Gurley leads all running backs in rushing yards per game and rushing touchdowns.
On the season he is averaging a league-leading 100 yards per game and has totaled an also league-leading 800 yards rushing on the year. 15 total touchdowns on the year are also league-leading for someone that's not a quarterback.
Most of the Rams' plays are play action so even when he isn't carrying the ball; he is drawing in linebackers to leave the middle of the field vacant. Overstating his success this season is an impossible task. We'll see how he fairs against a defense that allows the least rushing yards per game of any defense in the NFL.
Alvin Kamara
Kamara has been showing that his rookie campaign was no fluke. He has done nothing but produce so far this year and produce at a high level. The second-year back is third in the NFL in rushing touchdowns on only thirteen carries per game which is 18th in the NFL.
His usage is far below Gurley's, yet he is just barely behind him in rushing touchdowns. His yards per game has been a little lower than expected at about 58. However, he carries with him the potential of a breakout run on any play.
Kamara's versatility is exceptional so you should look out for him in the passing game as well. With more receptions on the year than Antonio Brown, Kamara has been thoroughly utilized in that area.
Drew Brees
The 18-year vet has been nothing shy of amazing this year, once again amongst the league's top quarterbacks. So far this season Brees carries with him a 118.2 passer rating. His passer rating is the best in the league for quarterbacks who have started every game this season.
He's been efficient as ever. He also leads all quarterbacks completion percentage with 77.4%. It's tough to get more efficient than that. Though he has had a great season so far, the real highlights have been his career achievements. Just a few weeks ago, he took sole possession of the NFL's passing yards record, previously held by Peyton Manning.
In Week 7, Brees eclipsed 500 touchdowns. He is one of only four quarterbacks to reach that number. Brees continues to impress the league with no signs of letting up anytime soon, even at age 39.
Prediction
39-31 Los Angeles Rams
Photo Credit
Featured Image courtesy of scottclause.com
Subscribe to get the latest news from TSJ at the TSJ 101 Sports TV YouTube channel!
Play And Win Weekly at ThriveFantasy