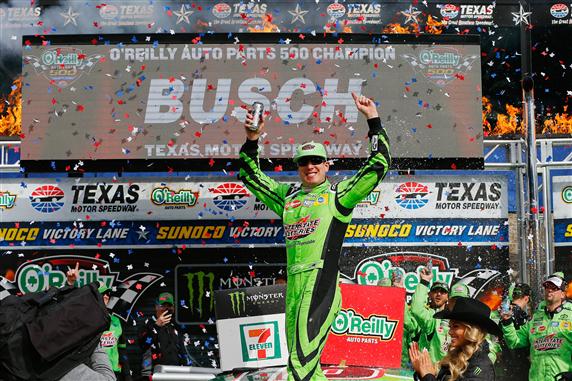 Kyle Busch Eyeing 4th-Straight Championship 4 Appearance
As the Monster Energy NASCAR Cup Series rolls into Texas, there is one driver who is feeling particularly confident about his chances to advance into the final round of the Playoffs. This driver happens to be the driver of the #18 Toyota Camry, Kyle Busch. Busch enters this weekend with a 46-point cushion over the cutoff line for the Playoff's final round. While certainly not carefree, it allows Busch and the #18 team to be more aggressive and pursue a win. Not just this, but his overall success at Texas has Kyle Busch eyeing a win this weekend.
Kyle Busch Eyeing More Texas Success
Throughout his career, Busch has been consistent at Texas Motor Speedway. Since 2013, Busch has tallied 3 wins and 4 top-5s at the track. In the 3 races since the Texas repave, Busch won in April of this year after struggling in his first 2 races on the track's new surface. Busch was dominant in his victory, as he led 116 laps after starting in the 8th position. This race certainly got the monkey off of Busch's back, proving that his team could perform well on the new surface. A win this weekend would only further Kyle Busch's run at a second series championship. This would come after heartbreak finishing 3rd and 2nd in the standings for the previous two seasons.
However, if he is not in a position to win the race on Sunday, do not expect the #18 team to do anything outside the box at this stage. As Busch said, "I believe every year is a new year, but you certainly can't forget what you've done and what's gotten you to that point of being in the Championship 4." This statement from Busch proves that he is focused on the bigger goal. The ultimate goal for the 18 is being able to compete for a Championship in 3 weeks at Homestead-Miami Speedway. So with Kyle Busch eyeing a second championship, look for him to do more of the same. The 18 team's Texas goal is to put themselves in a position to race for the title at Homestead.