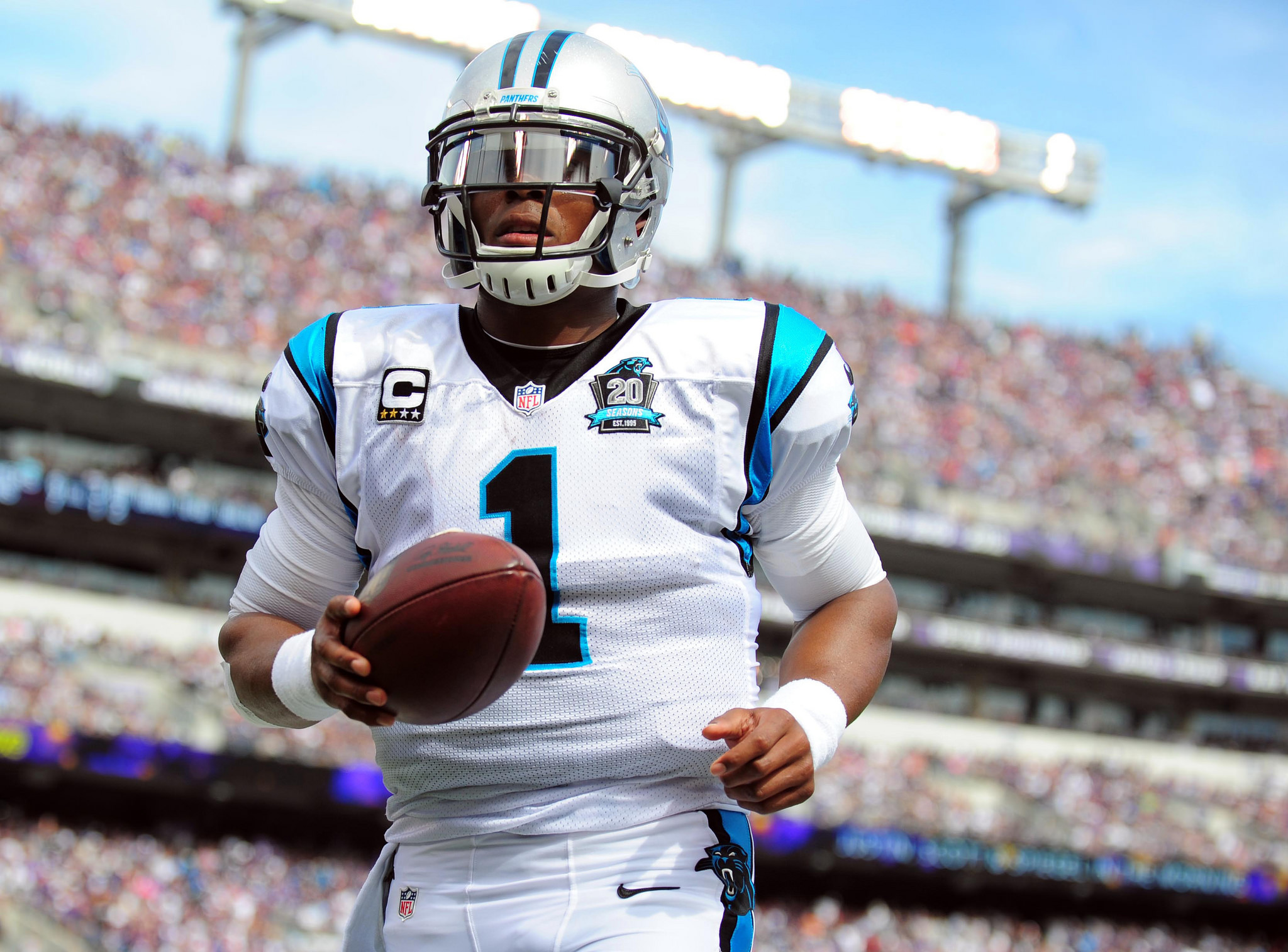 Stud or Dud: Week 9 || Fantasy Football
We're now more than halfway through the NFL regular season and the league is finally taking shape. The undefeated Rams remain current Super Bowl favorites, with Todd Gurley and Co. leading the way. We know the Giants, Raiders, and Bills are all likely to earn top draft picks. We also know that the Jaguars have not looked like the team we saw last year. Week 9 kicked off on Thursday with a memorable performance by undrafted QB Nick Mullens. Mullens passed for 260 yards and 3 touchdowns in the 49ers 34-3 blowout over the Raiders. If Mullens can win the starting job and prove himself, he could become fantasy relevant down the road. But without further ado, here's the fantasy picks for this week in Stud or Dud: Week 9!
Quarterback
Stud
Cam Newton, Carolina Panthers: Newton and the Panthers will be hosting the Buccaneers this week — a team fresh off a heartbreaking loss to the Bengals. In that loss, the Buccaneers gave up 37 points to the Andy Dalton-led Cincinnati offense. The Buccaneers maintain the second worst defense in the league, in front of only the Bengals. However, they are also first in offensive yards per game. This means they'll be getting down early and throwing the ball frequently. The Panthers and Newton need to build an early lead, as 'Fitzmagic' can lead a comeback at any time.
Newton has been very good this year, particularly in fantasy. He's averaging 235.1 yards per game with a 66.4% completion rate — a potential career-high by over 5% if he can keep pace. Look for Newton to post very high-end QB1 numbers, with added value from his production on the ground.
Baker Mayfield, Cleveland Browns: Mayfield has been very up and-down this year. He's coming off a week where he threw for a mere 180 yards but did add tow touchdowns. He's continued to work on his chemistry with Jarvis Landry and David Njoku to mixed but promising results. Once it develops further, Mayfield should be able to break out. This looks to be the week that he can show what he's got, as the departures of Hue Jackson and Todd Haley should allow him more freedom in the offense.
The Browns are also facing the Chiefs, who currently have the 4th worst defense in terms of pass yards allowed. They will also most likely get down early, as Patrick Mahomes will be throwing as much as possible and will look to build an early lead. Look for Mayfield to produce QB1 numbers and he should be started with confidence.
Dud
Marcus Mariota, Tennesse Titans: Mariota has had a rough year. He went through a nerve injury during which he was unable to grip a football. He's been sacked 19 times and has only thrown 3 touchdowns this season. Mariota is too talented to do this much longer, it'd seem. However, his offense offers very little weapons to help him succeed. Most think that, at some point, he'll turn it around. This is just not that week, as he's facing the Cowboys. Dallas has the third best pass defense in the league and should keep the Titans pass game in check. Mariota still holds some season-long value but he should be kept on the bench as a low-end QB2 this week.
Running Back
Stud
Adrian Peterson, Washington Redskins: Peterson has been a revelation this year, he's currently 5th in the league with 587 yards. This is staggering, especially considering his age and injury history. Washington has committed to establishing the run with Peterson, opening up the middle for Alex Smith for passing gains. With Chris Thompson out for the foreseeable future, only Kapri Bibbs remains to compete with AP for touches. Washington faces the Falcons this week, who have one of the worst defenses and injuries to numerous defensive starters. The Redskins should be able to do whatever they want against the Falcons, with Peterson as a low-end RB1 this week.
Jordan Howard, Chicago Bears: Howard is coming off his best game of the season, where he rushed for 81 yards and a touchdown. The Bears are facing the Nathan Peterman-led Bills, who are unlikely to effectively counter. The Bears should have an easy time jumping to an early lead. As they'll likely run down much of the clock, more carries are due for Howard over Tarik Cohenm who has been eating into Howard's touches in recent weeks. Cohen has seen the most work when the Bears are down or the game is close and primary usage in the air. Howard is a high-end RB2 this week in a solid matchup.
Dud
Kerryon Johnson, Detriot Lions: Johnson has been great since Theo Riddick went down with injury. He had six catches last week and showed he could be involved in the game even when the Lions are down. But that should change this week, as Riddick is scheduled to come back with the Lions facing a tough matchup in the Vikings.
With the return of Riddick, there's potential for the Lions to revert back to a Riddick and LeGarrette Blount tandem. Although there is a scenario, with how well Johnson has played, that he will retain the starting job, the matchup this week does not bode well for him. Johnson looks a high-end flex option and should be a firm RB2 for the rest of the season.
Wide Receiver
Stud
Davante Adams, Green Bay Packers: Adams ranks 8th in the league in receiving yards with 690 yards. He is still one of the most underrated receivers in the league and Aaron Rodgers seems to look to him very often. This is perhaps most evident from his impressive 11.1 targets per game. This creates a high-floor for the Packers receiver — with a similarly massive ceiling.
The Packers face a Patriots defense that is in consistent and often looks one of the worst in the league. They rank fifth-worst in terms of yardage — and facing Aaron Rodgers, in what should become a shootout, bodes well for Adams' outlook this week. Davante Adams should be a top-three play this week and is a must start in all formats.
DJ Moore, Carolina Panthers: Moore is excellent for owners in need of a bye week fill-in. Moore has come on strong in recent weeks, evidenced by his five catches for 90 yards last week (he also carried twice for 39 yards). Moore should eventually emerge as the number one threat in the Panthers receiving corps, with Devin Funchess taking more of a jump ball specialist-role. The Panthers are facing the Buccaneers — who, as mentioned earlier, are one the worst defenses in the NFL and are ripe for Moore to take advantage. He is a high-end flex option this week and look for potential high upside going forward.
Dud
Demaryius Thomas, Houston Texans: Thomas was traded to the Texans earlier this week before the deadline. He will take over a large role, as Will Fuller is out for the season. He will most likely not play a huge one at first, as he has only been a part of the team for a few days. This game will also be a revenge game for Thomas, as the Texans will travel to Denver to face Thomas' former team. He is a toss-up this week; normally this would be a good matchup, but it is unclear how much he will be involved in the offense. He is a flex option, at best, this weekend.
Tight End
Stud
OJ Howard, Tampa Bay Buccaneers: Howard has ascended to must-start status in the Buccaneers' high-flying offense. His connection with Ryan Fitzpatrick was evident when Fitzpatrick is in the game. The Bucs are facing a Panthers team with the worst defense against tight ends, allowing 19.2 fantasy points per game to the position. Howard has really begun to stand out in his second year and offers a very desirable skillset with his blocking and receiving ability. This has lead to increased opportunities on offense and shows future promise. Howard is a TE1 for this week with big future upside.
Dud
Rob Gronkowski, New England Patriots: Gronkowski has not lived up to the high price that many fantasy owners paid to draft him. He's missed several weeks with injury and hasn't looked the same when he's been on the field. He has only one touchdown on the year and has caught just six passes in the last two games combined. The Patriots have also brought in many different receivers that have garnered targets over him. The split between Edelman, Gronkowski, and Gordon seems to be hurting opportunities for the three talented players. The Patriots are playing the Packers this weekend, who are seventh-best against tight ends in terms of fantasy points allowed. Gronk is still a must-start, but trends as more of a low-end TE1 this week.
Photo Credit: Melvin A via Flickr
Like Stud or Dud: Week 9? Follow Ben Glassmire on Twitter (@brglass10) and on TSJ101Sports: NFL for all the latest Stud or Dud fantasy football content!
Subscribe to get the latest news from TSJ at the TSJ 101 Sports TV YouTube channel!
Play And Win Weekly at ThriveFantasy!