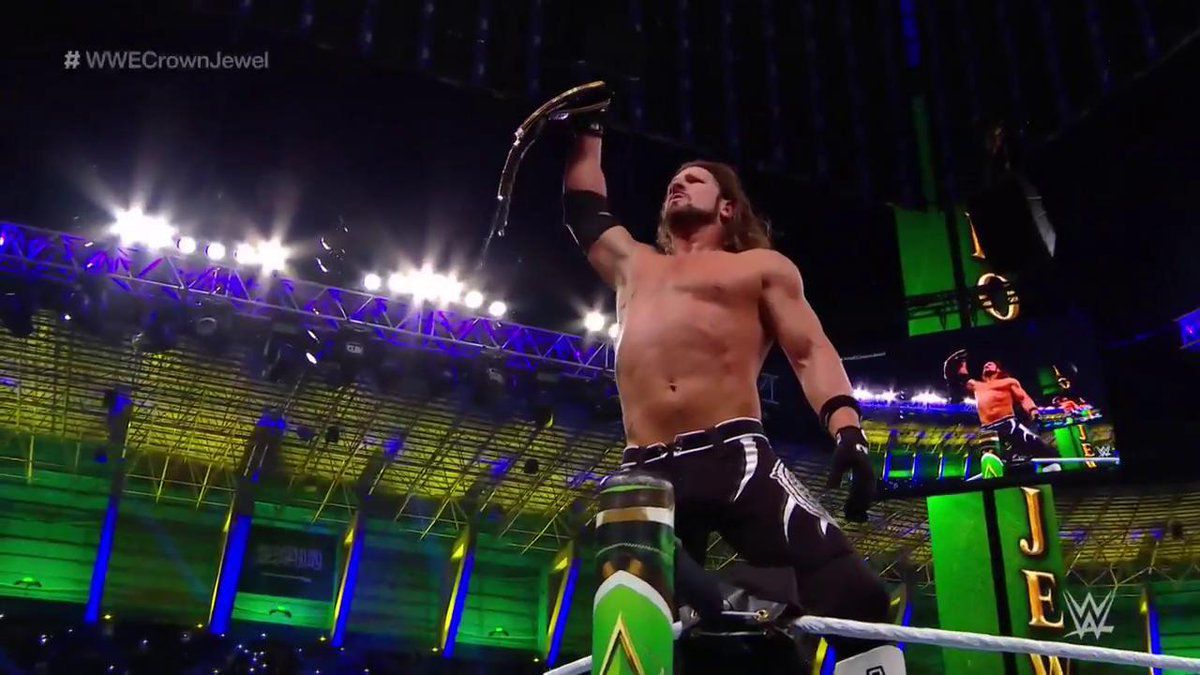 WWE Crown Jewel Graded
Well, this is quite the show. A majority of the WWE Universe never wanted this to occur in this first place. Now, was it really worth all the controversy? If Eric Bischoff had a say: Yes, yes it does. This is WWE Crown Jewel Graded.
(Pre-Show) United States Championship: Shinsuke Nakamura def. Rusev to retain the championship
Final Grade: C-
I personally didn't think this show needed an hour-long pre-show. Maybe twenty minutes for the match and ten for the hype.
It was a pretty basic match. Something we could've seen on any SmackDown Live episode. Kinshasa for the win.
Opening Promo: Hulk Hogan Returns to WWE as Host of Crown Jewel
Final Grade: A+
Hulk Hogan is back in WWE. Nothing more needs to be said.
BITW Quarter Finals: Rey Mysterio def. Randy Orton
Final Grade: B-
Most of the first round matches were pretty quick contests. This was mainly to conserve energy for the competitors moving deeper into the tournament.
This match stood out because it is slow paced and carefully constructed to emphasize Orton's strengths as a sadistic heel. Rey surprised Orton's aggressive offense with a quick roll up win.
BITW Quarter Finals: The Miz def. Jeff Hardy
Final Grade: C
As I said, not a lot of the matches were going to be instant classics because of their short nature.
Hardy took a running dive off the barricade. Miz won with the Skull Crushing Finale.
BITW Quarter Finals: Seth Rollins def. Bobby Lashley w/ Lio Rush
Final Grade: C
Lio Rush didn't have a mic during the match. That bumped this grade up a few points. Rollins won with the Curbstomp.
BITW Quarter Finals: Dolph Ziggler def. Kurt Angle
Final Grade: C
Both men showed their collegiate wrestling skills by mat wrestling for a majority of this match. After a brave effort, Angle did eventually fall victim to Ziggler.
SmackDown Tag Team Championships: The Bar w/ The Big Show def. The New Day to retain
Final Grade: C
This match was the worst of the New Day vs Bar saga. It wasn't bad, per se, but it wasn't good either. Pretty basic stuff that could've been saved for a random Tuesday.
BITW Semi-Finals: The Miz def. Rey Mysterio
Final Grade: B-
After it seemed like Rey had the win locked down, Miz blocked the Frog Splash and rolled Mysterio up for the win. Athletic showing for Mysterio, but Miz's heel tactics came through in the end.
BITW Semi-Finals: Dolph Ziggler def. Seth Rollins
Final Grade: B-
In a surprise twist, Rollins did not advance to the finals. With an assist from Drew McIntyre, Ziggler pinned Rollins after a Zig-Zag.
These two always have a good match together. This wasn't their best, but it didn't disappoint either.
WWE Championship: AJ Styles def. Samoa Joe to retain
Final Grade: C+
Originally set to face Daniel Bryan, AJ defeated his former foe in a very decisive way. After working Joe's injured knee, AJ hit one Phenomenal Forearm for the win. It wasn't anything special, but it didn't leave me disappointed.
Vacant Universal Championship: Brock Lesnar def. Braun Strowman to win the championship
Final Grade: D
F5 city, b****. Five F5s to be exact. One of them was out of the ring. The issue with that was that was all the offense that was given in the match.
BITW Finals: Shane McMahon def. Dolph Ziggler and is now declared Best in the World
Final Grade: F
Who should win this tournament to decide the Best in the World? Ziggler? Rollins? Mysterio? How about someone who wasn't in the tournament? Or maybe an authority figure? Well, then you'll be drunk with joy when you see this match.
Miz tweaked his knee before the bell, prompting Shane to take his place. Shane then proceeded to beat Dolph Ziggler and walk away with the trophy.
No, thank you.
D-Generation X def. The Brothers of Destruction
TSJ101Sports Match of the Night Winner
Final Grade: A-
This match exceeded all expectations. It had everything it needed to make four aging vets look like they haven't lost a touch. DX was clearly the babyfaces coming in. Brothers of Destruction looked to finally end DX. Shawn and Undertaker squared off eight and a half years after 'Taker retired Michaels.' Triple H went through the announce table. Shawn Michaels hit a Moonsault from the top rope to the outside. This match was chaotic, fun, dramatic, and had several other small details to make it amazing.
Overall WWE Crown Jewel Final Grade: C
This night had its ups and tremendously low downs. Since this is a glorified house show, it shouldn't damage WWE's reputation that much. But, hopefully, those who liked it went home happy. As for those who hated it… I feel you.
Social Media
We will never stop complaining…
Follow TSJ101Sports on Twitter: @T101Sports and @T101SportsWWE
Follow me, the writer, on Twitter: @JordanPiekarski
Subscribe to get the latest news from TSJ at the TSJ 101 Sports TV YouTube channel!
Photo credit to Cagesideseats via Twitter