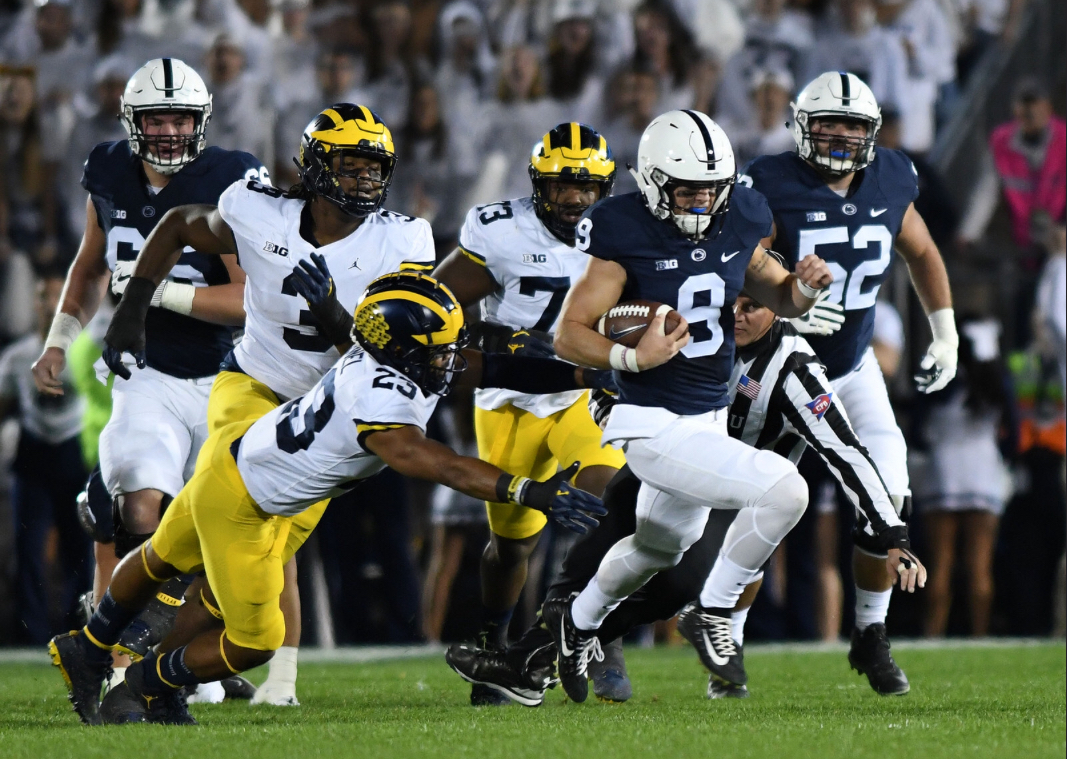 Penn State faces Michigan
After fending off the Iowa Hawkeyes, Penn State heads to Ann Arbor, Michigan to take on the No. 5 Michigan Wolverines. Penn State faces Michigan.
The Preview
Penn State travels to Ann Arbor where they'll face a rested Michigan Wolverines team that is coming off a bye week. The Wolverines will have revenge on their minds after last year's trouncing in Happy Valley. Penn State defeated Michigan 42-13 in its White Out game last year.
Penn State and Michigan are considered rivals. However, there have been years where the teams haven't met such as years 2003-04, 2011-12. The last time that Penn State faced Michigan in Ann Arbor, it wasn't close as Michigan trounced the Nittany Lions 49-10.
Penn State would for sure like to keep their winning streak going. Likewise, Michigan would love to come out of the bye week with a victory to avenge last year's loss.
Penn State
Penn State comes into this contest with an offense ranked 27th in the nation averaging 6.55 yards per play. Furthermore, through eight games, Penn State has made 561 plays for 3,676 yards total along with 42 touchdowns and 459.5 yards per game.
Trace McSorley has continued to show that he can be a true leader of this team through thick and thin. On the other hand, Penn State defensively ranks 64th in the nation. The Nittany Lions allow 4.75 yards per play. The Penn State defense has veterans such as Shareef Miller, Koa Farmer and Amani Oruwariye. However, they also have newcomers such as Micah Parsons.
Michigan
The Wolverines come into this contest ranked No. 5 in the nation. Michigan also has another thing going for them and that's having the best defense in the nation. Currently, the Wolverines only allow 3.17 yards per play. Coming into this season, many people didn't think that Michigan's offense would click either. However, the offense is ranked 53rd and that's probably better than most expected it to be.
On defense, Michigan is led by a terrific pass rusher in Chase Winovich. Winovich has been all over opposing team's offenses but more specifically getting to the quarterback and running back in a heart beat.
Shea Patterson is the quarterback for the Wolverines. In the game before the bye against Michigan State, Patterson went 14 for 25 for 212 yards and two touchdowns. On the other hand, he was sacked twice.
Rushing wise, Penn State needs to look out for Karan Higdon who, on 33 rushes, gained 149 yards and averaged 4.4 yards per carry. Receiving wise, the Wolverines have a few guys they can spread across Penn State's defense to make something happen. Those guys include Donovan Peoples-Jones, Grant Perry and Nico Collins among others.
Conclusion
Penn State faces Michigan. The early odds out for this game have Michigan as ten point favorites to open the contest. Penn State has the 27th best offense in the country while Michigan has the best overall defense in the country. The past two years have featured blowout victories by each team on their home field.
Jame Franklin has been clock conservative in the fourth quarter this season. Also, Trace McSorley may and or may not be 100 percent because of his knee (it's still in a brace). Michigan is undefeated at home and so far undefeated in the Big Ten. However, they're coming off a bye week so even though they might be rested Penn State has momentum from their last game. Michigan's defensive coordinator has said that he has lost sleep since last year's loss at Penn State. Penn State may have upset on their minds but Michigan may also have revenge on theirs. Saturday's game kicks off at 3:30 on ESPN from Michigan Stadium in Ann Arbor. Michigan will look to contain its Big Ten dominance while Penn State looks to shake the Big Ten landscape.
You can follow the writer on Twitter @TJ22_PSU and let's talk college football or any sport.
Photo Credit to Penn State Alumni Association via Flickr