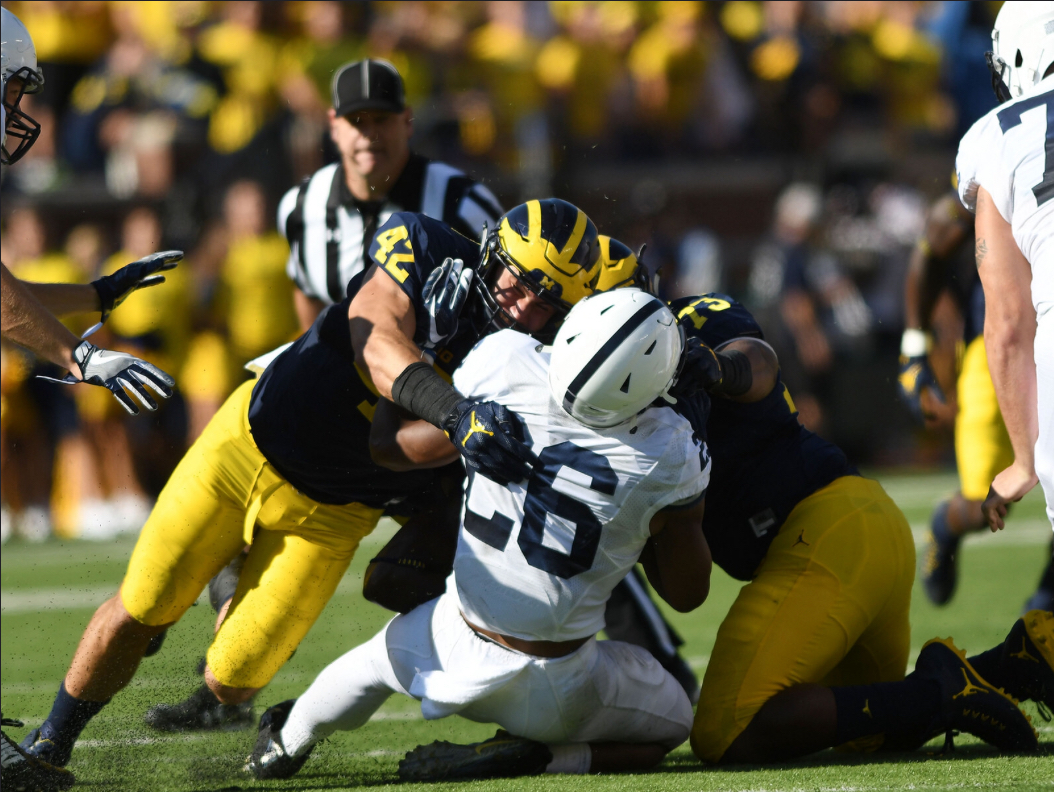 Coming fresh off a bye week following a win, Michigan welcomes Penn State to the Big House this Saturday. Michigan beat in-state and conference rival Michigan State two weeks ago in East Lansing to knock the Spartans out of the AP Poll. They come into this week's game ranked fifth in the nation. Their defence, even without Rashan Gary, is ranked number one.
Michigan
Defence
Michigan's defence is working like a well-oiled machine. Chase Winovich is taking opposing offences by storm. On the season so far Winovich has 25 tackles, ten for loss, and three sacks. His size undercuts his speed, and he has no problem rushing the quarterback or wide receiver when they least expect it. The defence will only improve when Rashan Gary returns, but will that be this week against Penn State? Defensive coordinator Don Brown says he's still in "wait and see" mode, delaying the decision as long as possible. Penn State is preparing for Gary's return, and Michigan fans would certainly like to see it sooner rather than later. However, the school and Gary want to make sure he's back to full potency before allowing him back on the field. He hasn't seen play action since Week 5 against Northwestern.
Offence
Shea Patterson has settled in nicely as the Michigan signal caller. However, his third down numbers did not, oddly enough, improve during the bye week. Michigan's offence came out of the Michigan State game ranked dead last in the country on third down conversions. Hopefully these numbers can improve against Penn State's 64th ranked defence.
Patterson's receivers are no slouches. Donovan Peoples-Jones, Nico Collins and Zach Gentry stepped up against MSU and look to do it again against Penn State. Rushing-wise, Karan Higdon and Ben Mason are the boys to look out for. Watch for Ben Mason to come in on third and short. Higdon, on 33 rushes, gained 149 yards with an average of 4.4 yards per carry. Look for Patterson to use his feet as well if the situation arises, a la Cam Newton. Patterson ran the ball himself several times against MSU and isn't afraid to do it again.
Penn State
Defence
As mentioned, Penn State's offence is ranked 64th in the country. They allow an average of 4.75 yards/play, which should help with the Wolverines' third-down conversion issue. Michigan's offence is ranked 53rd in the nation, which isn't great. But when you consider that Patterson wasn't a lock for the starting job and that he kind of blew it in the first few games of the season, it's not terrible either. Penn State needs to watch out for the run game against this Michigan offence.
Offence
Trace McSorley is a hated figure among Michigan fans, and with good reason. He certainly had the Wolverines' number last year in the White Out game in Happy Valley. The final score of that game was 42-13 Nittany Lions, and the Wolverines are looking to gain that back. To do so, the defence will have to contain McSorley. Penn State's offence is currently ranked number 27, and they average 6.55 yards per play. Winovich will have his eyes on the QB for sure this week. In 561 plays so far this season, Penn State has 3,676 yards with 42 touchdowns. They average 459.5 yards per game.
What's Gonna Happen?
Michigan welcomes Penn State as the favourites to win this contest. They are undefeated at home and undefeated in conference play. Against MSU two weeks ago they broke a horrifying streak of 17 straight road losses against ranked opponents. Penn State and Michigan have had trouble winning on the road against each other the last few years, and Michigan is looking to keep that streak alive. Penn State is coming off a win last week against the Iowa Hawkeyes, and are looking to keep their momentum going. Michigan's bye week means they are well-rested, but lack the momentum Penn State has. Penn State is looking for an upset here and Michigan is looking to at least hold their position in the AP Poll. At this point, it's Michigan's game to lose.
Game time: Saturday, November 3 3:30 PM ET
Follow us on Twitter:
Site: @T101Sports
Department: @T101SportsCFB
Writer: @SusannahElyse