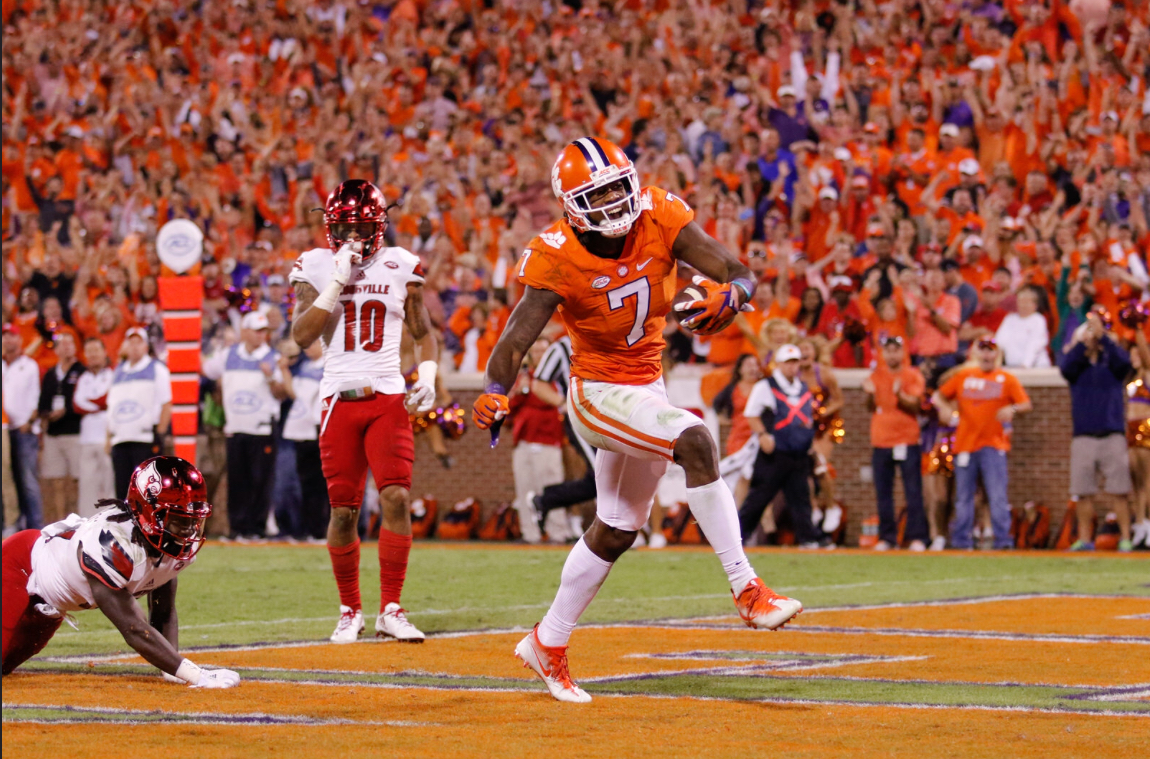 Clemson vs Louisville Football Preview
Clemson vs Louisville. A few years ago this was one of the biggest games in the country featuring two Heisman-worthy players. Last year, Lamar Jackson failed to top the Tigers in a revenge game. This year's game looks to be a snooze fest as Louisville straggles in with a 2-6 record facing undefeated Clemson. The Cardinals have failed to win an ACC game so far and enter this contest 40 point underdogs. Does Louisville have a shot? Well, Lloyd Christmas had a one in a million shot with Mary Swanson in the movie Dumb and Dumber, so anything is possible.
Clemson's O vs Louisville D
Clemson has scored at least 40 points in each of its last three games. The Tiger offense has seen the aerial game take off and freshman Trevor Lawrence is starting to get the hang of things as Clemson's QB. Clemson is averaging over 500 yards of total offense (285 passing, 237 rushing). Louisville's defense has seen better days, allowing over 400 yards of total offense a game (250 rushing, 187 passing). The Cardinals will have to pick their poison on Saturday because they are not going to be able to matchup across the board with the Tigers.
Advantage: Clemson
Clemson's D vs Louisville O
Well, Louisville…you faced Alabama to open the season and now you face Clemson in full stride…good luck! Louisville enters the contest averaging almost 350 yards of total offense (232 passing, 116 rushing) per game. Clemson's defense is allowing around 263 yards a game of total offense (172 passing, 91 rushing). The good news is that Louisville can work on playing their depth chart without a lot of pressure. Look for Clemson to play everyone who can fit into pads.
Advantage: Clemson
What Will Happen….
Clemson will run down the hill and that will be the closest this game comes. Louisville surrendered 56 points to Wake Forest last week…Yes, the same team Clemson beat 63-3. Head Coach Dabo Swinney probably won't keep the pedal to the metal for too long. Look for Clemson's reserves to start playing by the second quarter or by the third quarter completely. Louisville will get to play some reserves and get a chance to start building for next year. Nothing to see here, folks. Just two teams looking to get by without major injuries and move on to next week.
Final Score: Clemson 52 Louisville 10
What do you think? Will Clemson have a harder time with Louisville than people think?
Keep up with all the TSJ101Sports!
Photo credit to Dawson Powers via Flickr.