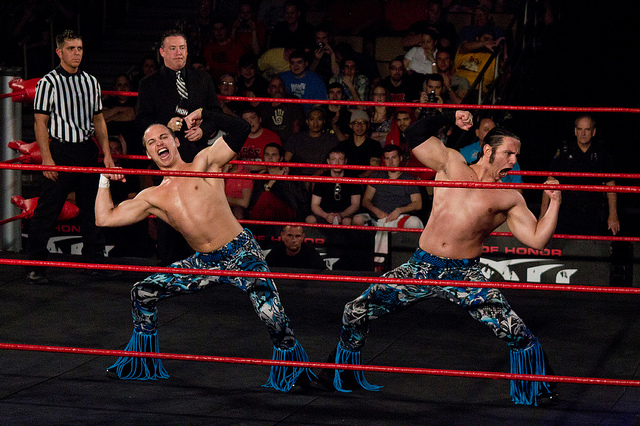 Matt Jackson Confirms The Elite Aren't In Bullet Club
Cody Rhodes, Marty Scurll, Adam Page, and The Young Bucks are the men that make up The Elite. What started as a sub-group for the infamous Bullet Club, the group is now arguably more praised by fans than its original group. According to Matt Jackson, one half of the Young Bucks, The Elite are no longer a part of the group that brought them together.
Out of the Bullet Club?
While on the Cruise of Jericho, Page, Rhodes, Scurll, and The Young Bucks sat down to discuss their status in the Bullet Club on Talk is Jericho.
Earlier this month, each member of the "sub-group" announced via Twitter that they'd be selling their "last Bullet Club style" t-shirts.
As expected, fans assumed this meant all five members were headed for WWE. But, according to Matt Jackson, they sold their "last Bullet Club" shirts because they are no longer part of Bullet Club.
"Myself, Kenny Omega and my brother, we attacked AJ Styles and called ourselves 'The Elite' of Bullet Club. In the beginning it was a subgroup of the Bullet Club and we had a lot of fun. We decided to start a traveling vlog in May of [2016], called Being the Elite. After awhile, Nick, Kenny, and I realized there's only so many times we can show us going through airport security. So, we should probably introduce some new characters. Obviously, our first choice was to pick our friends from our unit, Bullet Club, because naturally we travel with these guys. We hang out with these guys, and we do basically everything together." quote courtesy of WrestlingInc
Jackson also mentioned that fans started to seperate them from Bullet Club over time. The new group are now just the "BTE guys," or the "Being the Elite" guys.
"For a long time now, it seems like everybody kind of excluded [The Elite] and we got called 'The Being the Elite Guys,' 'BTE Guys,' or 'The Elite'. It's not like I'm going to make this crazy announcement because it just feels natural, right? I think everyone on the ship can agree, it's not just Kenny, me, and Nick as The Elite, we're all elite. So, from this very day forward, why don't we just call all of us The Elite?" quote courtesy of WrestlingInc
To hear Matt Jackson's full comments, click here.
The Boss Says So…
Tama Tonga, the official leader of Bullet Club, made it very clear who he saw was in his group.
This photo alone says a lot about who Tonga sees as part of his group. There has been a civil war of sorts between the Firing Squad and the Elite in recent months. Now, it seems Tonga is done with The Elite.
Where Now?
Scurll, Rhodes, Page, and The Young Bucks' contracts with NJPW expire right around the same time. Cody made it very clear that, whatever they decide to do, The Elite stays together no matter what. Whether or not that means a trip to WWE, we don't know right now.
As is the trend now with The Elite, each member teases a run with WWE. Cody, of course, had a previous run with the company. Though he has said before he does see himself taking another go with his previous employer, Cody insists he will not leave his fellow teammates behind.
Where will The Elite settle? We will just have to wait and see. But one thing we do know, is that they won't be taking Bullet Club with them anymore.
Social Media
Just who are The Elite of TSJ101Sports Wrestling division? Let us know on Twitter…
Follow TSJ101Sports on Twitter: @T101Sports and @T101SportsWWE
Follow me, the writer, on Twitter: @JordanPiekarski
Subscribe to get the latest news from TSJ at the TSJ 101 Sports TV YouTube channel!
Photo credit to Anton via Flickr