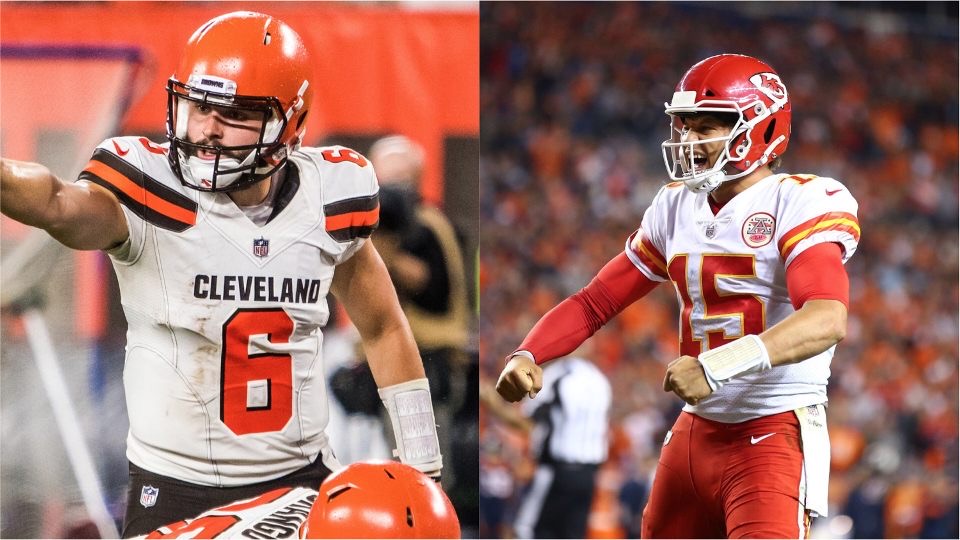 Former Texas Tech QBs, Baker Mayfield and Patrick Mahomes to Faceoff for First Time Since Collegiate Days
The Week 9 matchup between the Kansas City Chiefs and Cleveland Browns should be an easy call. The 7-1 Chiefs will be heavy favorites against the 2-5-1 Browns. The Browns are now without head coach Hue Jackson and offensive coordinator Todd Haley after their firings on Monday.
This game's underlying narrative will be the quarterback duel that started long before their days in the NFL. Former Texas Tech quarterbacks Baker Mayfield and Patrick Mahomes will meet in Week 9 for the first time since their collegiate days. What makes this an interesting storyline is less about what will happen Sunday and all about what led up to it.
Time at Texas Tech
Both Mayfield and Mahomes began their collegiate careers at Texas Tech. However, Mahomes was the only one to finish as a Red Raider. Mayfield became the starting quarterback for Texas Tech in 2013 after the previous starter, Michael Brewer, was ruled out with a back injury. Baker took Texas Tech football by storm breaking school records and nearly breaking the NCAA record for single-season completions.
Baker enrolled at the University of Oklahoma in 2014 thereby leaving the Texas Tech football program. Mayfield attributed his exit to miscommunication between himself and the coaching staff. Baker claims that he was not offered a scholarship for the following season, a claim the school negates.
His critics claim he left due to anger over losing his starting position after suffering an injury. Mayfield did not go quietly nor has he been quite with his feelings regarding his former school since. Texas Tech has returned the sentiment.
Texas Tech's treatment of Baker Mayfield is shameful: http://t.co/Q6tJB1iAAB Unrecruited walk-on can't transfer? TTU's prez should step in.

— Jay Bilas (@JayBilas) July 29, 2014
Either way, Mayfield went from a walk-on to the starting Sooner shot-caller and eventually a Heisman winner. After missing the 2014 season due to transfer rules, Mayfield was named the starting QB and never looked back. Well until the Sooners played Texas Tech in 2016 who were led by none other than Mr. Patrick Mahomes.
Mahomes, a native Texan, played three years at Texas Tech before declaring for the draft prior to his senior year. Mahomes played just seven games in 2014 before officially becoming the face of the program in 2015.
As a sophomore, Mahomes threw for 4,653 yards and then topped it as a junior with 5,052 yards. He set two NCAA records during his time as a Red Raider both in the same game. That game was against, you guessed it, Baker Mayfield and the Oklahoma Sooners in 2016.
The Texas, Sooner Shootout
In 2016 Baker Mayfield was chomping at the bit to play his former team in their home, his former turf. Mayfield embraced the Texas criticism that verged on hatred. The backlash from his transfer only being heightened by his decision to play at Big 12 rival, Oklahoma.
While Mayfield envisioned his return and embraced the "bad guy" persona, Texas Tech prepared for the meeting in hopes to humble their former QB. What wasn't on Mayfield's mind was sophomore QB at the time, Patrick Mahomes who had just missed Mayfield's time in Texas.
On October 22nd, college football saw arguably the best quarterback duel ever to take place. It was a true Western draw in every sense of the term. Inaudible over the boos, Mayfield yelled out the first call of the game. After five quick plays ending on a 56-yard touchdown pass to Joe Mixon from Mayfield, OU managed to put six quick points on the board.
TT's answer was brief and embarrassing. Their short 3-play drive ended in a fumble that OU made sure to capitalize off of. A 49-yard touchdown pass from Mayfield to Dede Westbrook put the Sooners up 13-0.
Mahomes Heats Up to Make it a Show
Patrick Mahomes was not going to go out quietly. An impressive drive held together by the Raiders' ariel attack, led by Mahomes, cut the lead to 13-7. The Raiders' defense forced a rare punt from the Sooners.
Mahomes then charged 65 yards up the field before the field goal unit came on to make the game 13-10. After a punt from each team, the squads then traded touchdowns putting the score at OU 23, Texas Tech 17, and they were still in the first half.
After a Mahomes' interception and two more touchdowns, the first half ended 30-24 with the Sooners ahead. The second quarter was one for the record books, literally. The two squads perfectly alternated ten touchdowns between each other.
Every drive in the second half, besides the first, resulted in a touchdown. Five of these ten touchdowns came from 30+ yard passes, one of the ten also included a 22-yard touchdown run by Mahomes.
First Round, Mayfield
Ultimately Mayfield and the Sooners would defeat Mahomes and the Red Raiders 66-59. Mayfield went 27 of 36 for 545 passing yards and seven touchdowns. Mahomes completed 52 passes on an astounding 88 attempts which led to 734 passing yards and five touchdowns along with one interception. Mahomes' 734 passing yards set an NCAA record for single-game passing yards.
Notable OU receivers included Dede Westbrook (202 yards, 9 rec, 2 TDs) and Joe Mixon (114 yards, 4 rec, 3 TDs). The Red Raiders' notable receivers were Keke Coutee (172 yards, 10 rec, 1 TD), Jonathan Giles (167 yards, 10 rec, 1 TD), and Cameron Batson (99 yards, 9 rec, 1 TD).
Collegiate Success 'By the Numbers'
Baker Mayfield (2013, 2015-2017)
Texas Tech – one season: 218/340 (64.1 completion percentage), 2,315 yards, 12 touchdowns, nine interceptions, 127.7 rating
Oklahoma – three seasons: 808/1,157 (69.8 completion percentage), 12,292 yards, 119 touchdowns, 21 interceptions, 175.4
Patrick Mahomes (2014-2016)
Texas Tech – three seasons: 857/1,349 (63.5 completion percentage), 11,252 yards, 93 touchdowns, 29 interceptions, 152 rating
Second Round, Mahomes (Probably)
From their historic meeting to their collegiate stats, the numbers would tell you that Mayfield won round one. Mahomes finished his collegiate career with two records and the Sammy Baugh trophy, his only notable collegiate award.
Mayfield, on the other hand, won a Heisman Trophy, a Manning Award, AP College Football Player of the Year, three Big 12 Championships, and multiple bowl appearances. It is inarguable that Mayfield was afforded better talent as his latter alumna matter than Mahomes.
Patrick Mahomes would be drafted first in 2017 as the tenth overall pick by the Kansas City Chiefs while Mayfield was drafted first overall by the Cleveland Browns in 2018. This is where the script begins to flip.
Mahomes sat out his rookie year to learn from head coach Andy Reid and starting QB Alex Smith before becoming the starter in 2018. After just eight weeks of the 2018 regular season, Mahomes set five NFL records and one franchise record.
. @PatrickMahomes5 set records after just 8 WEEKS of Football (1)
– Most touchdown passes thrown through first three career games (10)
– Most touchdown passes thrown through first two games of a season (10)
– Most touchdown passes thrown through first three games of a season (13)

— Lauren Phillips (@LaurenP_52) October 30, 2018
. @PatrickMahomes5 set records after just 8 WEEKS of Football (2)
– Most touchdown passes thrown through first eight career games (22)
– Youngest quarterback to throw for six touchdowns in a game (22 years, 364 days)
*Kansas City – Most touchdown passes thrown in a game: 6 (tied)

— Lauren Phillips (@LaurenP_52) October 30, 2018
In Kansas City, Mahomes finds himself under one of the best quarterback coaches in modern NFL history and around top talent. Mayfield has gotten a taste of Mahomes' collegiate medicine.
Things were a chaotic uphill battle before two of his coaches were fired on Monday. Mayfield has been brought into the organization during the beginning of a rebuild and only time will tell if he's the right guy to steer the ship.
Their success from college to the pros couldn't have diverged anymore than it has. Mahomes has thrown 26 touchdowns and six interceptions to Mayfield's eight touchdowns and six interceptions.
Their completion percentage is in the same ballpark; however, Mahomes has thrown over 1,000 more yards than the former Sooner. The ratings say it all with Mayfield coming in at 78.9 and Mahomes at 115.3
Their college days couldn't seem any more like a distant dream to these two young QBs. One maybe wishing to go back while the other is looking straight ahead. The Chiefs will likely blow out the Browns on Sunday giving Mahomes round two of this fight, or maybe, fans will get another shootdown. Probably not, but this quarterback duel will be one of the league's most exciting for the years to come.
Photo Credit
Featured Images courtesy of Erik Drost & gaurav kumar
Subscribe to get the latest news from TSJ at the TSJ 101 Sports TV YouTube channel!
Play And Win Weekly at ThriveFantasy!