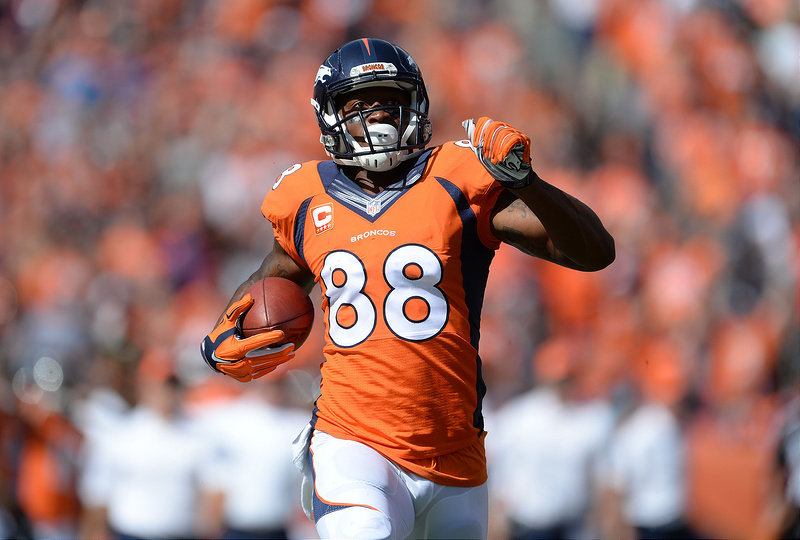 Houston Texans Trade for Pro Bowl Receiver Demaryius Thomas
With the NFL trade deadline upon us, the Houston Texans made the first move of the day trading for Denver Broncos' wide receiver Demaryius Thomas. Houston gives up a fourth and seventh-round pick to get a seventh-round pick and much needed second weapon for Deshaun Watson.
The Texans were not in need of a receiver until Will Fuller was injured, ending his season with a torn ACL. The Texans sit atop of the AFC South with a 5-3 record, looking to make a playoff run by adding another piece.
Update: Denver traded Demaryius Thomas and a seventh-round pick to Houston for a fourth-round pick and a seventh-round pick, per source. Trade involved three picks and one player.

— Adam Schefter (@AdamSchefter) October 30, 2018
What This Means for Houston
Adding a talent like Thomas to the NFL's 14th ranked passing offense only raises their ceiling, making them a dynamic threat. Pairing DeAndre Hopkins with Thomas will surely take some pressure off of the Texans' star. Hopkins should see less double teams and more open field. Add Lamar Miller and Deshaun Watson on the ground, and it is hard to picture a better offense this season.
Thomas will have to step in for Fuller quickly as the wideout was second on the team in receptions, targets, receiving yards, and receiving touchdowns before his injury this season. Expect Thomas to have a big role as the teams' new deep threat, taking over for Will Fuller.
Grade: B+
Adding such a strong talent to an already explosive offense is absolutely huge. It's equally brilliant in light of Will Fuller getting injured. Giving up a fourth-round pick to Denver and taking on Thomas's contract, on the other hand, is tough to swallow. If Thomas can take over for Fuller's duties seamlessly, this will be a win for the Texans.
What This Means for Denver
Denver is getting rid of a big money contract in Thomas to make room for Courtland Sutton. Sutton is ranked third on the team in targets, receiving yards, and receiving touchdowns this season. With Thomas gone those numbers will only increase.
The Broncos' offense heavily utilizes Sutton's downfield ability as the receiver is averaging 19.1 yards per catch this season. It will be interesting to see if Sutton can come in and replace Thomas to finish out this season.
Grade: C+
This team has already been shaky on offense, losing your second best receiver does not help. Denver's success in this trade depends heavily on Courtland Sutton. If Sutton shows, he can be a true number two to Emmanuel Sanders this grade goes up.
If Sutton flops, they are back to square one at the receiver position. Adding a fourth-round pick and shedding salary cap is a win even with this team going back on offense.
Photo Credit
Featured Image courtesy of Melvin A
To stay updated on news from the Steelers and around the NFL, follow James Hall on Twitter: @jhallT101sports
Subscribe to get the latest news from TSJ at the TSJ 101 Sports TV YouTube channel!
Play And Win Weekly at ThriveFantasy!