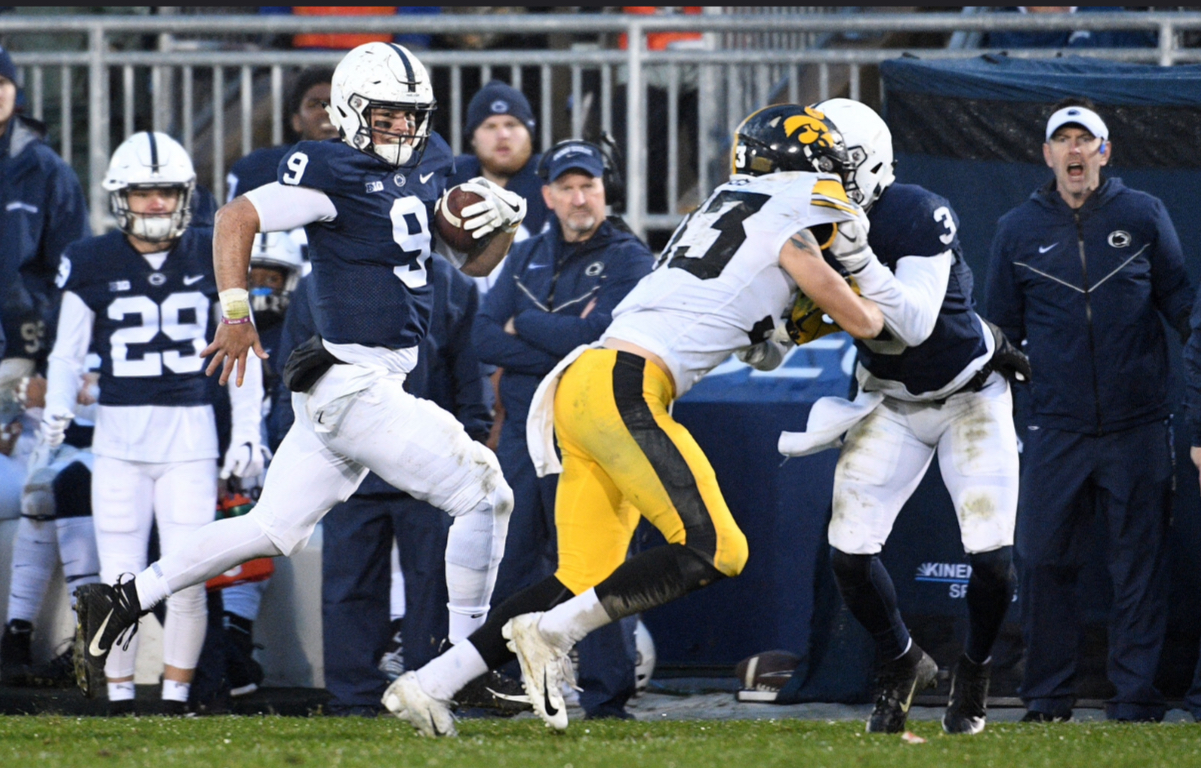 Penn State fends off Iowa
On Saturday, it wasn't pretty. Weather-wise, rain was a factor in a wet field which in turn didn't fare well on the football. Penn State fends off Iowa.
The Game
Penn State defeated Iowa 30-24. This game wasn't easy, not due to team play but due to weather. The rain that started on Friday night had a huge factor into the game on Saturday with snapping concerns and making it hard to grip the ball here and there.
Penn State ended up winning as noted above. However, Iowa had the advantage early on. Trace McSorley had to leave the game for a series or two due to an injury, which he walked off. That injury came after a sack. Though after an evaluation and a prep talk from McSorley's father, Trace returned to the game as a warrior and fought through the pain.
Penn State
As mentioned above, McSorley was injured on a sack but did return to the game. On the day, Trace McSorley went 11 for 25 for 167 yards. Additionally, McSorley had one touchdown and one interception. He was also sacked three times. Meanwhile, when McSorley was injured, backup Tommy Stevens stepped in during his absence and completed two of his four passes for 27 yards.
In the rushing department, Miles Sanders had 17 rushes for 64 yards. However, Trace McSorley also had himself a day in the rushing department as he had 12 rushes for 78 yards and one touchdown. Tommy Stevens also had five rushes for 22 yards and a touchdown.
As for the receiving department, K.J Hamler had five receptions for 96 yards. Pat Freiermuth had one reception for 18 yards and it went for a touchdown.
Iowa
The Iowa Hawkeyes made this a game. Last year's game was probably in their heads. However, the Hawkeyes weren't harping on it. Nate Stanley, the Hawkeyes quarterback, showed he has composure in tense situations late in the game.
Nate Stanley finished the game with 18 of 49 passes completed for 205 yards with two interceptions and three sacks. One of those interceptions came late in the fourth quarter when Stanley rushed a pass which was intercepted by Penn State's Nick Scott. Furthermore, Colten Rastetter had his only pass attempt completed for ten yards which netted the only touchdown
As for rushing, Mekhi Sargent led the way for the Hawkeyes with 16 rushes for 98 yards. No rusher for the Hawkeyes recorded a touchdown on Saturday. As for receiving, T.J. Hockenson led the way for the Hawkeyes with three receptions for 63 yards.
Conclusion
Penn State fends off Iowa. The Hawkeyes came close to a victory late in the fourth quarter. However, Nate Stanley was pressured by the Penn State defense that stepped up in certain situations and made the good plays when needed.
Next up for the Nittany Lions is a date at the Big House with the Michigan Wolverines, who are currently No. 5 in the nation. The game is set to kick off at 3:30 or 3:45 on ABC. Michigan currently sits atop the Big Ten East standings and will be coming off a bye week this Saturday.
Follow the writer on twitter @TJ22_PSU and let's talk some college football or any sports.
Photo Credit to Penn State Alumni Association via Flickr