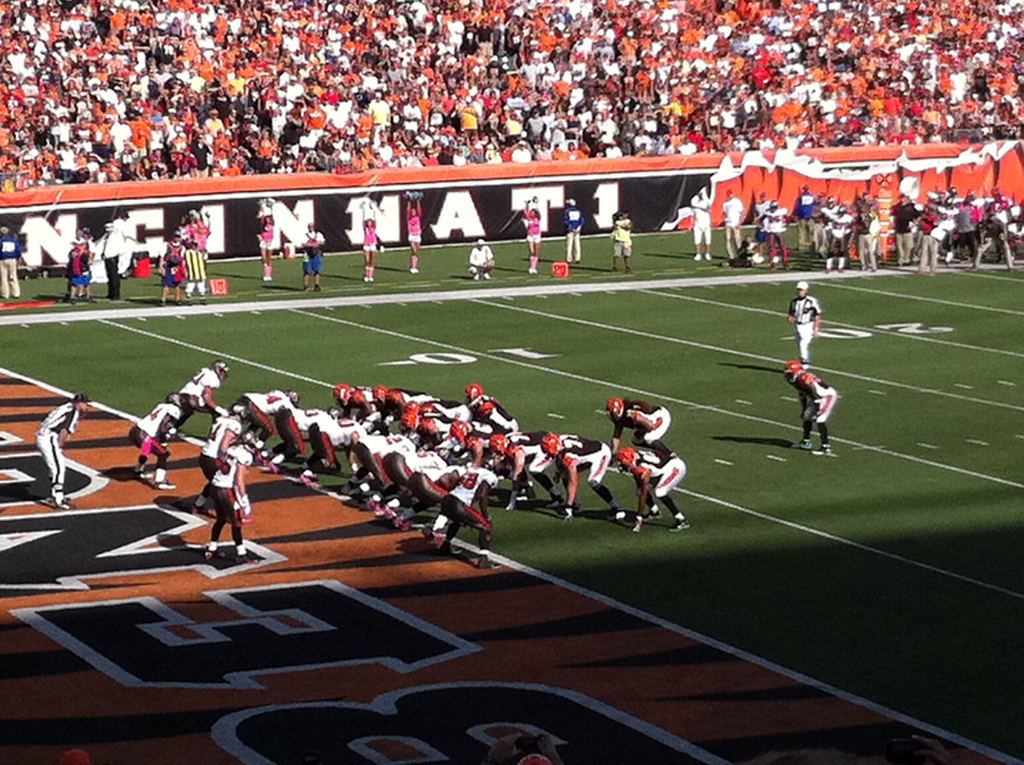 The Buccaneers Take On The Bengals
The Tampa Bay Buccaneers and Cincinnati Bengals will both try to keep pace in their respective divisions on Sunday afternoon. Cincy will hope to end its losing streak at two games and get the bad taste of last week's embarrassing loss to the Kansas City Chiefs out of their mouths.
Tampa looks to ride the momentum of their overtime win against the Cleveland Browns.
Week 7 Recap
Tampa Bay
Quarterback Jameis Winston had a big day in just his second start since coming back from suspension for violating the NFL's personal conduct policy. Despite throwing two interceptions, Winston had 365 yards on 32 of 52 pass attempts. He also ran the ball ten times for 55 yards and one touchdown. Wide receiver Mike Evans contributed with seven catches for 107 yards.
Tampa's defense came up big with five sacks and a fumble recovery. The Bucs won the game on a 59-yard field goal by Chandler Catanzaro. It is the longest ever in overtime history.
Cincinnati
The Bengals received a beat down by the Kansas City Chiefs last week. QB Andy Dalton threw the ball for just 148 yards on 15 of 29 attempts. He had one touchdown to go along with one interception. The Chiefs also sacked him twice. Cincy's running game was non-existent as they could only muster up 65 yards on the ground.
While it's commonplace for almost any team to give up yardage to the Chiefs, the Bengals' defense was horrific. They gave up 358 yards and four touchdowns through the air. An additional 198 yards were allowed on the ground.
Sunday's Matchup
Winston Remains The Key To Tampa's Success
Jameis Winston is very capable of posting big numbers on Sunday. He did it last week, and he also began his career by passing for over 4,000 yards. That made him just the third rookie quarterback to do so. He just needs to be careful with throwing the football.
The team is 3-12 when he throws multiple interceptions. He shares that record with Blake Bortles. That's a sign that the team has a hard time playing from behind.
Tampa's Defense Can't Give Up Big Plays Through The Air
The Bucs are giving up a total of 341.7 yards passing per game. That number is glaring and can negate any positive numbers that Winston puts up. This can lead to the offense having to overexert itself trying to outscore every team they face.
Cincy's Defense
Cincinnati's defense doesn't fare any better. They are giving up a total of 439.6 yards per game. 128.7 yards are allowed on the ground. That can be dangerous with a dual-threat quarterback such as Winston. The Bengals are also giving up an average of 29.0 points per game.
Bengals Need To Take Advantage On Offense
Tampa Bay is giving up 32.7 points per game. Cincinnati will need to take what the Bucs give them on defense. This means that QB Andy Dalton should target wide receiver A.J. Green as often as possible. Throwing the ball down the field is their best chance to win the game.
Prediction
This game will be a shootout in every sense of the meaning. Neither defense can hold water, but Cincinnati should have a slight advantage at home. The Bengals win a close one 38-35.
Fantasy Implications
Both quarterbacks should have huge numbers on Sunday. Neither defense should be used.
Photo Credit
Featured Image courtesy of Adam Brown
Subscribe to get the latest news from TSJ at the TSJ 101 Sports TV YouTube channel!
Play And Win Weekly at ThriveFantasy!