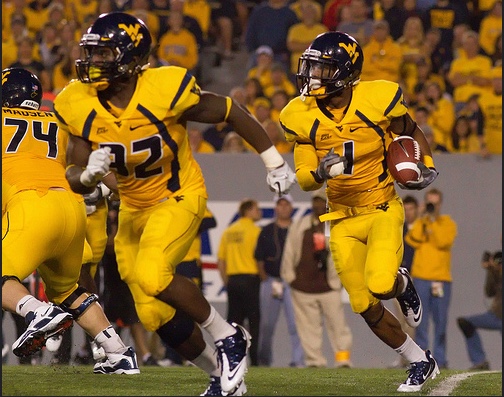 Week 9 of Mountaineer Football has came to an end. After their devastating loss to Iowa State a few weeks back, the Mountaineers crushed the Bears of Baylor. It seems like no loss will stop West Virginia from getting their game on. Let's take a look at the recap as West Virginia crushes Baylor.
West Virginia Crushes Baylor
Mountaineer football is not football when their quarterback Will Grier has less than 300 yards passing in a game. He averaged only 100 yards against Iowa State. That's not Grier when he normally throws well over 200 more yards in a game. This week against Baylor, Grier threw 353 passing yards, had 3 touchdowns, and 0 interceptions. Quarterback Jack Allison had 43 yards passing and 1 touchdown for the game.
Baylor
Quarterback Jalan McClendon had 183 passing yards, and 1 rushing touchdown. QB Charlie Brewer had 22 passing yards and three interceptions. The Bears weren't prepared for the  strength of the Mountaineers. Maybe next year?
What's Next?
As the two teams prepare for week 10 of college football in the Big 12 conference, what is next? you ask. West Virginia will head to Texas on November 3rd, to take on the Longhorns. Will the Mountaineers go to 7-1 or will they go to 6-2?
Baylor will host Oklahoma State on November 3rd. Will the Bears go 5-4 or just fall to 4-5? Stay tuned in week 10 to find out how well both teams match out.
Stay tuned til next week for week 10 of Mountaineer Football!!
Social Media
Follow us on Twitter: @T101Sports and @T101SportsCFB
Writer: @justbeingk88
You want some live news subscribe to TSJ 101 Sports TV on YouTube!
Picture Credit: pulper via Flickr