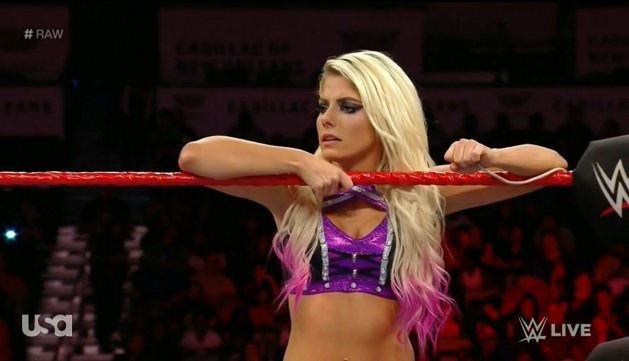 Alexa Bliss Pulled from Evolution Due to Injury
Just days away from WWE's first all women's pay-per-view, Alexa Bliss is officially off the card. This is because of a concussion she is suffering from last weekend during a house show.
Shortly after the announcement, Bliss herself sent out a tweet. Though it displays no words, it openly interprets how she must feel after receiving the news.
Alexa was scheduled to team with Mickie James to face Lita and Trish Stratus. When word spread about her possible concussion, many feared this would mean she would miss Evolution. Alexa went in for an impact test earlier this week. As we can see, she did not pass the minimum requirement.
What Happens Now?
Since Alexa is no longer a part of Evolution, WWE will need to find a replacement for her. It has since been reported that Alicia Fox will replace her. It has been heavily rumored for the last few days. This would explain Fox's involvement in an altercation with Lita and Trish Stratus this past Monday.
This concussion is another injury Alexa has had in recent months. She was on the sideline recently with an arm injury she suffered at Hell in a Cell.
It's always unfortunate when a Superstar suffers an injury. But with women set to make history this Sunday, it surely must hurt so much more.
Concussions are a tricky thing to handle, so it is unknown when Alexa will be back to one hundred percent. Much like Sasha Banks, Alexa will most likely miss the next few weeks of Monday Night RAW due to her injury.
Time will tell when Alexa returns to in-ring competition. Until her return, hopefully, she heals fast and makes a speedy recovery.
Social Media
Sports!